Flatten the curve. Shelter in place. Pods, PPE, and PCR tests. Red Tiers and Purple Tiers. Blursday, soft pants, and Zoom fatigue. None of these terms had much meaning before the virus named SARS-CoV-2 entered our lives, but 12 months later they've entered the lexicon. This year of fear and uncertainty — marked, too, by social unrest, a whiplash-inducing election season and climate-related disasters — has been, well, unprecedented in scope and consequence.
As of March 8, 2021, over 524,000 people in the United States have died of COVID-19, a toll that seemed unimaginable in early 2020, even if the signs of the impending disaster were there.

We tried to capture these unusual times as events unfolded here in town. Here's a (by no means exhaustive) look back with links to the original reporting, including to stories from our partner, Bay City News.

February warning signs

While the COVID-19 disaster was unfolding in Wuhan, China at the end of 2019, it still felt like a world away from our reality. The Exedra's first pandemic-related article was published on January 24, when the CDC said it would begin screening passengers from Wuhan for signs of illness at SFO.

On January 28 a fllght from Wuhan is redirected from SFO to Southern California and by January 31 all flights are suspended from SFO to China.

In early February 2020, Napa, Contra Costa County, San Francisco, and Solano County are reporting cases, and by the end of February thousands of people in the state are being monitored.

March madness

On March 5 Alameda County declares a public health emergency and the city of Piedmont kicks into preparation mode. Alameda County Public Health Department guidance at the time said "The health risk from novel coronavirus to the general public remains low, and while COVID-19 has a high transmission rate, it has a low mortality rate. People who are well and healthy do not need to use a facemask to protect themselves from respiratory illnesses. A facemask can be worn for those who are coughing or sneezing to protect others from getting sick." (A year later, we know better.)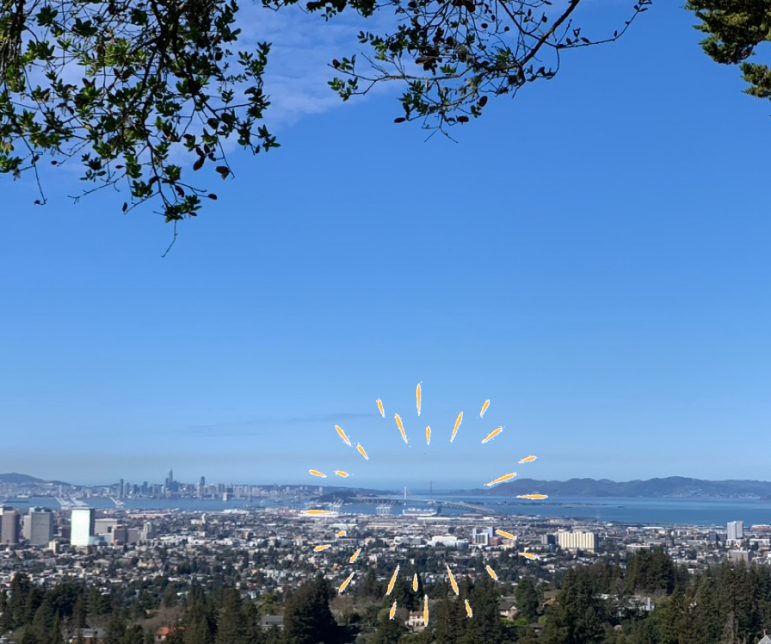 On Monday, March 9, the Grand Princess cruise ship with COVID-19 positive passengers docks in Oakland, the same day UC Berkeley suspended most in-person classes.

In town, the school district cancels large gatherings on March 11 and by Friday, March 13, schools and performing arts venues all across the state announce closures.
A shelter in place order for the Bay Area is announced on Monday, March 16, and the seriousness of the situation sinks in over the weekend.

College students around the country are sent home with little warning and scramble to pack up dorm rooms as best they can. Piedmonters working or studying overseas find themselves in precarious situations as borders and flights shut down.

Closures spark panic buying and official business moves online. The Exedra chronicles empty shelves and long lines at grocery stores and we watch awkward city council and school board meetings conducted via Zoom — "You're on mute" — becomes a mantra for the times.

The city closes parks on March 20, as outdoor spaces around the region are also shut down to prevent people from congregating. Signs of the closures abound.

On March 23, Alameda County records its first death due to COVID-19.

On March 25 PUSD convenes and announces schools would be closed until May, forcing families and teachers to adapt overnight to a new way of learning and teaching.

Experts say we must test and contact trace, but at the end of the month, COVID-19 testing options are confusing and hard to track, defined by backlogs and questions about accuracy and type. The search for ventilators, N95 masks and more dominates headlines.

We take to the streets for exercise but have to invent new etiquette rules when walking and biking around town in order to keep 6 feet apart. At dusk, neighbors bang on pots and pans in support of frontline healthcare workers. Signs thanking healthcare workers pop up around town. We check on our neighbors.

In April, reality sets in

Piedmont closes public parks on April 1

Alameda County issues face mask order on April 17 and we debate which ones are best.

Grocery stores start holding "senior hours" — allowing elderly customers early access to the stores to minimize their exposure. We debate the definition of essential worker and hope our favorite local stores will be able to weather this storm.
In early April public health experts say the virus won't be controlled until vaccines arrive — we start to come to terms with the fact that the pandemic could drag on for a year or more.

Food banks are stretched to the limit as families lose income when businesses shut down.

Testing remains elusive and confusing.


On April 17 the county mandates face masks.Piedmonters join together to make and donate homemade masks and other PPE to local hospitals. Local nursing homes are hit hard by the crisis.

With hair salons shut down, we come to terms with COVID hair and start cutting our own. We do jigsaw puzzles, watch endless shows on TV, and cook more than ever before. Around town, gestures of solidarity and comfort are visible — stuffed bears appear in windows for a bear hunt, symbols of strength and unity appear in messages on streetlights and colorful chalk drawings delight.

We mark birthdays with car parades and virtual celebrations.


May marks a new phase

We're having strange dreams, disordered sleep, and anxiety. The school district's Wellness Center offers coping strategies. Concerns about student wellbeing are heightened by the crisis.

Newsom announces a reopening of the economy in early May but the Bay Area keeps sheltering orders in place for another few weeks. Schools and colleges start looking to the fall and reckoning with another semester of online learning. Many Piedmonters have resigned themselves to home office life.

On May 12, the city cancels the 4th of July parade and celebration.

Alameda County relaxes its shelter in place order on May 18, allowing non-essential businesses to resume some operations.
The Rose Garden's Gerald the turkey becomes persona non grata.

In Piedmont, we honor a beloved crossing guard, and Art Hecht award winner Sue Smegal receives her honor in a Zoom meeting. Drive-by birthdays become the norm. Other life events — births, funerals, weddings — take place without proper ritual or celebration due to restrictions around gatherings.

On May 29 the city and school district convene an in-person graduation ceremony for the class of 2020 by breaking into small groups and limiting attendance at Witter Field. On the last day of May, the Recreation Department's Camp Almost Everything sells out in seconds as families desperate for in-person activities sign up their children.

On May 31, the community reacts to the killing of George Floyd, and protests against police violence spread in the region.

An unsettled summer

In early June, Piedmont's fire chief warns of fire season dangers ahead.

In early June, the city imposes a curfew in response to widening protests and issues a stricter face covering order. Students and families organize a solidarity march through town.

Another large student-led protest takes place in Piedmont on June 12. The Piedmont Police chief announces local police reforms in response to the BLM movement.

Area residents flock to newly opened Marin County beaches, which have been closed since March, for outdoor respite. Local hiking and biking destinations are crowded as people keep close to home.

Candidates for local city council and school board elections announce their intentions to run for office.

The 4th of July parade is replaced with a yard decorating contest.

Piedmonters open Yellow Door giving locals another option for socially distanced sandwiches and coffee.
PUSD announces its distance learning plan for the fall. No one is happy, but there's a general understanding that this is the only way forward.
A subdued August leads into wildfire season and a smoke-choked September

On August 14, a heat wave warning is issued by the county. A lightning storm on August 16-17 lights up the sky and starts fires that will burn for months.

The school year kicks off on August 17 in distance learning mode — the streets and parks are mostly empty. School sports remain on hold indefinitely.

The Piedmont fire department deploys to assist with the SCU Lightning Complex on August 21. Fires break out up and down the coast, stretching state firefighting resources.

County officials warn against Labor Day gatherings.

September is marked by a series of Red Flag warnings as the Bay Area is hit with heat waves and strong winds that combine to intensify fires and smoke from the lightning fires, resulting in toxic, red skies and unbreathable air. State and local officials issue warnings about Labor Day weekend gatherings as another heat wave warning and power alert is announced on Sept. 4 … and again on Sept. 8 … and yet again on the 25th.
A brief respite before a COVID winter

In October we live with the lingering effects of fires and heat, with several Red Flag warnings on and off again through the 21st. A wind storm hits Piedmont on Oct. 25.

Local restaurants shut down completely or pivot and adjust as conditions change in bid to stay afloat. Local restaurants that can switch to takeout systems hang in there.

Candidates for city council and school board kick their campaigns into gear and an effort to replace the city's aging pool — Measure UU — gets underway. Piedmont prepares for an (almost) all mail-in election. The Exedra receives scores of letters supporting candidates and the ballot measures.

The city allows playgrounds and bathrooms to open on Oct. 16

Gerald the turkey is removed from the Rose Garden.

Piedmont loses a beloved community member to COVID-19

Trick or treating is cancelled but Halloween pumpkins and yard decorations are not.

We hold an election — mail-in ballots rule the day but some residents come out for in-person early voting.
Local election results filter in over a few days — but still faster than the presidential election.
National election results get tallied and Piedmonters who campaigned for Biden-Harris converge — masked and socially distanced — in the park to celebrate the news.
We steel ourselves for hard months ahead

In early November, COVID-19 cases start to rise across the country and in the Bay Area. We start to report weekly cases in town.

We turn to UCSF's epidemiologist Dr. George Rutherford for guidance and insight as COVID cases rise.

On November 13 Alameda County presses pause on reopening plans

The surge freezes PUSDs reopening plans.

Plans are made to hold the annual Holiday Tree Lighting online, and the Boy Scouts Tree Lot opens for online orders only.

We welcome the first rain on the 17th and prepare for "small Thanksgiving" — small gatherings held outside. The Turkey Trot pivots to a scavenger hunt and runners and walkers hit the streets.

All eyes track COVID cases as the virus runs wild in the state. The governor issues a new shelter in place order on Dec. 11 to try and stem the tide but it lacks the impact of the first.

Small businesses hope a "buy local" movement will keep them afloat.

Almost a year later, COVID testing still lags even as the state gets ready to receive first batches of vaccines. Talk of virus variants colors the optimism.

We stay at home and go virtual for New Year's Eve, celebrating via Zoom or watching a show on Netflix.

Rocky start to 2021

Hope for the new year is tested by rising COVID-19 cases across the state.

An insurrection by Trump supporters in Washington, D.C. on Jan. 6 adds to the uncertainty and confusion in the interim period before Biden takes office. PUSD responds to the events.

Vaccines roll out slowly, but 65+ ok to go by Jan. 15 with older population first in line. A new national COVID-19 strategy is rolled out on Jan. 20

California schools struggle with reopening plans, driving frustrated parents across the state to start organizing. Piedmont's school community reacts to shifting state and county guidelines.

Rain by end of January gives the area a much needed soak, but worries about another below average rainfall season persist.

Bay Area restaurants turn to takeout and delivery services to stay afloat.

California lifts its second stay-at-home order on Jan. 25, but Alameda County stays in the Purple Tier.

Covid cases start to plunge a few days later as the effects of winter's stay-at-home orders take effect and vaccines rolled out to healthcare workers, elderly.

One year in

The days are getting longer and vaccine rollout kicks into gear. Mass vaccination sites at Oakland Coliseum and Golden Gate Fields in Berkeley open in February — teachers start to get vaccinated.

Hope for a return to school sports appears on the horizon.

The city gears up to address housing challenges and approves new "reach codes" in an effort to reduce the city's carbon footprint.

Piedmont schools welcome back K-6th graders after almost a year of distance learning.

Calls for a commitment to full-time in-person learning get louder as parent frustration with what they say is the slow pace of reopening schools increases locally and across the state. A group of local doctors sign a letter and parents organize online to pressure state and local officials around reopening. PUSD school board and the superintendent call for civil discourse and unity as the district works toward reopening.

Fears of teacher shortages add to the complexity of reopening schools. California rolls out plan to get more kids back into schools.
Pickleball hits peak popularity as pandemic pastime.

School sports are allowed to resume.
In an Exedra interview, UCSF's Dr. George Rutherford reflects on this longest year and the "modern medical miracle" of the vaccine program. He sees a light at the end of the tunnel, and says "And for the first time, it's not from a locomotive coming right at you."