Lianne Campodonico swung wide to the left as a stranger approached on the sidewalk … far enough to be out into Highland Avenue. She's got the social distancing thing down pat.
"I'm taking really big zig-zags," the Piedmont resident said this week. "My husband and I, we're in our 70s, and we just don't care to take chances."
On a recent afternoon in Piedmont, in this coronavirus-defined time, there were a fair number of walkers in the Highland-Oakland Avenue-Vista Avenue area, walking dogs, pushing strollers, with kids. With an exception or two, they were clearly taking pains to keep their distance from people they didn't live with, and avoiding conversations on the street.
That's just what Piedmont police Chief Jeremy Bowers wants to see.
"Science and the data is telling us that social distancing and sheltering in place is working," said Bowers. "Infections are accelerating, and the more people adhere to these tenets, the sooner we can go back to life as we knew it."
To that end, Bowers has directed his officers to conduct patrols, particularly around parks and other areas known to draw groups, to ward off violations of Alameda County's shelter-in-place and social distancing provisions.
"At this point, our enforcement will take the form of verbal warnings," Bowers said. "However, citations are not out of the question."
Early on during the COVID-19-driven shelter-in-place experience, people were anxious to get out and about. That meant overcrowding, most notably in Marin County, where officials complained on Saturday about rampant social-distancing violations, and on Sunday simply closed all of their parks big and small.
So it went in Piedmont, as well. On Mar. 20 the city announced that city facilities "where we are seeing frequent violations of the social distancing requirements" would be closed immediately. That closure covered all City of Piedmont tennis courts and play structures, as well as Beach Field and Coaches Field. On Thursday, Mar. 24, the city added Hampton Field to the list of closures "due to community members continuing to gather in violation of both the letter and the spirit of the shelter-in-place orders which have been issued by the county and state."
Bowers said Piedmont officers have seen their share of people "who just don't get it." Early on, a day or two after the March 17 shelter-in-place order was issued, officers responded to reports of people playing soccer, playing baseball at Hampton Field and hanging out around Mulberry's Market engaging in social chit chat.
"I've had to approach individuals and direct them to leave Mulberry's myself," Bowers said.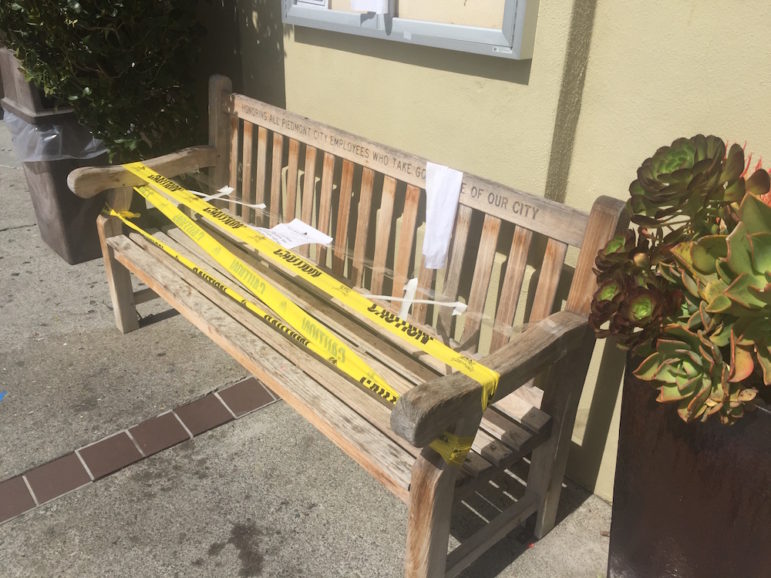 He praised the Piedmont market, which has put up signs asking customers not to congregate around the store. Their picnic tables and chairs have been removed, and two benches in front of the store have been taped off.
It's all part of the "new normal," in Piedmont and beyond, at least for the next several weeks. Campodonico said she and her husband are adjusting, and she praised young neighbors who bring groceries to their home.
Pascal Villiger of Piedmont and his family are adjusting, too. He's working from home for the time being. Thirteen-year-old Audrey Villiger said of the down time, "It's been a little bit boring."
But they will continue to do their part, Pascal said.
"We're not going out unless we need essentials … we don't have people over, no dinner parties," he said. "I took a run around Lake Merritt this morning, and it was a ghost town over there."
Contact Sam Richards at sam.richards4344@gmail.com