Aiding local hospitals in their battle against COVID-19, a group of Piedmonters recently donated tens of thousands of masks — either by sewing or contributing dollars. The effort was praised by local doctors and nurses who collaborated for weeks with Piedmont residents Jeanine Saperstein, Catherine Rongey, Leigh Teece and Eva Camp.

Jeanine Saperstein learned about the need for personal protective equipment (PPE) from her neighbor, Catherine Rongey, a Kaiser doctor. Saperstein quickly put the word out in her neighborhood group, called "The Loop." The effort produced extra masks people had stored from previous wildfire seasons.
As she gathered masks, Saperstein was galvanized to expand the donations. "I think [the pandemic] maximizes potential to do good," said Saperstein. "There's a lot of people here who have the means to do good."
After locking down a distribution connection and ordering thousands of N95 and surgical masks, Saperstein waited, then waited some more. "I started the mask project which was fairly frustrating," said Saperstein. "But I decided to go forward because the hospitals said they're so desperate."
Saperstein found out that hospitals were in need of surgical masks for routine work, but they needed to reserve N95 masks for healthcare workers working directly with COVID-19 patients. The masks were soon donated to Alta Bates, Kaiser hospitals in Oakland and Santa Clara, Highland Hospital and even a school district in Hayward.
"I'm really grateful and humbled," said Rongey. "I think this pandemic has transformed us to believe there needs to be greater investment in the community."
Dr. Taft Bhuket, director of the endoscopy unit at Highland Hospital, picked up nearly 1,500 masks from Saperstein's house. Although Bhuket said hospital systems in the Bay Area are diagnosing and hospitalizing COVID-19 patients, the systems aren't seeing the wave of COVID-19 cases other places are seeing. But Bhuket said he's still knocking on wood.
Jeanine Saperstein and Dr. Taft Bhuket of Highland Hospital (photo: Sarah Belle Lin)
"If cases do jump logarithmically, we could be in trouble," said Bhuket. "That's why we are doing everything we can to plan for this scenario and that includes making sure we have enough PPE."
Along with two friends, Leigh Teece, donated 35,000 masks. Teece used her connections to UC Berkeley's Skydeck, an incubator for entrepreneurs, to nab a supply of masks from 3M. The masks were donated to Alta Bates Summit, UC Berkeley's Tang Center and SF's California Pacific Medical Center.
"If you are able and you have connections, how can you not [help] in a pandemic?" said Teece. "To the extent that I can give time or money, not only does it benefit the recipient, but I think it benefits the giver too."
Channeling the desire to contribute
Sewing dozens of masks gave Eva Camp "something physical to do without having to think very much." Early on, she felt overwhelmed by the onslaught of COVID-19 news, but making masks helped. "It was a great way to be productive and just be in a zen mode," said Camp. "I think this is a necessary stop-gap measure to get masks quickly into the hands of people who need them."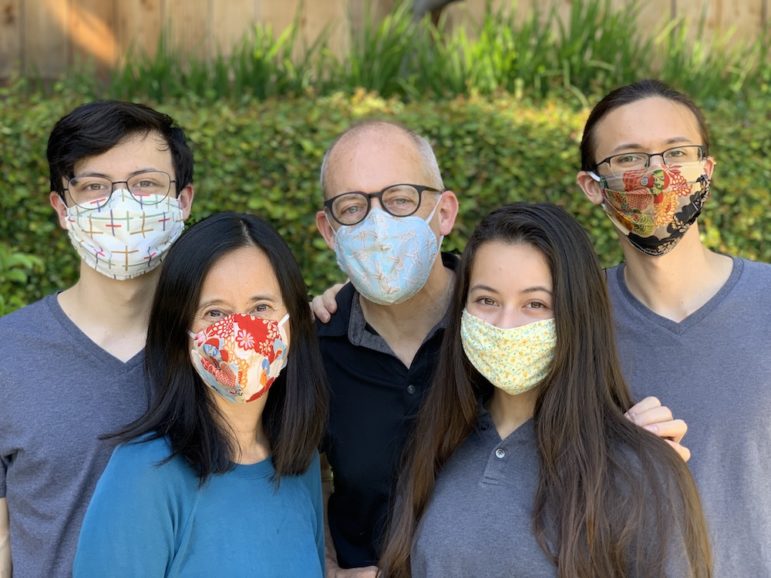 Camp said the group was informed by a local hospital system that 15 percent of healthcare workers needed surgical masks and 85 percent can use cloth masks. More than 100 people around the East Bay chipped in to make this a reality. The organization received fabric donations from women's clothing stores in Berkeley and Oakland.
So far, It Takes A Village volunteers have donated 8,000 masks, 1,000 face shields, 10,000 gloves and 150 gallons of hand sanitizer. The donations have gone out to Alameda Health Systems, Zuckerberg General Hospital, Alta Bates, Santa Clara Valley Medical Center and at least five other hospital systems. The group is now ramping up to produce their targeted goal of 100,000 masks.
"It's been said disasters and crises bring out the best and worst in people," said Bhuket. "It is my hope the "contagiousness" of good citizenship will be one of our most important weapons against the contagion of COVID-19."
To donate to 'It Takes A Village'
Please visit www.gofundme.com/f/making-and-donating-face-masks-and-face-shields. Donations are tax deductible through the fiscal agent TMC Community Capital, an Oakland based micro-loan provider. In addition to fundraising, the group is seeking volunteers who sew.
To donate to the Alameda Health System
Alameda Health System accepts donated PPE and medical supplies at Fairmont Central Supply from 8 a.m. to 2 p.m. Monday through Friday. All donors may receive a donation receipt by emailing the Alameda Health System Foundation at AHSF.admin@alamedahealthsystem.org.
For large donations and donations of medical supplies, please contact the AHS Foundation directly at 510-271-2500. Please leave your name, any company, phone number and email and a representative from the Foundation will contact you to coordinate drop-off.