Dear PUSD Families and Staff and the Piedmont Community,
We are continuing our series of contributions to the Piedmont Exedra to share guidance and resources related to supporting mental health of children and families during this period of massive adjustment we are collectively experiencing.
This week we want to focus on a narrowly focused yet broadly impactful subject: SLEEP.
One of us recently received a query through a professional listserve pleading for resources and advice for helping an adolescent with sleep problems. This youth has been experiencing sleep struggles for several years and now these sleep problems are seriously exacerbated by the quarantine.
The request highlighted how children of all ages need guidance and modeling from adults regarding why healthy sleep is so important.
As we noted in a prior letter, a sleep-deprived brain eventually becomes an unfocused and anxious brain.
In fact, sleep deprivation can mimic many mental health disorders, from Generalized Anxiety Disorder (GAD) and Attention-Deficit/Hyperactivity Disorder (ADHD) to, in extreme cases, Intermittent Explosive Disorder (IED) or even psychotic symptoms.
The brain-based changes that sleep deprivation causes can lead to difficulties with focus and follow through on school tasks and other responsibilities, difficulties with self-regulation that can interfere with interpersonal relationships, and overloading an individual's coping skills to the point that they no longer suffice to get the individual through challenging moments. In turn these problems can interfere with sleep, and the negative cycle continues.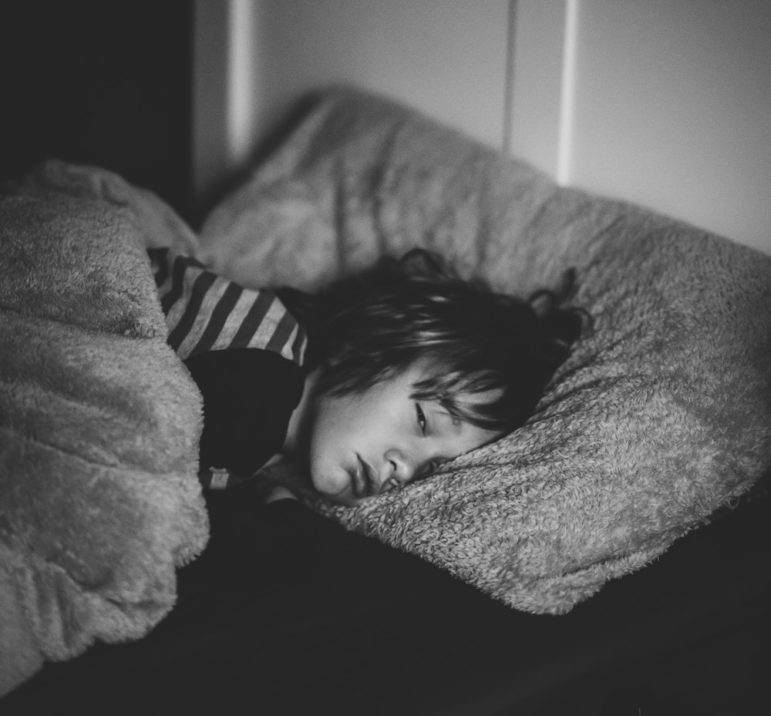 How much sleep is needed?
The National Sleep Foundation recommends that children between the ages of 6 and 13 get 9-11 hours of sleep per night. Teenagers between 14 and 17 should get between 8 and 10 hours of sleep, with many experts providing a specific recommendation of 9.25 hours per night. Adults should get between 7 and 9 hours of sleep per night. Recommended sleep hours are at the higher end if an individual is under stress.
Can someone get too much sleep?
You might be surprised to learn that too much sleep is associated with a number of risks to physical and mental health. This issue is likely to be most pertinent now for parents who are noticing their teenagers sleeping more than usual in our new world of distance learning.
The most salient risk in this situation is that excessive sleep may increase feelings of depression, lack of motivation, and low energy and procrastination.
While increased sleep might at first feel helpful to a teen who is feeling sad and overwhelmed, in the long-term it will make the problem worse.
What should parents and teens know about how to achieve healthy sleep?
For younger children
Parents should provide a simple bedtime routine that signals the winding down and transition from active time to bedtime.
For children of all ages
Parents should talk to them about the importance of and enforce putting away electronics at least an hour before bedtime.
Parents should remove all devices from the bedroom at night. Children and adolescents do not have the developed self-control that adults have and most are unlikely to be able to manage the lure of social media and/or games unsupervised after bedtime.
For teens and adults
Avoid using substances like alcohol and marijuana as a crutch for sleep problems and understand how this approach makes sleep problems worse.
Understand that meeting with a psychiatrist or pediatrician to discuss safe, non-addictive pharmacological options for supporting sleep is a better alternative to using recreational substances as sleep aids.
Avoid using the bed for homework or other work in order to remove any stressful associations.
Avoid caffeine in the late afternoon.
While many of these suggestions may seem obvious and common sense for adults, they may not be for teenagers. Parents should check in with their teens to learn more about how their teen views healthy sleep habits and fill in any gaps in knowledge and beliefs.
For everyone
This may be a hard sell for the kids, but making one's bed in the morning has been linked to better sleep! Also, don't overlook other sleep environment factors such as a comfortable mattress, clean sheets, and a dust-free bedroom.
Engaging in vigorous cardio exercise for at least 20 minutes each day will aid sleep.
Regular yoga and meditation practice will aid sleep. Local mindfulness and meditation instructor, Amiee Peri (periamiee@gmail.com), provides virtual, live meditation instruction for adults and middle schoolers. Students also may tune into the PHS psychologist's LIVE yoga classes here: Live YOGA and mindfulness classes with PHS/MHS school psychologist Fridays 10am
Dim the lights and do something relaxing starting at least an hour before bedtime, such as listen to music, create music, draw, read, TALK (not text) with friend or family member, play a game with a family member, try a meditation app. We like these: UCLA Mindful, Calm, and Insight Timer.
Avoid watching scary, distressing movies or shows before bedtime.
Let the sunshine into your home beginning in the morning and get outside into the sunlight every day. In addition to helping to regulate sleep, this increases serotonin levels and may lift feelings of depression and provide other positive health effects. Of course, moderation is important– don't get sunburned, but do allow some exposure without sunscreen!
It's okay to relax sleep schedules somewhat during quarantine. If the kids want to sleep in sometimes, it's okay! If the sleep schedules are shifted later, it's okay! But avoid sleeping past 11 a.m. and preferably, wake up and get out of bed even earlier.
Resources
As always, we want to remind the community of these resources for seeking support, many of which allow immediate contact with a trained mental health professional. We've added a new link for supports/hotline for LGBTQ youth.
Wellness Center supervisors are available by phone, email, or HIPAA compliant video conference to provide by appointment parent consultation and/or referrals to private therapists in the community.
Wellness Center therapists are available to provide confidential HIPAA compliant teletherapy sessions for students in ALL grades during the COVID-19 closure. Parents and older students may use this referral form. Same day appointments may be available.
Family Paths offers a 24-hour parent stress hotline offering free, confidential support.
National Suicide Prevention Lifeline: 1-800-273-8255 (TALK)
National Domestic Violence Hotline can help victims and survivors of domestic violence. Call 1-800-799-7233.
For support with substance use problems, please see SAMHSA or East Bay AA.
Teen Dating Violence Hotline: 510-536-7233
Support for LGBTQ youth, including a hotline, is here: Trevor Project
PUSD COVID-19 Resources Webpage Coming Soon!
Please contact us if you have ideas for topics you'd like to see us cover in coming weeks.
Alisa Crovetti, Ph.D.
Licensed Psychologist
acrovetti@piedmont.k12.ca.us | 510-882-2771

Amy Hazer, LCSW
Licensed Clinical Social Worker
ahazer@piedmont.k12.ca.us