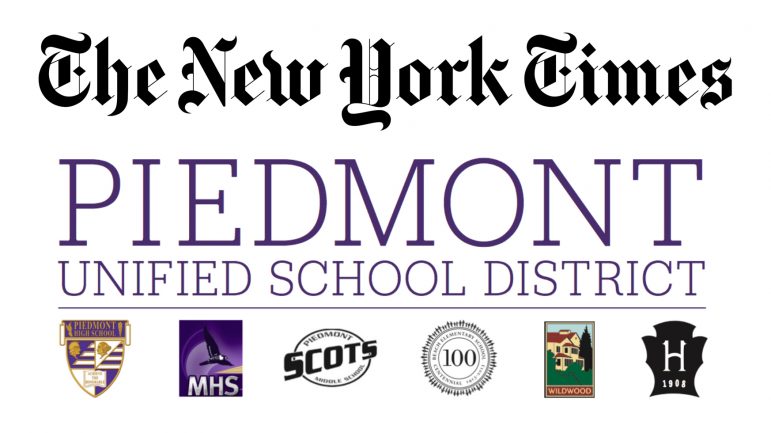 (Editor's note: Updated on March 15 with links to Kang's follow-up article that examines some of the factors behind Oakland's public school challenges.)
In an opinion piece that's making the rounds this week, New York Times writer Jay Caspian Kang takes on the complex and sometimes fraught relationship between Piedmont and Oakland, this time as it relates to public school enrollment. In his article "When a School Desegregates, Who Gets Left Behind?", Kang outlines Piedmont's history of exclusion dating to the early 1900s (see the Exedra's Uncovering Dearing: How Piedmont's first Black homeowner was run out of town, and the lingering effects on the city's history) and explores how Piedmont's need to boost enrollment coupled with a commitment to diversify has exacerbated tensions between the two communities.
A brief history of PUSD's interdistrict transfer policy
In 2019, PUSD's interdistrict transfer debate revolved initially around whether or not it was acceptable to enroll non-district grandchildren of Piedmont homeowners, a move that received some criticism for perpetuating generational privilege yet was seen at the time as a big step in opening local schools to "outsiders." But it was becoming clear even then that school districts across the state would face steep enrollment drops in coming years, and that accepting more students from outside the city would eventually be necessary to cushion the blow to school budgets.
Superintendent Randy Booker noted during a May 2019 board meeting that this state-wide decline was due largely to families leaving California or enrolling their children in charter schools. Declining birth rates across the state are also playing a role, according to research by Children Now and reporting by EdSource. Eventually, pandemic-driven forces contributed to the decline, as the district's Chief Finance Officer Ruth Alahydoian outlined in October 2021:
The need to look elsewhere for students coincided with racial and social justice movements sparked by the murder of George Floyd in 2020. In July 2020 the school district pledged to adopt policies related to equity and racial justice and sought ways to use the interdistrict transfer process to diversify the student body, even if the resulting policy did not explicitly cite race or ethnicity as a factor. Some school districts, like Berkeley Unified School District, do consider it in enrollment decisions, but it is, as this article Kang cites, still not a common practice in public school districts for a variety of legal and political reasons.
Who gets to attend Piedmont schools became a hot topic by early 2021 as board members and local advocacy groups like the Piedmont Racial Equity Campaign (PREC) urged the district to consider the transfer process as a tool not only to boost numbers but to achieve equity goals. "We fully support and expect the board to re-evaluate the policy and make relevant changes to it through an equity lens, since it was originally written to address declining enrollment, not equity, and it needs to address both – especially as it the district expects to open up more seats this coming year," said PREC's Diana Lee at the Feb. 24 board meeting.
Since then, the projected enrollment dip is now a reality and PUSD says it now has room for approximately 200 new students next year. It has signaled its desire to welcome families from outside of Piedmont to apply for the open spots. PUSD outlines its transfer criteria HERE. The priorities list was most recently updated in March 2021:
Meanwhile, Oakland Unified School District is caught up in the consequences of its own declining enrollment and embroiled in controversy as it closes schools. (Check out Oaklandside's coverage of the ongoing turmoil there.)
On March 14, Kang published a follow-up piece that examined more specifically what was happening in Oakland schools. "School Inequality Isn't Always Just Black and White" notes the role that charter schools have played in Oakland's declining public school enrollment.
The threat to public schools comes from a wide variety of sources: poor teacher pay, tax cuts and anti-C.R.T. activists who seem determined to turn every school board meeting into a new front of the culture war. But in places like Oakland, perhaps the most existential danger to an egalitarian public education system comes from the understandable decisions of mostly minority-group parents to send their children to charter schools. This goes beyond the white-Black, rich-poor binary that usually frames the debates about educational inequality. We shouldn't blame parents for trying to find the best school for their children, but we should acknowledge that shuffling students around to change the racial demographics of a few elite schools doesn't actually constitute true integration.

School Inequality Isn't Always Just Black and White, NYT, Jay Caspian Kang, March 14, 2022