After a year of debate, the Board of Education approved revisions to the school district's interdistrict transfer policy at the Mar. 24 school board meeting. The board has been seeking ways to boost the diversity of the student body and considers the transfer process as one way to achieve this goal. The last revision was made in June 2019 to help offset a declining enrollment trend in the district.
After toying with the idea of expanding the priority list to include PUSD athletic coaches and any person employed within city limits, the approved list now only expands existing policy to include an allowance for PUSD and city of Piedmont employees working "at least 10 hours a week." Board members have expressed a desire to increase applicants from the tenth priority — "all other categories" — but have yet to settle on a way to increase that applicant pool.
"It's unfortunate that we did not get to [category] 10 in the last cycle," said Trustee Veronica Anderson Thigpen. "If increasing diversity is our goal, we need to make a commitment and think about some kind of targeted outreach. There's a lot to learn and do to get this language right, but I really want to keep trying."
You can see the updated criteria on the PUSD website HERE
The so-called "grandparent provision" remains in place. The board said it had received questions about whether or not it was a legal practice, and one caller argued that it rewards families that already have resources and advantages.
Superintendent Booker said he had consulted with PUSD's lawyer and said that while there is not a lot of case law on the issue, "I do not believe it serves as a discriminatory practice," and that other districts such as Beverly Hills and San Marino — both cities where parcel taxes are very high — have similar provisions.
The district's earlier revisions to its transfer policy have not been in place long enough to judge their efficacy. For the 2020-2021 school year, the board directed PUSD to limit the number of transfers. The district says it received 74 applications but only approved 24, according to the superintendent's memo.
PUSD has not been able to say exactly how many spaces it anticipates needing to fill next year, due to uncertainty caused by the pandemic and questions around the number of families who will ultimately opt to remain in Piedmont schools. According to the superintendent's administrative assistant Sylvia Eggert, who processes the applications, PUSD has already received 46 requests for the next school year as of Mar. 24.
Superintendent Booker told the board that spaces in elementary (K- 1) and middle school are likely, but not at the high school. Projections by district staff indicate PMS could see a drop from 590 to 525 students next year.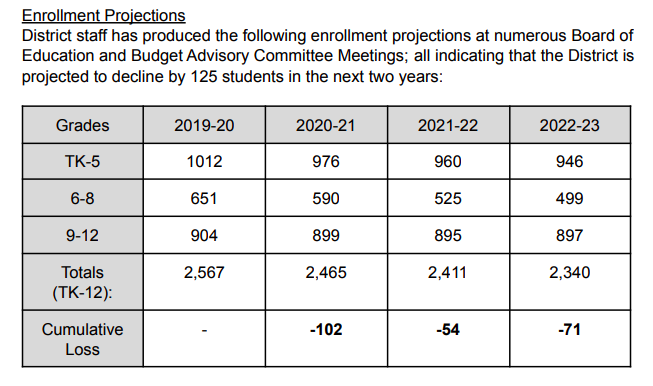 In his memo to the board, Booker also recommended that the policy be reviewed annually at a public board meeting "in order to determine the effectiveness of this policy change toward achieving the Board's goal of broadening the student racial diversity in PUSD Schools."
"Having good data that is meaningful will take a couple of years post-covid," said Trustee Amal Smith.