An effort to support Black PUSD students in the aftermath of the Derek Chauvin trial verdict ended up backfiring on Wednesday night after all high school students received emails from Assistant Superintendent Cheryl Wozniak that, in addition to offering restorative community circles for African American, Indigenous, and other students of color, included a "White student support circle" for "White students who would like to discuss how the trial, verdict, and experiences related to the George Floyd murder are impacting you."
Damage control
The email drew immediate reaction from students of all ethnicities and was circulated on social media. It prompted a district-wide apology by the assistant superintendent along with a belated attempt to put the emails in context. On Friday, Superintendent Randy Booker sent an email to the school community, saying "The District's intent was to give our BIPOC students a safe space to talk with others from similar racial backgrounds and to provide White students with an opportunity to talk about how to be an ally."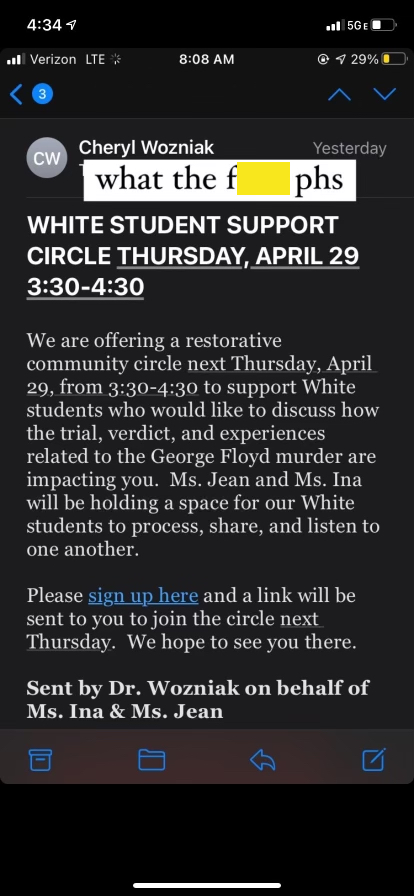 "A poor choice of words in the subject line of the invitation to White students led to the perception that White students needed the same kind of 'support' as our BIPOC students. Students of all racial backgrounds rightfully pushed back on that idea. We agree, and we want to affirm in the strongest terms that our commitment is to give all students a place to express their feelings and to learn how to engage in important issues," he said in the email.
Wozniak told the Exedra that she heard from students within minutes of sending the emails, questioning both the need to create spaces for different affinity groups and around the language used in the message aimed at white students. Although the decision to create separate discussion spaces for students of different ethnicities was intentional, and made in consultation with advisors Ina Bendich and Jean Takazawa, she said the language used in the message for white students was an error on her part, and that the meeting for white students was intended to focus on allyship rather than serving as a support group. A community circle for all groups was planned for a later time, she said.
(Bendich is a former Oakland Unified School District teacher and restorative justice educator who serves as an advisor to Piedmont's newly formed Black Student Union and advises PUSD on race and equity issues. Takazawa is a paraeducator at Havens, a member of the Piedmont Anti-Racism and Diversity Committee, and a Piedmont parent.)
A teachable moment?
"We know that there was positive intent in creating these student discussion groups, and the poor choice of words was triggering to many," said Leslie Gray of the Piedmont Racial Equity Campaign. "We hope this incident both helps build greater understanding about the purpose and hopefully intended impact of these groups, but also opens up a greater dialogue about how when mistakes are made in this work, how to use those moments to lean in and engage instead of shy away or shame."
This is not the first time the district has struggled with language related to equity and racial justice. An effort to update the school board's anti-racism policies in the aftermath of the George Floyd murder last summer underwent several revisions in consultation with the community before a resolution was approved by the school board in July 2020.
PUSD has also considered revising its interdistrict transfer policy as a means to improve the diversity of its schools, a process that has proven more complex than first thought.
PUSD is expected to announce the hiring of a new director of diversity, equity, and inclusion at the next school board meeting on April 28.