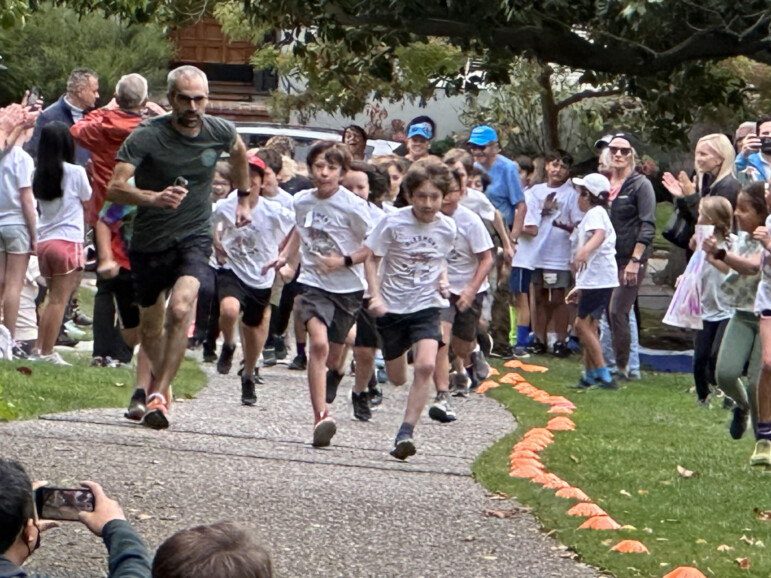 The more things change the more they stay the same is a perfect description of the 22nd Annual Piedmont Turkey Trot. We are still the go-to, family friendly 5k with something for everyone whether you are racing for a turkey or walking the family pet.
The bib pick up, at the Veterans Hall on Wednesday November 22nd, will once again be collecting kids books on behalf of the Library Advocacy Club and many of the PUSD librarians as we have done in years past. This year, Dress Best 4 Less will be collecting gently worn clothing donations at our bib pick up too. Partnering with DB4L was a no brainer as we both benefit Piedmont youth.
A few familiar faces are taking a year off, instead of Jukka Valkonen leading the fast pack we will have The Piedmont Mountain Bike Team sending Coach John Reining and Olive Reining as our pack leaders. The hunting horns, a fan favorite, promise to return next year, Michael Heller will be providing foot tapping race day music. Jen Cavenaugh, Piedmont Mayor, will be our celebrity announcer this year. The Piedmont Service Crew will be on hand passing out coffee and hot chocolate as they did last year and of course bananas from Piedmont Grocery and sweet treats from Ocho Candy await all finishers.
The Piedmont Turkey Trot is thankful for our cadre of volunteers who keep our course safe and ensure the trot is a smashing success year after year. Our race is made possible due to our generous sponsors: Dress Best 4 Less, Lucky 13 Advisors, JMiller Flowers and Gifts, The Village Market, Dr. Gregory Young(DDS),The Piedmont Post, The Oakland Flower Market, Machaon Diagnostics, McCutcheon Construction, Dr. Frank Helm(orthodontist) The Ken Betts Company, Corcoran Icon Properties, Piedmont Grocery, Ocho Candy, MB Jessee Painting, Transports  and Ace Hardware.  
Proceeds benefit PHS XC, Track & Field, PHS Athletic Boosters, PMS Athletic Boosters and the Piedmont Jr Running Program. We are on track for selling out, if you haven't registered for the 2023 Trot, now is the TIME. Move your feet before you eat! https://raceroster.com/events/2023/78054/2023-piedmont-turkey-trot