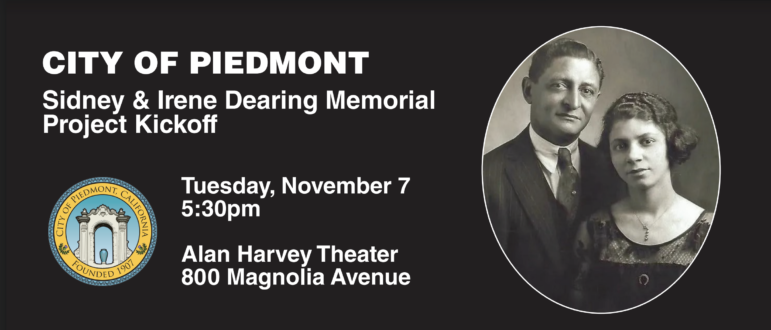 From a City of Piedmont press release on Oct. 24:
The City of Piedmont invites community members to a presentation by internationally renowned artist and landscape designer Walter Hood on Tuesday, Nov. 7 at 5:30 p.m. at the Alan Harvey Theater (800 Magnolia Avenue). The City has engaged Hood's firm, Oakland-based Hood Design Studio, to design a memorial for Sidney and Irene Dearing, which will be located in Triangle Park at the intersection of Magnolia and Wildwood Avenues, near the home they once owned.
The presentation will launch the design phase of the Dearing memorial project, which was initiated by the City Council in 2022. In his presentation, Hood will discuss his approach to design as a cultural practice, weaving together history, landscape, and memory to express contemporary and historical cultural stories through the built environment.
"Memorializing Sidney and Irene Dearing is an essential part of the work the City Council committed to in 2020, when we unanimously resolved to examine our history, practices, and biases, and create a more inclusive and welcoming community," said Mayor Jen Cavenaugh. "This project is only one step in that journey, but it is a critical
one. Owning our City's past is how we come together as a community to define who we are today and in the future."
City initiative to memorialize Dearing family history began in 2022
Sidney and Irene Dearing were Piedmont's first Black homeowners. After purchasing a home in Piedmont through an intermediary in 1924, they were subjected to a yearlong campaign of harassment, threats, and violence, including multiple bombs placed at their property. They were ultimately forced to sell their home to the City at a loss under threat of seizure by eminent domain.
The City's work to recognize and memorialize the Dearing family's experience in Piedmont and the City government's role in their forcible expulsion began in May 2022, when the City Council directed the Park Commission to develop recommendations for a physical memorial to the Dearing family to be constructed in Triangle Park.
Over the next year, a subcommittee of the Park Commission engaged in a series of facilitated conversations with relatives of Sidney and Irene Dearing, as well as community stakeholders. This work grew into a set of guiding principles, including a request from the family that the memorial should not be limited to the injustice Sidney and Irene Dearing experienced in Piedmont, but also reflect their lives and accomplishments outside of and in spite of this tragedy. Additionally, the guiding principles ask that the memorial be created by a local black artist.
Following the Nov. 7 kickoff event, Hood Design Studio will work with members of the Dearing family and a Technical Advisory Committee to develop designs for a memorial. Two preliminary design concepts including an illustrative plan and eye-level perspective drawings will be shared publicly, with an opportunity for all community members to share feedback that will inform the final design. The City hopes to begin construction of the memorial in Spring 2024.
Hood Design Studio known internationally for integrating cultural storytelling into landscape design
Founded by Walter Hood in 1992, Hood Design Studio approaches their work as a cultural practice, grounded in the power of storytelling to express people and place through public art and landscape architecture. The firm is known internationally for their work crafting meaningful public spaces that empower marginalized communities and pay homage to the communal histories of sites. Recent projects include the African Ancestors Memorial Garden surrounding the International African American Museum in Charleston, South Carolina, the Lift Ev'Ry Voice and Sing Park in Jacksonville, Florida, and the Peter Oliver Pavilion Gallery in Winston-Salem, North Carolina.
Local projects include the de Young Museum gardens in Golden Gate Park, the recent Oakland Museum of California gardens redesign, and Splash Pad Park in Oakland's Grand Lake neighborhood.
As an individual, Hood is recognized across the globe for his contributions to art, landscape architecture, urbanism, and research. In addition to his work at Hood Design Studio, he currently serves as chair of UC Berkeley's Department of Landscape Architecture & Environmental Planning and is regarded as one of the pre-eminent American landscape designers working today. He has received a MacArthur Fellowship, the Dorothy and Lillian Gish Prize, and the Knight Foundation Public Spaces Fellowship and holds membership in both the American Academy of Arts and Letters and the American Academy of Arts and Sciences.
Learn more about Walter Hood and Hood Design Studio HERE.