Alameda County pauses COVID case count updates
On Monday Alameda County stopped reporting city-by-city COVID-19 case numbers and death information on its dashboard, saying it was updating them to "more accurately match state information" and would refresh the data as soon as possible. As has been widely reported elsewhere, long lines at testing sites and lack of easy access to PCR tests has hampered the state's ability to accurately track the dramatic surge in cases. People testing positive with at-home rapid antigen tests are also not always confirming with PCR tests, further adding to the undercount of cases. At last count on Jan. 7, Piedmont's cumulative recorded cases stood at 452.
PUSD shares COVID numbers as it works through backlog of notifications
A flurry of exposure notifications were sent to many PUSD families on Tuesday and the district shared preliminary information about COVID cases in the schools on its dashboard later that day: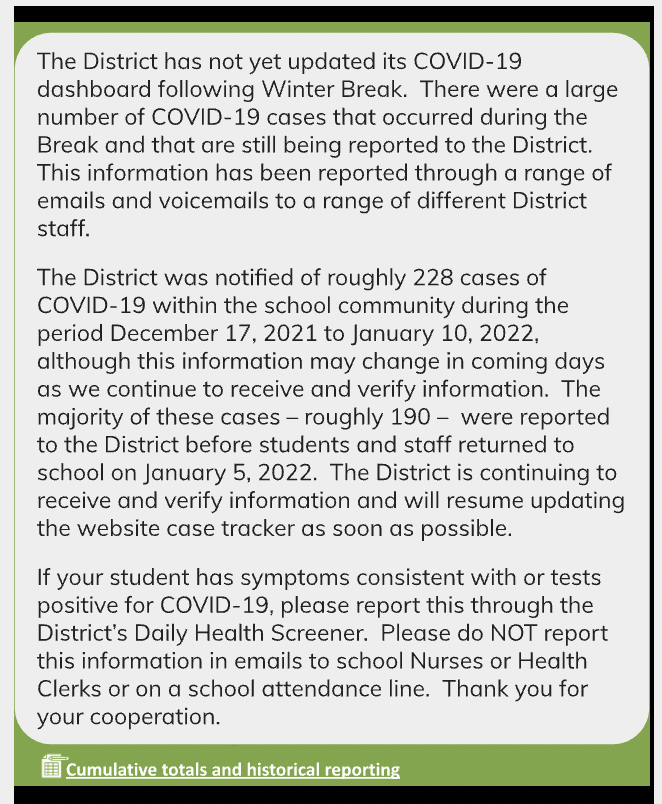 School districts in the Bay Area are struggling with an overwhelming number of positive cases among students and staff. In Palo Alto, the school district has stopped sending exposure notifications because of record high cases, according to a local news report. "They are instead warning families that all students should assume they have been exposed to the virus and get tested weekly," per the Palo Alto news. In Oakland, schools remain open but teachers participated in a "sick-out" on Friday and students have petitioned for the distribution of N95 masks for all students to cope with the rise in cases. Some private schools, like Bishop O'Dowd in Oakland, have pivoted to remote learning for the next two weeks as a way to manage this latest COVID surge.
In his email to families on Jan. 10, Superintendent Randy Booker said he would provide an update on COVID-19 safety measures at the Wednesday, Jan. 12 school board meeting. (View the agenda and get Zoom links HERE.)
Addressing rumors and speculation about school closures circulating in the community, Booker said in the email there are no plans or discussions to close schools. He said the district has "comprehensive plans to keep students and staff in school to the greatest extent possible while protecting the health of the entire school community. These plans include a robust testing program, requiring n95 or kn95 masks for educators (1/11 – 1/21), and contingency staffing plans to meet the challenges of the current surge."
School athletics remain open alongside academics, despite a slew of missed games.
"We have not shut down any of our programs, but many schools on our schedules have, leading to many postponements," PUSD spokesperson Brian Killgore said in an email, adding that where possible teams hope to make up missed games to get as full a season as possible.