Sausages and beans are a great combination. Let the sausages simmer in white wine until golden, add vegetables and then beans. Serve over arugula. Delicious and easy – another great combo!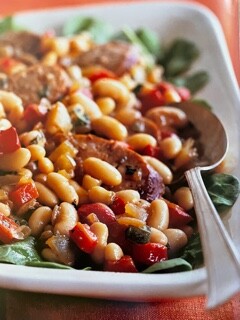 INGREDIENTS:
1 ½ lbs hot Italian sausage, cut in half lengthwise
1 ½ cup dry white wine
2 Tbs olive oil
1 large onion, chopped
1 large red bell pepper, chopped
¼ cup fresh oregano
3 cups drained cannellini beans or other white beans
2 bunches arugula
DIRECTIONS:
Prick the sausages with a fork, add ¼ cup wine, and bring to a boil. Reduce heat and cook, covered, for 5 minutes.
Uncover, raise heat and cook until brown, 8-10 minutes. Transfer to a plate and slice thinly on the diagonal.
Pour off most of the oil leaving 2 Tbs of the drippings, adding more olive oil if needed. Add onion and red pepper and sauté until soft, about 8 minutes. Stir in oregano.
Add the beans and the remaining 1 ¼ cups of wine and bring to a boil, stirring up the flavorful browned bits.
Reduce heat and simmer, uncovered for about 5 minutes, until most of the wine is absorbed.
Add sausages and heat through. This can be cooked ahead and reheated gently.
To serve, spoon the sausage mixture over arugula.
Serve and enjoy!