The newly formed Piedmont Housing Advisory Committee met for the second time last Wednesday night to review the results of a March housing survey and consider the adoption of guiding principles as the city moves to meet ambitious new housing goals mandated by the state. The meeting was focused on the current Housing Element and what can be accomplished for the end of this cycle in 2023.
Planning Director Kevin Jackson along with committee members — Chair Rani Batra, June Catalano, Jane Lin, Justin Osler, and Claire Parisa — heard presentations from Lisa Wise Consulting (LWC) and city senior planner Pierce McDonald-Powell related to the SB2 Planning Grants Program (i.e., the Community Fair Housing Survey and the Interactive Pinnable Map), which overlaps and complements the city's work to update the Housing Element, which officially kicks off in June.
A range of legislation over the past few years driven by the statewide housing crisis is forcing cities across the state to take closer looks at what they can do in their own backyards to expand affordable housing. "Right now we're trying to figure out what you currently have," said LWC consultant David Bergman. "We will figure out what you can accommodate when we start working on the Housing Element."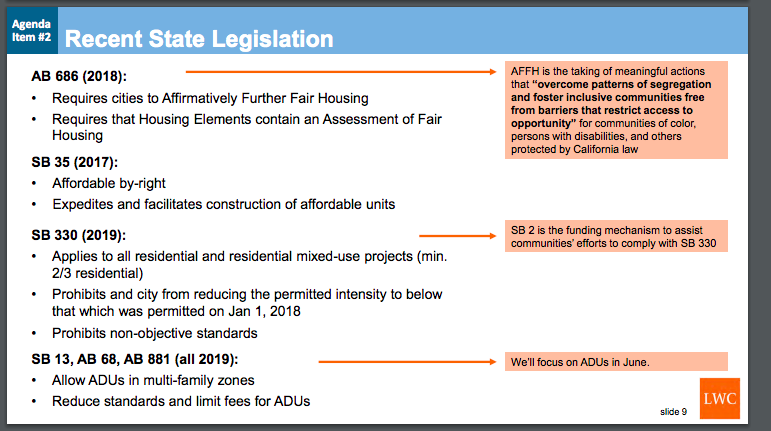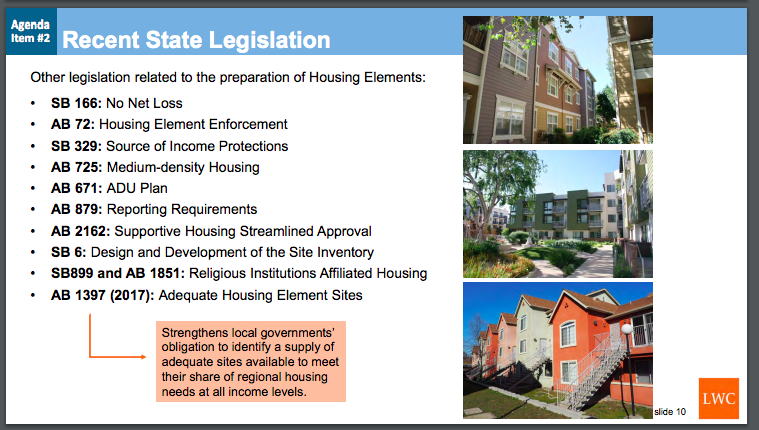 Since last fall, LWC has held one-on-one or small group meetings with 34 stakeholders (including selected realtors, civic leaders, residents), solicited city-wide input via a pinnable map to identify potential housing sites and comments (93 participants), and conducted a community survey that attracted 877 respondents. Aggregated results from the survey revealed the following:
Part of the process also includes updating city code design standards, which, planners say, will aim to align with community traditions. LWC consultant survey gave respondents an opportunity to weigh in on preferred architectural styles for multi-family homes. (Sample of a favorably reviewed design style below.)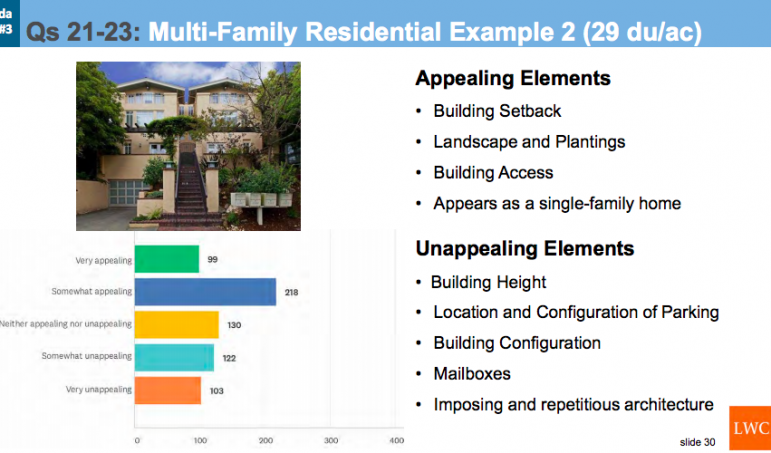 The survey feedback from the community as it reacted to specific designs showed that Piedmonters did not favor any particular style. Lin noted that style should not matter too much in the context of affordable housing development.
Committee members were also invited to participate in a real-time interactive poll of various street frontage, "massing and bulk" designs, and architectural styles, the results of which proved mixed. (Sample below.)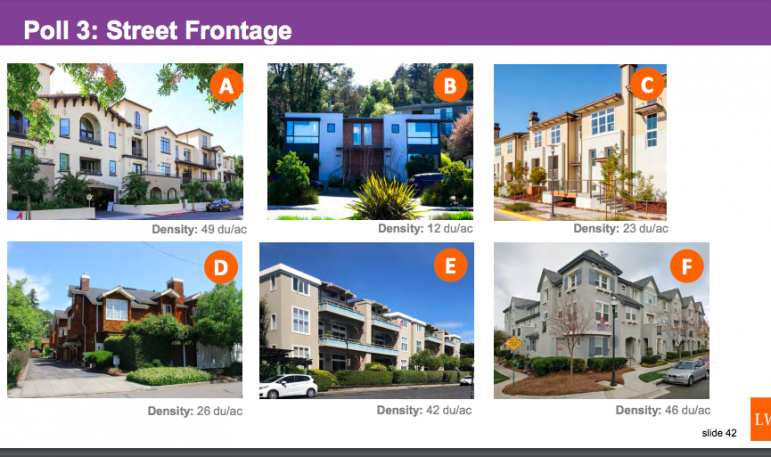 "More ornamental [design] tends to be more expensive, said Osler, commenting on the preference for Spanish motif the city survey noted. He noted that cities like San Leandro are moving toward modern styles — one less roadblock to creating affordable housing.
Based on the public campaign feedback to date, LWC submitted the following four guiding principles to the committee for approval:
Support equitable distribution of affordable units across the City. A diversity of housing choices, including new affordable multi-family housing, new mixed-income multi-family housing, new residential mixed use development, converted units, ADUs, and JADUs, should be considered throughout the City's neighborhoods, corridors, and zoning districts.
Promote and enhance community design and neighborhoods. Infill development should be compatible with the neighborhood context. Development and design standards should ensure that new construction "fits in" in terms of building scale, placement, and design; and is sensitive to impacts on the neighborhood, including impacts related to sunlight access, privacy, and roadway access. Each building must exhibit high quality design and play a role in creating a better whole.
Remove barriers to development and access to housing through clear and objective standards. Development of standards and procedures should guide development that is equitable and feasible and that lead applicants through procedures that are transparent and predictable.
Facilitate the development of new housing units through strategic partnerships between the City and the broader community. Partnerships to facilitate development include reaching community consensus for desired development types; achieving community support for new incentives, standards, and tools to meet housing goals; and beginning a community discussion about strategies for City-facilitated development of housing units for a range of income levels.
However, after hearing public comment, the committee agreed to allow more time for public feedback before approving and moving the principles forward to the City Council.
Piedmont residents called in to the meeting to encourage the committee to do more than simply meet mandates. "Apply creativity and commitment to overcoming challenges, past assumptions, and real constraints," said Beth Hughes. "Let's commit."
Some expressed concern about cost. "Who's going to pay for this?" asked caller MJ Dodds, saying adding additional housing units will presumably result in a need for more public services.
Winston Street asked the committee if changes to city design code would need to be voted on by residents. Jackson said the it was yet to be determined if this was necessary and that the city was researching.
Planners introduced strategies to "Affirmatively Further Fair Housing"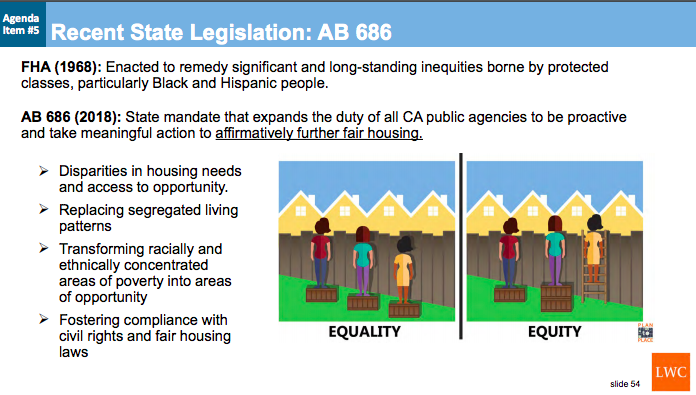 LWC told the committee that AB 686 requires cities to take concrete actions to remedy long-standing inequities, and that the public outreach campaign identified support for three ways the city could proactively meet these requirements: acquisition and rehabilitation of existing buildings; providing housing for Piedmont's teachers, first responders, seniors, and service providers; and streamlining permit approvals.
"Piedmont should take affirmative action," said Irene Cheng of the Piedmont Racial Equity Campaign. She also said the city could meet AB 686 goals by changing zoning and permitting to allow multifamily housing, creating funding sources such as a local trust or developer fees, and collaborating with community land trusts, all items outlined in state guidelines. "The Housing Element gives us an opportunity to walk the walk, she said.
Site inventory planning
Although residents who participated in the survey and pinnable map exercise identified a wide range of sites they wanted the city to consider for new housing, no decisions have yet been made. (And no, annexing parts of Oakland is not on the table, said Jackson, alluding to a San Francisco Chronicle article of May 19 that played off a single survey comment suggesting parts of Moraga Ave. that fell in Oakland should be "annexed".)
"We're looking at the existing Housing Element [that expires in 2023] and zoning and evaluating it, in order to go where we need to," said Jackson. "What is it about the sites we have now and what is constraining them from development," he said.
Due to time constraints, the committee agreed to finish discussion about this agenda item at the June meeting.
Batra said she appreciated the visual presentations and looked forward to continued public engagement, noting that the complexity of the planning process may feel like the "first day of calculus and you're a little confused" but that she expected it would become clearer over time.
"Piedmont is Home" is the umbrella title for the City of Piedmont housing policy work. This term includes the SB 2 Housing Programs Project, Measure A1 grant, and the next Housing Element Update. The Piedmont is Home website is a clearinghouse for information about new housing policy in Piedmont and project updates, as well as interactive ways to participate in the public engagement for these projects.
The next meeting is June 15 from 5 p.m. – 6:30 p.m. The agenda will be posted HERE 72 hours before the next meeting.