At the Board of Education meeting on Wednesday, PUSD administrators presented for the first time details of the new distance learning plan for K-12 students. The district had been considering a hybrid learning plan until late July when Governor Gavin Newsom announced that school districts in counties on a state watch list must begin the school year remotely until public health conditions improve. Teachers will have three days of professional development next week to get up to speed on the changes before school starts on August 17.

Superintendent Randal Booker, Assistant Superintendent Dr. Cheryl Wozniak, Director of Instructional Technology and Secondary Instruction Stephanie Griffin, and Director of Special Education and Student Services Hillary Crissinger each introduced a part of the plan.

"We are going to have to go all in with distance learning," Booker said. "I know there are a lot of parents, staff, and students who don't want distance learning, who want to be back and I want to be back, too. That is just not in the cards right now. So let's jump in 100 percent. If we're going to do it, let's do it well."

The presentations included information about new instructional technology tools, curriculum, methods of addressing student social and emotional health, professional learning days, and systems for students who require special education or 504 plans.

The five pillars of distance learning

Griffin told the Board that the plan was built around five "pillars":

Developing ways for students to demonstrate learning through physical creation/engagement (i.e. drawings, polls, projects)
Ensuring that the connections of student to content, student to instructor, and student to student are equally established
Building community in a safe class with an inclusive culture. 
Focusing on clarity, consistency, and communication. Students in particular said they wanted more communication with teachers.  
Making sure teachers have the right technological tools to deliver content. 
Chromebooks and learning platforms

Griffin said that PUSD will make sure everyone has the technology to attend virtual classes and complete schoolwork online, including distributing internet hotspots as necessary and delivering Chromebooks to all.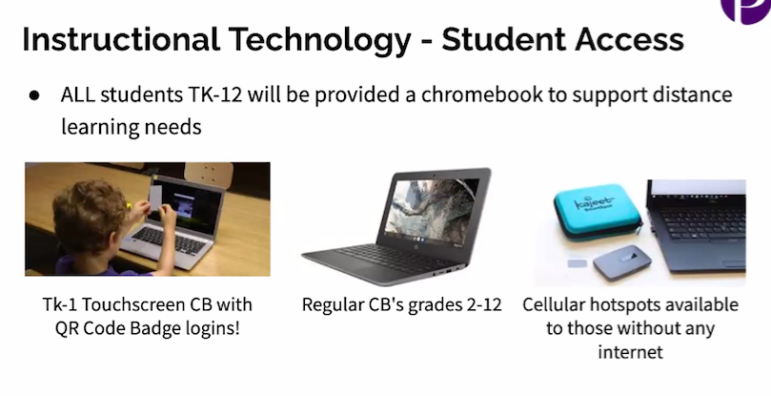 Students in kindergarten through first grade will use new touchscreen Chromebook models with QR badge code logins. Additionally, teachers will be provided with new equipment to ensure they can teach virtually including new laptops and document cameras. "Many of our doc cameras are very old and wouldn't work as a webcam," Griffin said.

The technology team has also been talking with specific departments to try to meet teachers' individual needs. This includes ordering touchscreen tablets for special education testing and looking into other equipment. "We are exploring Wacom tablets which are little tablets you can actually write on using a pen which is especially helpful for math teachers," Griffin said.

In addition to new instructional technology, new learning platforms will be used to help teachers organize and communicate their material effectively to students and parents. Orientation nights held to help parents understand the platforms.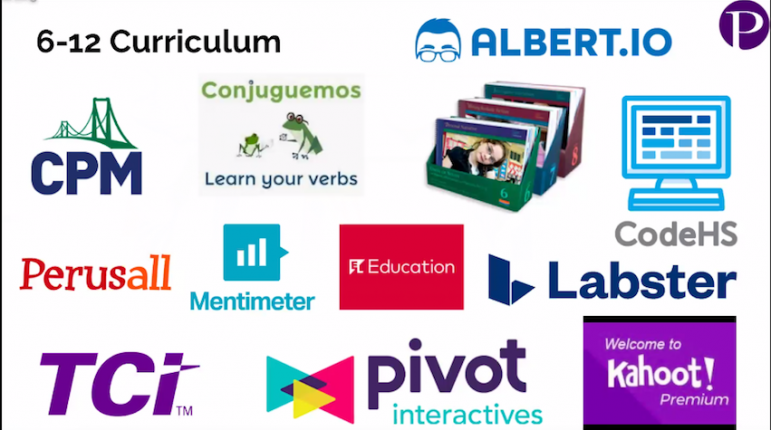 Kindergarten through second grade will be using a new online product designed especially for primary classrooms called Seesaw. Schoology, which was used by middle and high schoolers prior to the pandemic, will be expanded to 3rd – 5th grades.

"These learning management systems are the hub of our distance learning classrooms," Griffin said. "This is where everything will happen." Resources, worksheets, schedules, and any other form of learning tools will be posted on the learning platform. However, all final grades will still be reported through Infinite Campus.

Additionally, teachers will have access to more online programs to help teach their students virtually. Some of the new programs include Screencastify, Edpuzzle, Peardeck, Kahoot Premium, and Google Meet Enterprise, an advanced version of Google Meet containing break-out rooms, attendance tracking, and hand-raising.

If and when the district transitions to a hybrid model of instruction, there will be appropriate technology available, she said. This includes voice enhancement tools and improved visual quality of classroom technology. "If we imagine our teachers are wearing masks in the class, we want to ensure that students can hear [them]," Griffin said.

An evolving curriculum

There will be adjustments to the curriculum for all levels in the district. Most of the curriculum changes at the secondary levels will be teacher, subject, and grade-specific like virtual labs for science classes, Wozniak said.

At the elementary level, there are more standardized English Language Arts and Math curriculum developments. There will be a modified curriculum and increased access to online platforms. Wozniak cited Literably, an online reading assessment tool, as an example. The platform records a student's fluency, accuracy of reading, and comprehension so it frees up teacher time.

"It's always been important to know the reading level of our students but [it is especially important] at a time where we have a potential for language loss around reading because of the situation families are in," Wosyniack said.

Other English Language Arts tools include the Teachers College Reading Writing Program which allows teachers to push out pre-recorded video lessons, Reading A-Z which gives K-2 learners access to over 1,000 leveled books to read, and Newsela which gives grade 3 – 5 learners access to articles and news stories of world events.

In terms of Math Education, the elementary school teachers will continue to use the Bridges curriculum which is adapting for distance learning.

A focus on social and emotional health

Student social and emotional health has been top of mind for Board members and PUSD educators since March.

Crissinger said that many special education students struggled during distance learning in the spring. "Some students have difficulty in virtual platforms because they don't know the social cues or they have difficulty figuring out how to feel comfortable seeing themselves on the monitor," she said. "Some of them don't like their voice being recorded or heard. There are a variety of reasons why a platform like this is difficult for some students."

However, the platform was not the only challenge for students. "Some students suffer because they feel very isolated," she said.

Teletherapy was provided to students under confidential conditions and a website with resources was developed to help families in the spring. These services will continue with newly released recommendations from Student Services at the Alameda County Office of Education.
"They have inaugurated an action plan that provides guidance and strategies and activities for teachers to engage in to build rapport with students, to use to identify students who may be struggling, and create protocols to approach and solve problems with," Crissinger said.

In addition to counseling, the district has tried to incorporate as much structure as possible into the distance learning school day.

"One of the most important aspects of distance learning is structure," Booker said. "Kids crave structure and we need to continue to provide that for them." He said that this includes grading, benchmark assessments to help look for learning loss, and tracking attendance through Infinite Campus. "I want to be really clear, though, that we want to work with families," Booker said, emphasizing that punishment for non-compliance was not the goal. "Especially families where their kids are having difficulty getting to the screen and staying on the screen. Distance learning will not work for every single kid."

Professional development starts next week

Three professional learning days are scheduled to begin on August 10 and are followed by a school-site specific collaboration on August 13. The days contain a combination of time devoted to teachers learning individually and collaborating with colleagues.

"We are very pleased that the instructional calendar shifted to allow for three additional days of professional learning, collaboration, and planning," Wozniak said. Most of the instruction is focused around distance learning including individual learning time.

"We are fully invested in [staff development] because we do see us being in distance learning for a while," Wozniak said.

Anti-racist education training is also incorporated into the training days. "We fully recognize that as a school district we have a responsibility to actively fight against racism," Wozniak said.
Special education challenges and opportunites

Special education instructors will continue using learning platforms to provide specialized academic instruction. The plan includes communication of schedule, platforms, and feedback on what works for students to properly adjust to better suit the student's needs. This is very similar to what Special Education was doing during distance learning last spring, said Crissinger. "We demonstrated that we can quickly turn overnight," she said. "We developed norms for our virtual IEPs. We will continue with virtual IEPs over the school year."

The Special Education department will also continue to provide teletherapies including occupational therapy, physical therapy, and adaptive physical education, she said.

Cissinger said that the main difference from last spring is that there will be on-site testing set up for Special Education students via private professionals. "We put protocols in place," she said. "Anytime we actually do an onsite assessment they will be done in a safe room." The well-ventilated safe room includes a plexiglass partition between provider and student is being assessed, and a strict log of who is allowed to enter and exit. Also, the participants will wear masks and face shields. Due to a lack of adequate spaces currently on campuses, Special Education will utilize offsite private facilities at first.

"Safety first is my consideration because I don't want anyone to get sick," she said. Finally, she said that they will continue to test and monitor students' progress. They need to remain flexible and try to support their students the best they can. "Yes we're really clear about the fact that virtual did not work for all our students," she said. "And we discussed them and we are trying different strategies to keep them engaged."

The state has not provided much direction regarding 504 plans so Crissinger said individual school teams/sites will develop the plans.
Communication time is built into the school schedules
"We built time into our daily bell schedules so that parents and students have opportunities for office hours and can connect [with teachers]," Booker said. After the haphazard remote learning experience in the spring, he also said "I think it is also going to be crucial that families let us know what is going on in the home," he said. "We have to be partners through all of this."
Community groups are vital for the schools but Booker said that these partnerships need to extend to the individual. "Teachers to parent, parent to student, teacher to student," he said. "These partnerships are going to be more vital than ever."

The next Board of Education meeting is scheduled for August 12 at 7 p.m.

---
SEE RELATED