From a Piedmont Unified School District press release on Oct. 18
Students in the Piedmont Unified School District (PUSD) rank near the top of the list among all school districts in California taking part in the California Assessments of Student Performance and Progress (CAASPP).
The CAASPP is a collection of computer-based assessments in English Language Arts/Literacy, Mathematics and now, Science. The CAASPP replaced the paper-based Standardized Testing and Reporting (STAR) program beginning in 2014.
Last spring, Piedmont students in grades 3–8, and 11, participated in the 2022-23 CAASPP for English Language Arts and Math. Students in grades 5, 8, 11, and 12, participated in the Science test "CAST".
The California Department of Education released school, district, and state aggregate results Oct. 18. Piedmont students demonstrated remarkable achievement overall on the CAASPP, ranking third among California unified school districts in English Language Arts (ELA) and in Math.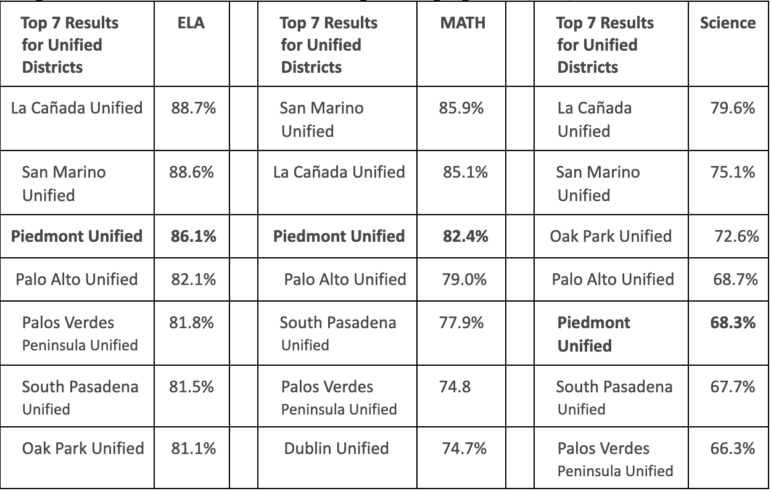 Overall, over 86% of Piedmont students met or exceeded state standards in English Language Arts – about a one percent drop from 2022. In Mathematics, over 82% of students met or exceeded state standards, improving on last year's result. In Science, over 68% of PUSD 5th, 8th and 11th and 12th graders students met or exceeded the rigorous state standards. This is double the state of California average of 30.2%.
See Piedmont's full results for ELA and Math HERE and Science HERE.
"We are thrilled with the exceptional achievement of our students, and we are grateful to our teachers and staff for their outstanding work," said PUSD Superintendent, Jennifer Hawn.
Like class assignments and report cards, the CAASPP assessments are one gauge of student progress, providing information to schools, teachers, and parents about how students perform relative to California's goals for both learning and college and career readiness. These results will be used as one of several means to determine and meet student needs, and guide discussions among parents and teachers.
Individual student score reports of PUSD students are accessible at any time by families electronically on the Infinite Campus Parent Portal. Directions are available on the district website. The individual score reports include a link to free tools and resources in reading and mathematics. Other resources for families include: