Piedmont Unified School District (PUSD) students rank near the top of the list among school districts in California, according to the latest results from the California Assessments of Student Performance and Progress (CAASPP)
Overall, over 87% of Piedmont students met or exceeded state standards in English Language Arts, marking a 2% increase from 2021, as well as a return to the district's pre-pandemic score. In Mathematics, 81% of students met or exceeded state standards, maintaining their scores from 2021, but still 5.5% below pre-pandemic levels. In Science, nearly 75% of PUSD students met or exceeded state standards.

PUSD press release on Oct. 26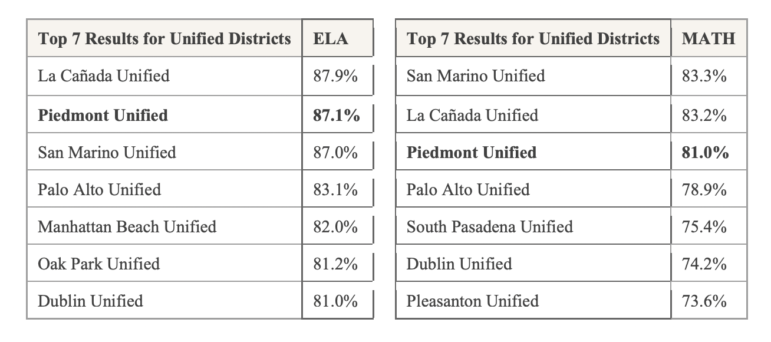 See Piedmont's full results for ELA and Math HERE and for Science HERE.
In comparison, among California students overall, nearly 47% of students met or exceeded standards in English Language Arts (down 4 points from 2019), 33% in Math (down 7 points), and nearly 29% in Science (down one 1 point).
The CAASPP is a collection of computer-based assessments in English Language Arts/Literacy, Mathematics and now, Science. The CAASPP replaced the paper-based Standardized Testing and Reporting (STAR) program beginning in 2014.
Last spring, Piedmont students in grades 3– 8, and 11, participated in the 2021-22 CAASPP for English Language Arts and Math. Students in grades 5, 8, and 12, participated in the Science test "CAST".
The California Department of Education released school, district and state aggregate results on October 24.
In addition, PUSD says the results showed a reduction in achievement gaps in student groups and growth in overall distance from "met the state standard."
"This is exciting news from the state and another wonderful testament to the hard work of Piedmont students, teachers and staff," said PUSD Interim Superintendent, Dr. Donald Evans in a statement. "To show such resiliency in reaching or approaching the District's pre-COVID results, despite everything they've gone through, demonstrates students' willingness to learn and educators' dedication to supporting them in every way."
PUSD says students show improvement in local reading assessments administered this fall
The district says when compared to 2021, PUSD students in grades 7-12 showed improvement in the combined percentage of students assessed as "advanced" or "proficient," and in all grades but one, showed gains in the percentage of students assessed as "advanced."
View details HERE
"With the many challenges students have faced over the past three years, to see these types of numbers and how, in many cases, they are increasing, is very encouraging," said PUSD Interim Superintendent, Dr. Donald Evans. "That being said, our teachers and staff remain focused on ensuring every one of our students is reading at a high level and will continue working toward that goal."
Fall Reading Data collection is part of the process for providing intervention for students not meeting grade-level benchmarks. Using a Multi-Tiered System of Supports (MTSS), teams of educators at each school site are able to develop a plan for how to support students and ensure they make the appropriate progress each year. PUSD is in its second year of developing systems of support districtwide and reading is the area of focus for 2022-23.