"The de Young Open" returns this month, with newly acquired triennial status. Nearly 900 visual artists will display their work in the 2023 edition of this popular showcase for Bay Area talent.
The exhibition will open Sept. 30 and continue through Jan. 7 at the de Young Museum in Golden Gate Park.
"It's a community-based art exhibition, it's blind-juried," said Timothy Anglin Burgard, Ednah Root curator in charge of American art for the Fine Arts Museums of San Francisco, and the originator of the triennial, when describing what makes "The de Young Open" unique among large-scale museum shows.
"Most people think of museums as gatekeepers of art," which is "often imported nationally or internationally," Burgard said.
"The de Young Open," which made its debut in 2020, instead "foregrounds the voices and visions of local artists," he adds.
The artwork featured in "The de Young Open 2023" was chosen by local artists Clare Rojas, Stephanie Syjuco, Sunny A. Smith, and Xiaoze Xie and by several Fine Arts Museums curators, including Burgard.
Anyone who was at least 18 and lived in one of the nine Bay Area counties was eligible to submit a work of art. All applications were submitted digitally and evaluated in a blind-judging process to prevent bias.
From 7,766 submissions, the jury selected 887 works, which collectively reflect a wide range of styles, subjects, and sensibilities.
They will be displayed salon-style — ceiling to floor.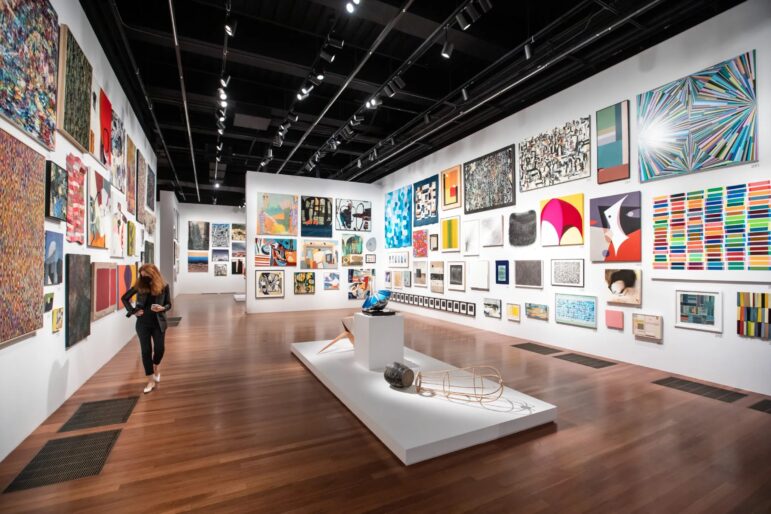 Participants can sell their artwork and receive 100 percent of the proceeds.
The thematically arranged exhibit begins with two galleries devoted to urgent and substantial political and global issues.
In 2020, art that involved Black Lives Matter and Covid-19 dominated these walls.
In 2023, climate change, Ukraine, the Middle East, and the events of Jan. 6 are prominent concerns.
Areas of focus in the remaining galleries include nature, local landscapes, abstraction and the human figure.
"My heart skipped a beat," said Alex Sodari, describing his reaction when he learned his acrylic painting "Nopalito en el Desierto" was accepted into "The de Young Open 2023."
"It's the most significant painting of my paintings, to me," said Sodari, an Oakland-based Mexican-American artist who describes his work as "inspired by his community, comic books, folk art, history, and the natural world."
"It's very personal. I've never shown it publicly before."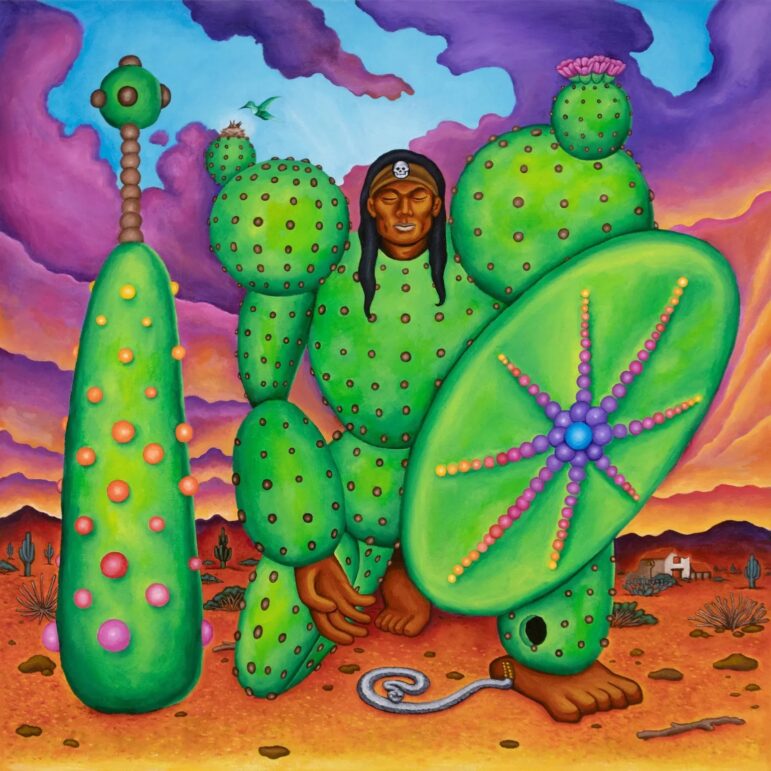 The painting features a desert landscape, at the center of which stands a male figure.
"I call him Nopalito," Sodari said, describing his creation as a warrior figure, and at times a protector, who reflects his connection to Mexican and Native American cultures and to Arizona and represents masculinity. "Creating him was my own growth."
The painting includes symbolism, such as a black snake at a focal point, that illustrates "violent aspects to the male psyche" but also opportunities for positive growth, he said.
Vicki Edge, whose "Oakland 2022: Degrees of Change" will be in the exhibit, also describes her selected artwork as personally significant and her first "art quilt."
"It falls into the genre of 'temperature quilts,' and, more generally, into the graphic representation of data, and one way to help people visualize the changes caused by climate change," she said.
Creating the quilt involved recording daily temperatures, she explained. The colors of the squares in her quilt reflect those numbers.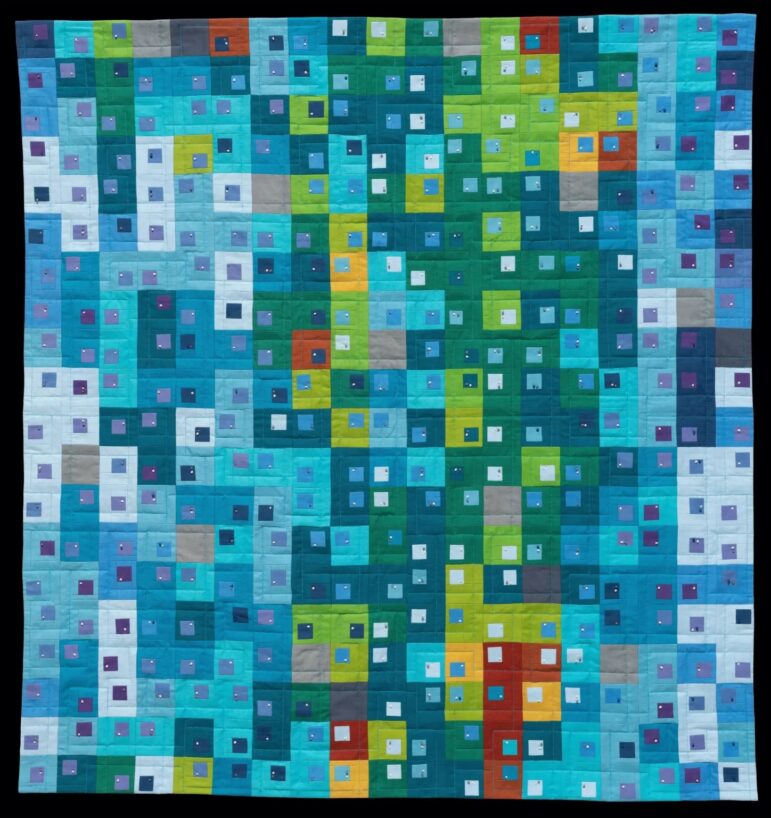 "I have been involved with textiles in one way or another since the age of eight, when I made my first tube dress for Barbie," said Edge, who has lived in the Bay area for 39 years.
As for her inclusion in "The de Young Open" show: "I was and am completely thrilled," she said.
Other works in the diverse exhibition include "Our True Essence," a mixed-media drawing by Keiko Katsuta. The artist creates mandalas inspired by her experience with healing practices.
Ken Sakatani addresses the U.S. incarceration of Japanese Americans during World War II in "Closed Until Further Notice," a digital pigment-based print containing Western and Japanese imagery.
"Combining a social narrative with the concept of love, I want to express, peace, love, joy and freedom in my paintings," says Virginia Jourdan in her artist statement. Jourdan's acrylic painting "Ghetto Bird" warmheartedly demonstrates that aim.
Photographic highlights include Eduardo Soler's "Mother and Daughter," a portrait shot in Oaxaca, Mexico.
Beth Grossman's "Searching for Democracy: Preamble," an ink-on-money-bag sculpture, features the Preamble to the U.S. Constitution, hand-lettered. With this work, Grossman aims to prompt discussion about the importance of understanding the Constitution.
Local landscape paintings include Katarina Martinez's "Sausalito Houseboats" and Robin Mize's "Corona Heights 360."
Museums around the country need to avoid making the common mistake of trying to be like New York, Burgard said.
"Museums need to retain relevance," he said. "They should reflect the communities they serve."
"If museums don't exist in the real world, they will be mausoleums," he said. "For the Bay Area, the New York model is not a viable path to go down."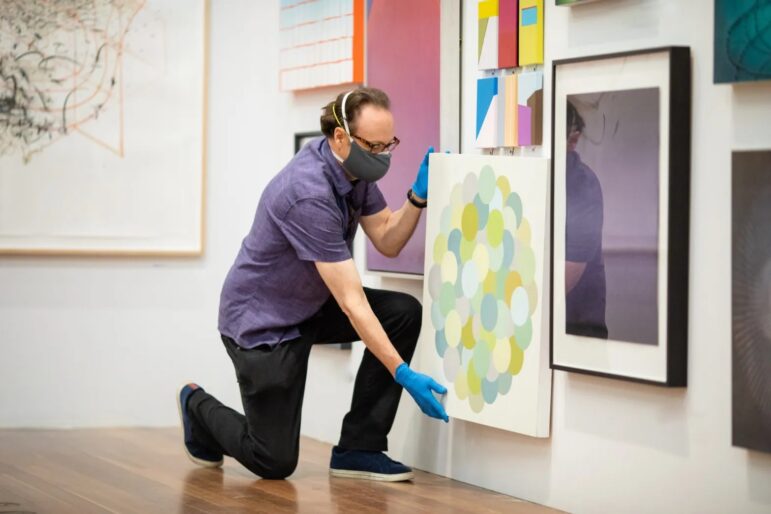 As the launch of "The de Young Open 2023" approaches, Burgard said he feels excited and inspired by the works the exhibit's artists are bringing through the door.
"Taking my piece to the de Young this week and having it accepted made it more real," Edge said.
"I don't think it will be completely real to me until I see it hanging in the museum."
---
Piedmont artists in the De Young Open
Piedmont artists Irene Nelson and Emily Keyishian are among the Bay Area artists represented in this year's Open. Both artists are also participating in this year's Piedmont Art Walk on Sunday, Oct. 1.
Originally from New York, Nelson has lived most of her adult life in the San Francisco Bay Area. Her gestural, abstract paintings, drawings, and work with monotypes are guided by intuition and experimentation and explore, in her words, "impressions constructed from the thin line between memory and imagination" and the belief that she is a part of something larger than herself.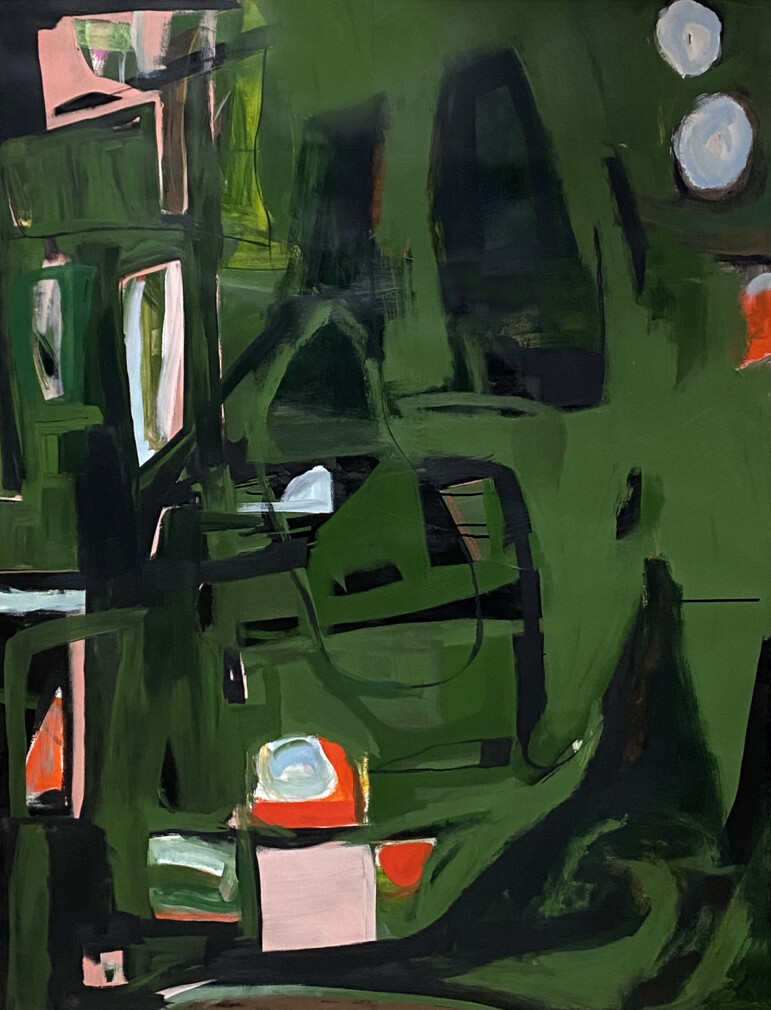 Alongside the De Young Open, Nelson has an upcoming solo show at Manna Gallery in Oakland that runs from Sept. 23 to Nov. 4.
Keyishian grew up in New Jersey and New York City to a mixed family of Armenians from Turkey and Jews from the Ukraine and has practiced art professionally since 1997. Her abstract work adopts a psychological lens and explores the disjoint, uneven, unsettling, and comforting spaces of what is familiar, tapping into themes of belonging/rootlessness, diaspora, and displacement through pattern and color.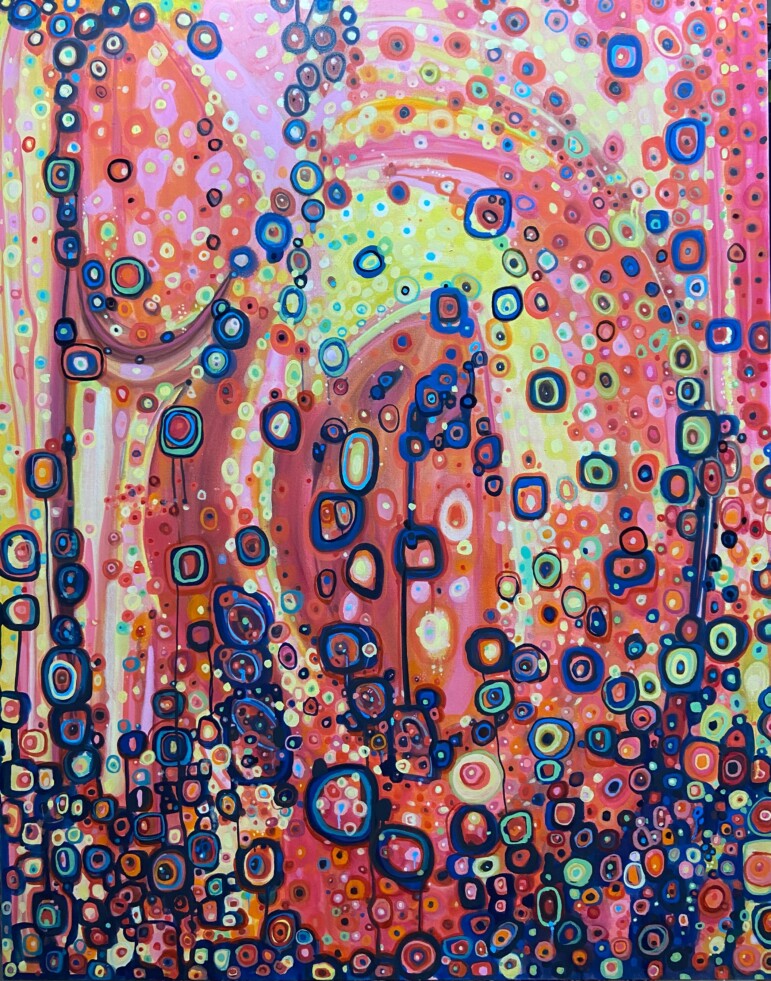 The de Young Open continues from Sept. 30 to Jan. 7 at the de Young Museum, 50 Hagiwara Tea Garden Drive, Golden Gate Park, San Francisco; admission is $5 to $25, free on Saturdays for San Francisco residents. For more information, call (415) 750-3600 or visit www.famsf.org.