As Oakland's crime rates rise and incidents have spilled into Piedmont in recent months, the city's police department has taken steps to increase its visibility around town and has issued warnings about armed carjackings and robberies within the city's borders.
Violent crime in Oakland is up 15% this year compared to 2022 according to OPD's most recent weekly crime analysis for the week of July 30: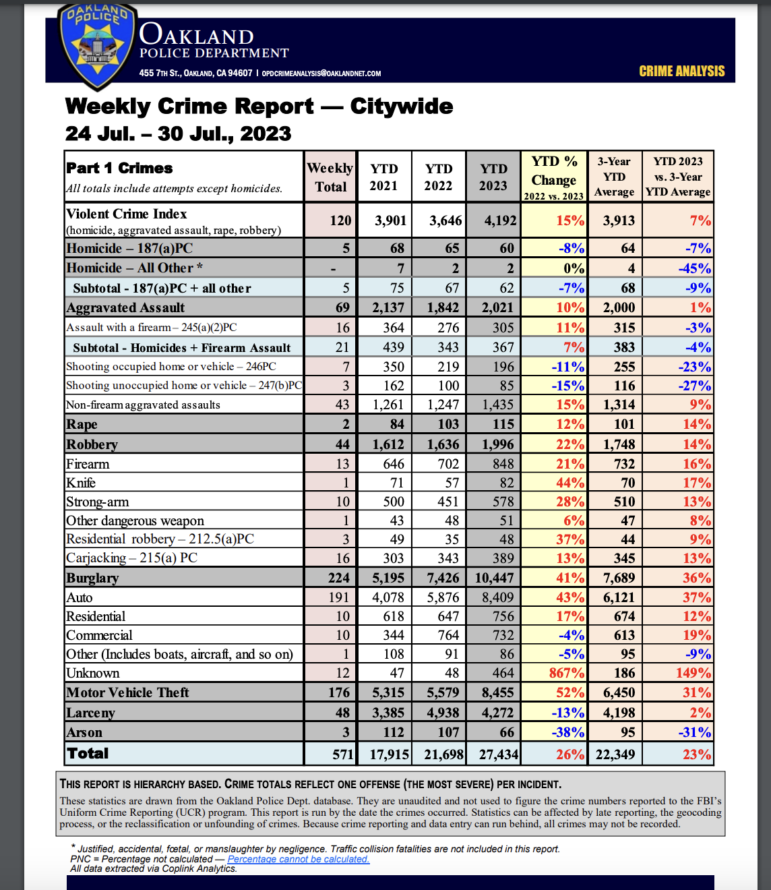 Piedmont's Police Chief Jeremy Bowers routinely delivers quarterly crime reports to the City Council. Given heightened concerns around public safety, Bowers took to social media this week to invite residents to attend the Sept. 18 City Council meeting at 6 p.m. for an update on Piedmont's crime stats and other public safety issues. (Residents can attend City Council meetings in person or watch via KCOM or Zoom*)
The Exedra's review of recent police blotter incident reports found that, in addition to ongoing car-related break-ins and thefts, the city's automatic License Plate Readers (ALPRs) are getting a workout: In the last two weeks of July alone, the system tracked 64 vehicles of interest (stolen or missing vehicles, or those used in commission of crimes) transiting the city. The cameras were first deployed in 2013.
At the May 26 Public Safety Commission meeting (see link below) Bowers outlined concrete steps residents could take now to assist the department in combatting crime, including:
Report crimes, even if you've lost faith in any follow-up. Bowers said that while he did trust Piedmont's crime data, he did not have confidence in property crime statistics from neighboring communities like Oakland (violent crime data he said was probably more accurate because people do call if they are being physically assaulted or harmed). Not reporting property crime "lets those who should be accountable off the hook," he said.
Do not confront anyone stealing catalytic converters. Thefts continue to be a problem locally and nationwide. Bowers said that suspects in the Bay Area are now more likely to be armed than in the past. Call 911: "If you call, we will respond," Bowers said.
Let Piedmont police know if you have security cameras. Having that information helps officers quickly gather video evidence in the aftermath of a crime.
Revive Neighborhood Watch groups. Public safety is everyone's responsibility, Bowers said.
In recent months, PPD has increased its visibility around town via its "Cop on the Block" program, the annual National Night Out, and has issued warnings via social media about recent armed carjacking and robberies. PPD uses NextDoor, Instagram, and Facebook to post alerts and updates.
*From the city's website: Piedmont City Council meetings are conducted in person at City Hall Council Chambers. As a courtesy, and technology permitting, members of the public may participate virtually. However, the City cannot guarantee that the public's access to teleconferencing technology will be uninterrupted, and technical difficulties may occur from time to time.