Piedmont High School senior Parker Long has reached the pinnacle of high school track in California – he won the boys 800 meter race at the North Coast Section Meet of Champions on May 20 and will compete at the California Interscholastic Federation championships on May 26-27 in Clovis.
Long also ran a leg on Piedmont's 1,600 relay team that took second and will also advance to the state meet.
The pace was quick in the 800 and Long fell back into the pack on the first lap after initially trying to go out fast. But he was strong on the second lap, took the lead and ran away from the field on a very cold and windy night at Dublin High School, finishing in one minute, 53.80 seconds – a full .80 ahead of second place Joaquin Foster of San Domenico-San Anselmo.
"Going into it, I knew it was going to be a fast pace," Long said. "I watched all these runners go in the prelims. It looked like everybody was going to be aggressive. I was on the outside curve (on the stagger) and I remember when the inside curve caught us super-soon, I was like, 'Oh my god. They're going so fast."
Long fell into sixth place out of 12 on the backstretch. He said he was telling himself to stay calm and that the race would be decided in the last 300.
"I was just trying to stay relaxed, stick with the pace and not do anything crazy," he said.
The 56-second first lap was the fastest Long had come through at 400.
"That was a little scary," he said.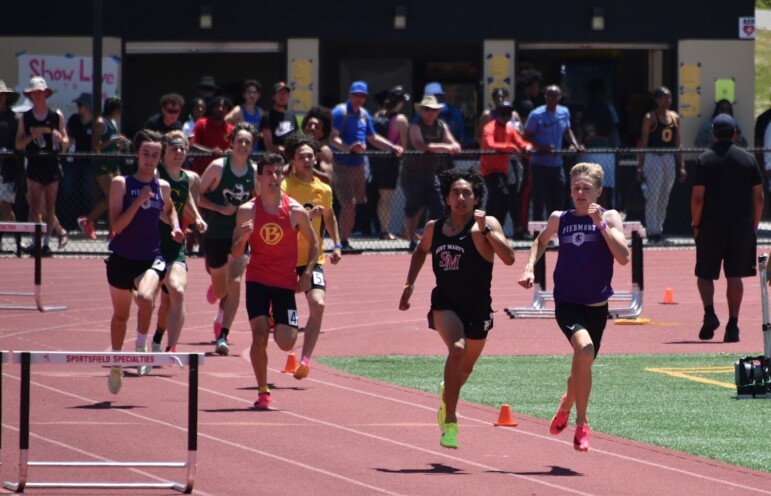 With 300 to go, Long said Clayton Valley's Alan Solari made a move. Long said he realized he needed to go and catch up. He did on the final turn.
"I was so tired," Long said. "I kept turning back because I thought somebody was going to catch me, but nobody caught me."
The 800 is midway between a long sprint and a short middle distance race. When it's the latter, runners sit back and try to run a tactical race. That was not the case in this one.
"It's certainly more fun," Long said. "There's a lot more you have to think about, though. It's easier when you can just sit behind someone and run all smooth. It's crazy when it's super-chaotic. It's super-fun when that happens."
Long has had a terrific senior season, breaking out on the same Dublin track in March when he was the surprise winner of the "A" heat at the Dublin Distance Fiesta. He originally was scheduled to run the "B" heat, but a scratch allowed him to set a personal-best of 1:53.25 against a strong field. He followed that up by taking third at the Stanford Invitational, third in the Open Division at the Arcadia Invitational, and winning the West Alameda County Conference championship.
"It's pretty cool to look out at this entire part of California and think I was the No. 1 out of all these people," Long said. "That thought is kind of mind-blowing to me still."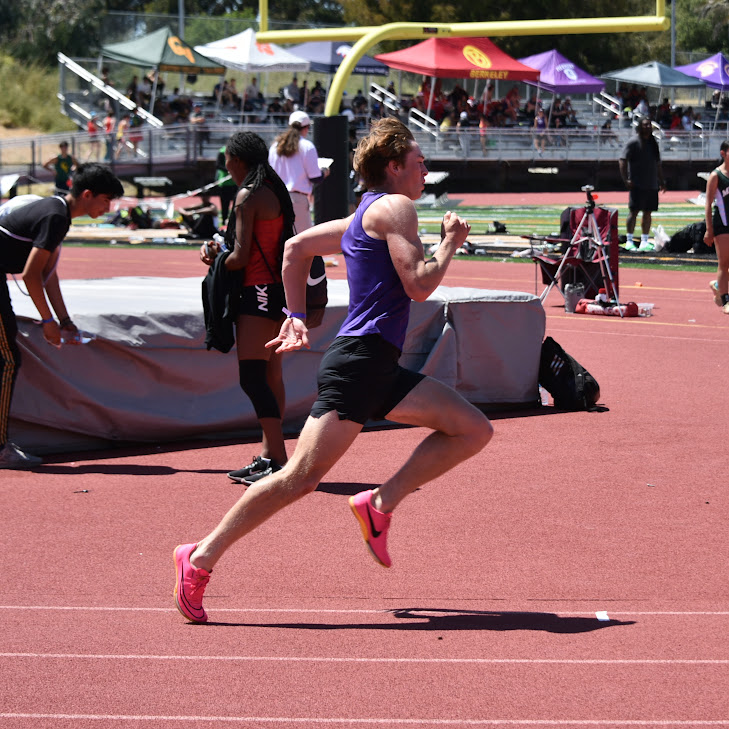 Also mind-blowing was the relay, where Piedmont's team of Long, Christian Taylor, Jack Zirkelbach-Ngai, and Sam Shelby ran 3:24.58 for second place. The top three finishers plus those who make set qualifying marks advance to the CIF championships. The Highlanders finished behind Dublin (3:23.60) and ahead of third place Clayton Valley (3:25.26).
Spencer Sorensen-Wald was Piedmont's other medalist, taking sixth in the boys pole vault at 13 feet. Connor Kim was 16th at 11-0.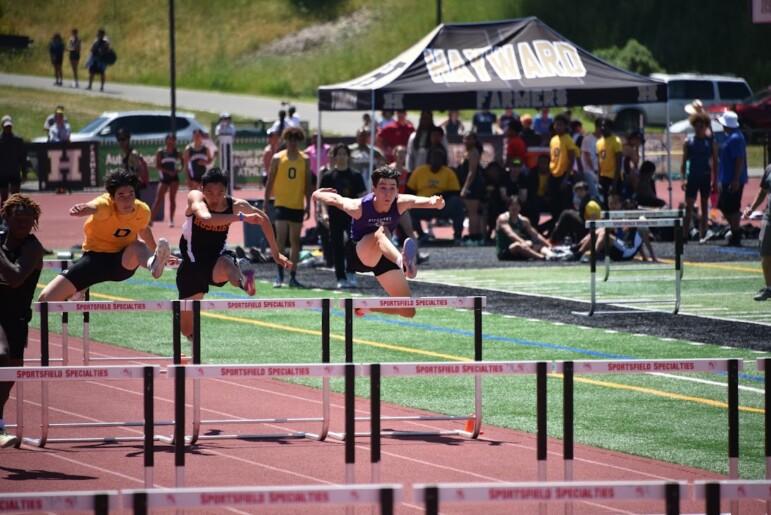 Taylor also ran in the finals of the 1,600, finishing 12th in 4:35.12. He had made the final with a 4:20.73 in the prelims on May 19.
"My legs have been really tired the last few weeks, I haven't been sleeping great, and I think all that just showed today," Taylor said after the final. "I felt pretty good yesterday. I had a nice last lap which I'm happy about. I had a feeling that today wasn't going to be my day."
Miguel Long was 12th in the boys triple jump with a leap of 41-8 ½.
Xander Schulte-Sasse finished 20th in the 3,200 in 9:44.91.
"I was happy to get to this point," Schulte-Sasse said. "Yesterday, this morning, I was pumped. I was ready to go out there and PR by a ton. But once it started, it was rough."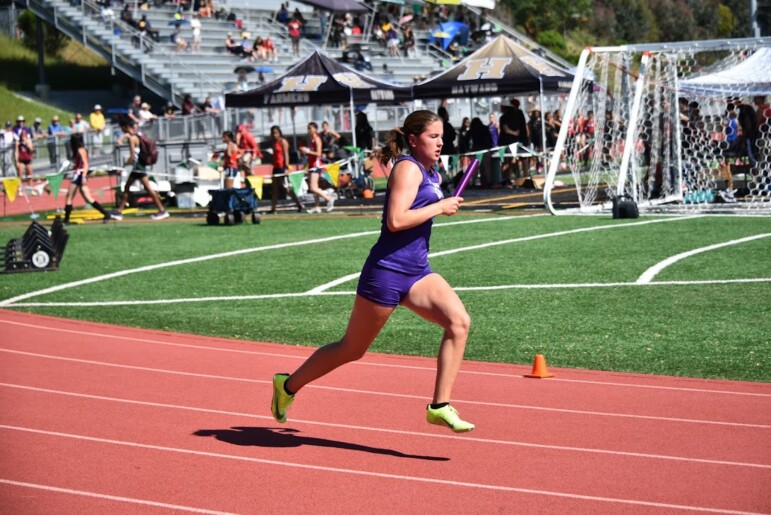 Ella Yasar just missed qualifying for the finals in the girls 300 hurdles, finishing ninth overall in 48.68. Maria Carillo-Santa Rosa's Payton McGarva was the eighth qualifier in 48.64. In races of one lap or less, eight qualified for the finals.
Jamie Schwarz ran 2:24.28 in the prelims of the girls 800, the 18th-best mark.
---
see related