How the City of Piedmont should update its Housing Element to accommodate its Regional Housing Needs Allocation (RHNA) of 587 new units has been the topic of much community debate and a focal point for candidates running for open City Council seats this November.
The debate is not unique to Piedmont — all cities in California are being asked to do more to address the housing shortage. The San Francisco Chronicle on Thursday published an article (see: California housing officials tell Oakland to plan for more homes in pricey Rockridge neighborhood) that shows what can happen when cities don't make an authentic effort to address the problem.
A July article (see: Bay Area cities face long odds in fighting state-mandated housing goals) noted that "Earlier this year, 47 cities and counties in Southern California appealed their allocation numbers. All the appeals were rejected. So far the courts have tossed out lawsuits filed against the state housing agency by jurisdictions objecting to their RHNA number."
This week the City posted a fact sheet designed to dispel some frequently misunderstood aspects of what that 587 number means and other details of the Housing Element process: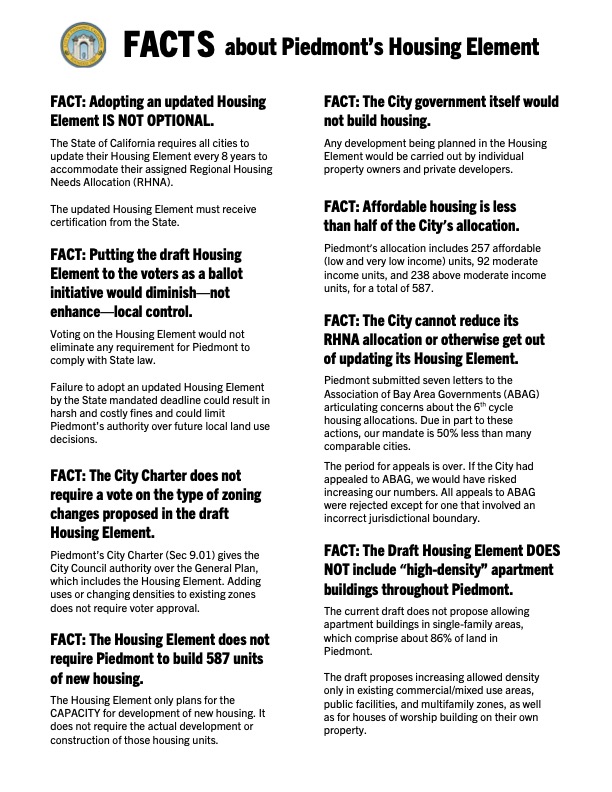 The city's website, piedmontishome.org, is a clearinghouse for information about new housing policy in Piedmont and Housing Element project updates.