Keith Dierkx said he found out about the city's ongoing Housing Element update effort about four months ago from neighbors. That he didn't hear about it sooner — a year ago, perhaps — he blames partly on the city, and partly on himself.
But he's engaged now, he said, and he understands city officials have a hugely challenging task ahead — figuring out how a city with a total area of 1.7 square miles can absorb 587 new housing units by 2031.
"It's a challenge to be sure; no one said it wouldn't be," said Dierkx, one of perhaps 30 people who came by City Hall for an Aug. 18 Housing Element 102 Information Session about Piedmont's work to comply with the sixth Association of Bay Area Governments' Regional Housing Needs Allocation eight-year cycle, from 2023 to 2031.
Kevin Jackson, Piedmont's director of planning and building, said this was the 29th event — City Council meeting, open house presentation, Planning Commission meeting, online survey or other outreach effort — to gather information and/or inform as to how Piedmont will accommodate its share of new regional housing according to state Regional Housing Needs Assessment guidelines.
Jackson and Sara Lillevand, Piedmont's city administrator, made an hour-long presentation Thursday night summarizing the public process to this point and explaining the current state of play as to where 587 new housing units could be accommodated (if not actually built).
That 587 is almost 10 times the 60 residences the city was mandated to prepare for in the fifth RHNA cycle, from 2015 through 2022.
A significant recent change from the state, Lillevand said, is that there will now be planning to accommodate 84 lower-income units, up from 49, as part of the mix, with a corresponding reduction in moderate- and above-moderate-income units.
Lillevand acknowledged that, despite all the public events, ample coverage in local media (including the Exedra), a city website dedicated largely to the Housing Element (piedmontishome.org), regular email blasts from the city and banners hung around the city, many residents had not heard about this complex process a year ago, when work on this next eight-year cycle began.
The City Council wanted more information, too, and on June 20 – rather than vote to submit the city's draft 2023-2031 Housing Element to the state Department of Housing and Community Development for initial review, the City Council asked for more information about the plan and the process.
"We are working hard to bring folks up to speed," Lillevand said Thursday. "That's a large part of why we've slowed down a little bit in this process."
The state has given Piedmont, along with every Bay Area city and county, a mandate for accommodating new housing units to add to the region's housing stock, to account for expected regional population increases. State law does not require cities to build or finance those quantities of new residences, but they must plan to accommodate them.
For a good while following the presentation, Jackson, Lillevand, and several other city officials mingled with resident attendees outside in front of City Hall, responding to a variety of questions ranging from why the city didn't challenge that 587 number to how traffic could be affected in Piedmont, and where all these new houses, apartments and accessory dwelling units can go.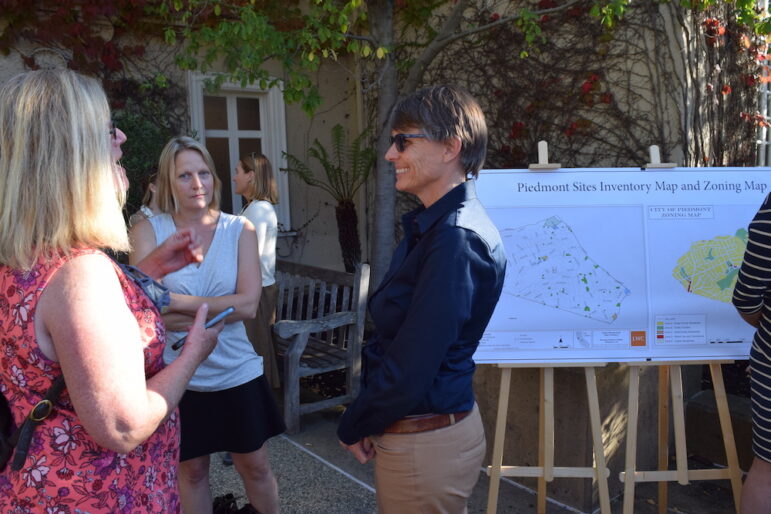 Nicholas Stamatakis took time to scour the information boards and talk to city officials after the formal presentation. A bit late to the subject himself, he has plenty of concerns, especially about proposals that would develop parts of Moraga Canyon on the city's northwest edge. "That's such a nice area not to leave like it is," said Stamatakis, who doesn't want developers "stuffing it with asphalt and concrete buildings." He also is afraid so many new residents in Piedmont could cause the local quality of life to "dissipate."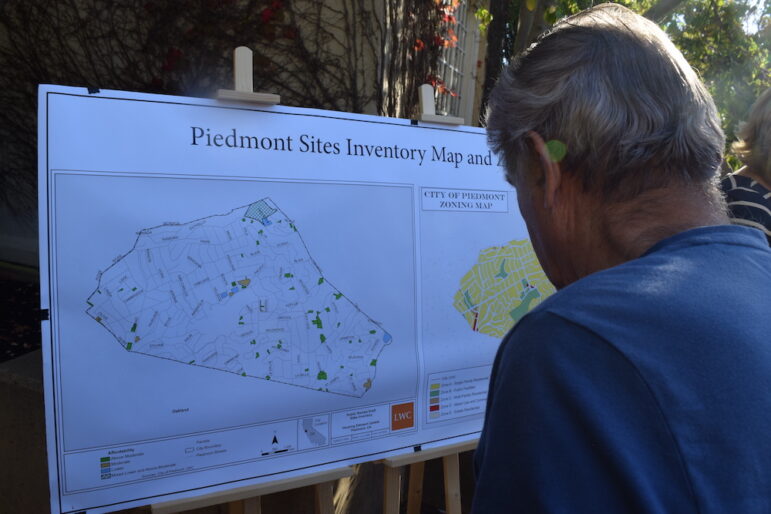 But he realizes Piedmont, and almost every Bay Area city, is challenged not only in dealing with the housing mandates but in explaining all of it to its residents.
"(City officials) are trying the best they can; there's a lot of information to get out," Stamatakis said.
Dierkx had similar, if somewhat less positive, feelings.
"Do I feel like I've been listened to? I'm not quite sure," he said. "Tonight, I think, they've listened."