A stolen U-Haul truck was recovered in Piedmont on Aug. 15 and among the items found were two City of Oakland parking meters.
The Ford E-450 truck was first detected by the city's Automated License Plate Reader (ALPR) system at 11:34 a.m. on Aug. 14. The next day, Piedmont Police Officer Jasdeep Singh spotted the truck parked on Walker Avenue. The truck had been stolen in Berkeley.
An adult male was in the driver's seat. Fred Smith was found to have a warrant issued in Alameda County for disorderly conduct in court, according to Piedmont Police Capt. Chris Monahan. The vehicle was searched and two parking meters were found. In addition, there were multiple credit cards under different names, 187 grams of suspected marijuana, mail under different names, and a glass pipe, according to Monahan. Smith was booked into Santa Rita Jail in Dublin.
When the original hit on the U-Haul came in on Aug. 14, Singh was involved in recovering another stolen vehicle. A black 2019 Audi Q8 LL set off the ALPR system at 3:03 p.m. near Grand and Wildwood avenues. The vehicle had been reported stolen from Fresno, according to Monahan. Officers found the car on Lake Park Avenue. The driver had a felony bench warrant in San Mateo, according to Monahan, and a search of the vehicle turned up credit cards under multiple names, mail that was later determined to be stolen, a "forged/false" California driver's license, and a key belonging to a stolen Mercedes Benz.
The driver was taken to Santa Rita Jail and charged with theft and unlawful taking or driving of a vehicle, possession of a credit card belonging to another, mail theft, altering/forging/falsification of a driver's license or ID, possession of burglary tools, driving without a license, and the warrant.
Singh was recently awarded his third and fourth pins for his work recovering stolen vehicles and apprehending the thieves.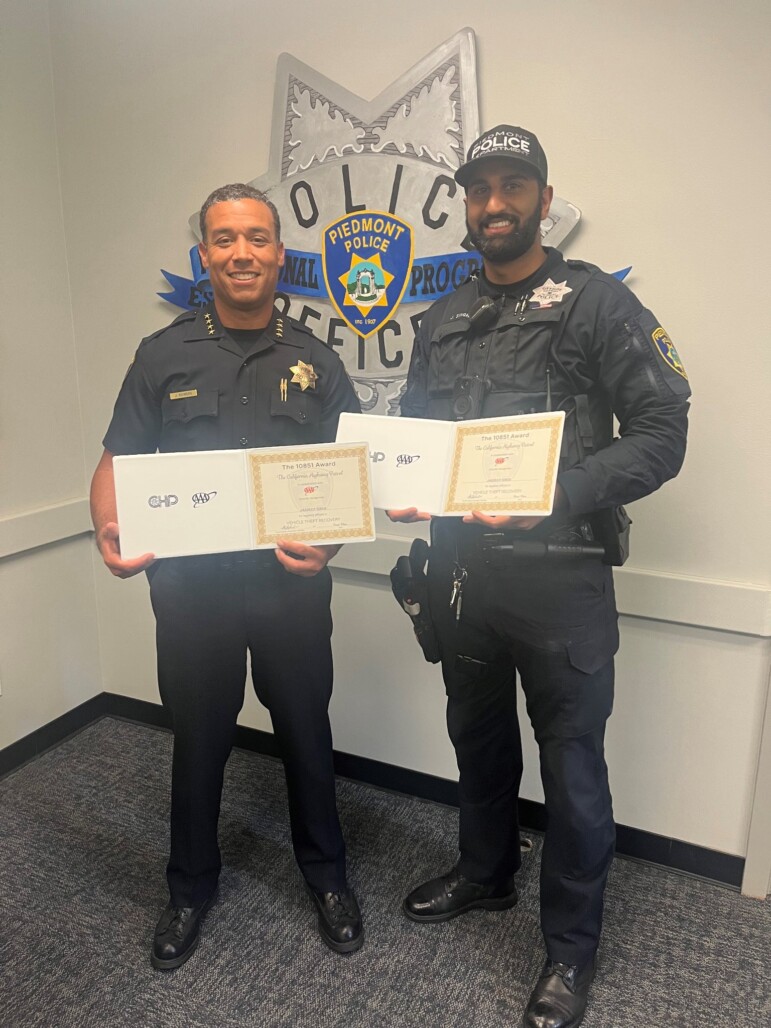 ---
On Aug. 13, a man was found asleep in a 2003 Toyota Corolla at 9:26 a.m. on Lakeshore Avenue. According to Monahan, the man was on probation for burglary in Alameda County. He was found with 6.41 grams of suspected methamphetamine and was cited and released.
---
At 3:07 a.m. on Aug. 15, police received a report of "scraping and crunching" sounds on Wildwood Ave. Police responded and found a red 2019 Nissan Altima with damage to the front end in the roadway. According to Monahan, the driver exhibited signs of alcohol use. She admitted to hitting two parked cars and fleeing the scene. After "performing poorly" on field sobriety tests, she then blew a 0.17 blood alcohol content on a preliminary breathalyzer test. She was arrested for DUI and two counts of hit and run and taken to Santa Rita Jail before being released.
---
At 9:51 a.m. on Aug. 17, the ALPR system pinged on a stolen white 1991 Toyota Camry entering Piedmont. The vehicle was located in the Ace Hardware parking lot on Grand Avenue. The suspected driver was inside the store when officers arrived, according to Monahan. The driver left the store and headed towards the nearby Safeway store. Officers arrested her after a foot pursuit, according to Monahan.
The suspect was taken to Highland Hospital for medical clearance, then to Santa Rita Jail. She was charged with possession of a stolen vehicle, possession of stolen property, and possession of stolen mail. She had three outstanding warrants.
Monahan said a search of the vehicle turned up 54 ID and credit cards not in her name as well as a stolen package.
---
Update on Aug. 19 armed robbery on Hillside Avenue: The four-door Lexus involved in the robbery was located later that day in San Bruno, according to Monahan. It was chased and lost. Monahan said, "We have some other suspect leads and the investigation continues."