After completing a Tahoe Rim Trail hike last year, my wife Julie and I embarked on another backpacking trip around the lake from July 10-14. This five-day, four-night hike started at Kingsbury Grade near the state line between Nevada and California, and ended at Echo Summit south of Tahoe. Although altitude sickness prevented Julie from finishing the trip, it was still an enjoyable experience, and we plan to try the final two segments in coming years.
Given the success of our 2021 trek, we again signed on to hike with a group organized by the Tahoe Rim Trail Association (TRTA). This nonprofit created and maintains the trail and also runs trips for hikers. TRTA's big trips are 15-day "through-hikes" of the full 177-mile TRT. More recently, TRTA has organized "Taste of the Trail" hikes, which take four to five days and cover 40 to 50 miles, or about a quarter of the full TRT, each. TRTA also organizes "segment" hikes — 11-day, once-a-week trips that span the entirety of the trail in a single summer.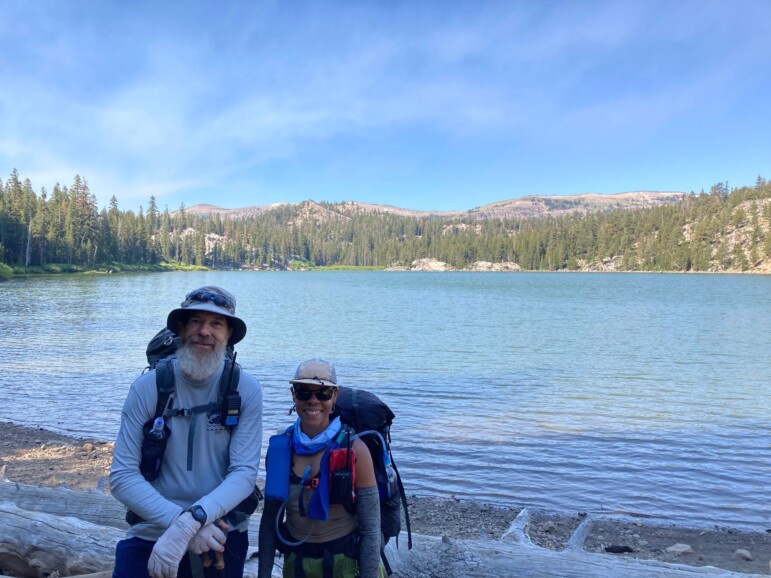 This year's group was smaller than last year's. We started with six hikers and three guides. Our fellow hikers included an OB-GYN doctor, a retired patent agent, and an AI researcher; our guides included a middle school teacher and a TRTA board member. But the group got smaller when Julie and another hiker developed altitude sickness and were unable to continue. A bad back later hobbled a third participant, so the trip ended with just three hikers and the three guides.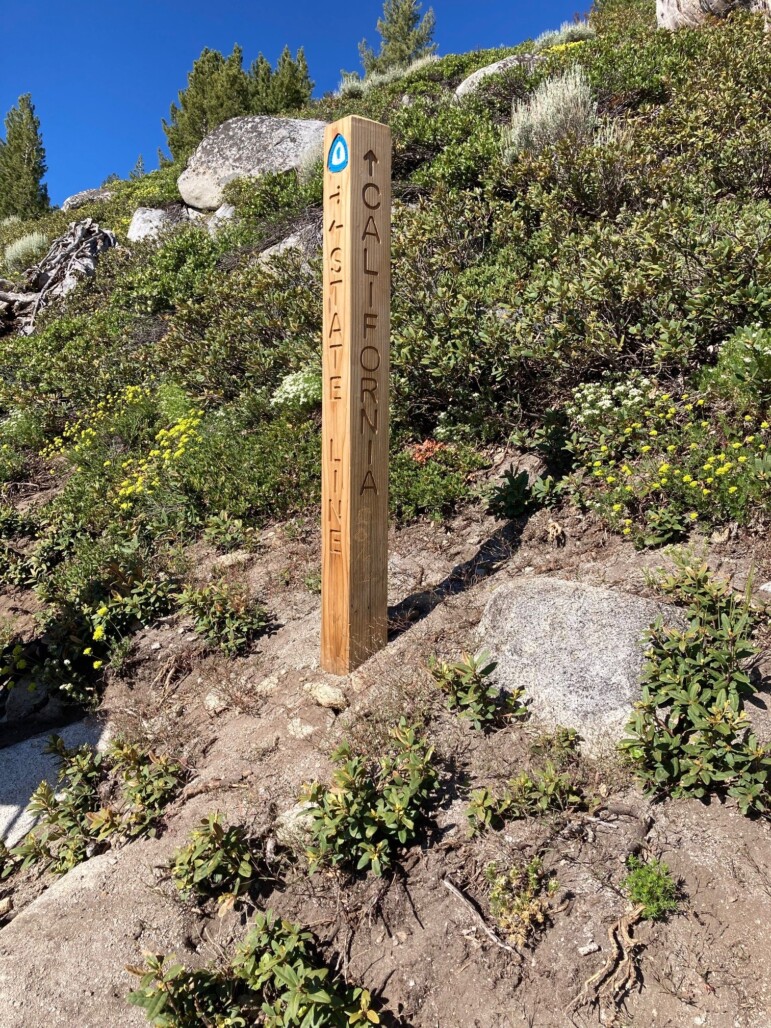 This segment of the trail is challenging, with fabulous scenery throughout. On the first day, we crossed the Nevada-California state line as we traversed the Heavenly ski resort. We enjoyed great views of the Washoe Valley and marveled at how the trail builders allowed us to hike through granite walls and up and down steep peaks via multiple switchbacks. The second day was a relatively short hike to Star Lake, a pristine Alpine lake with incredibly cold, refreshing water. A few of us added a side hike up to the top of Freel Peak in the afternoon. At an elevation of almost 11,000 feet, this is highest point in the Tahoe Basin. The 360-degree views made the steep climb well worth it.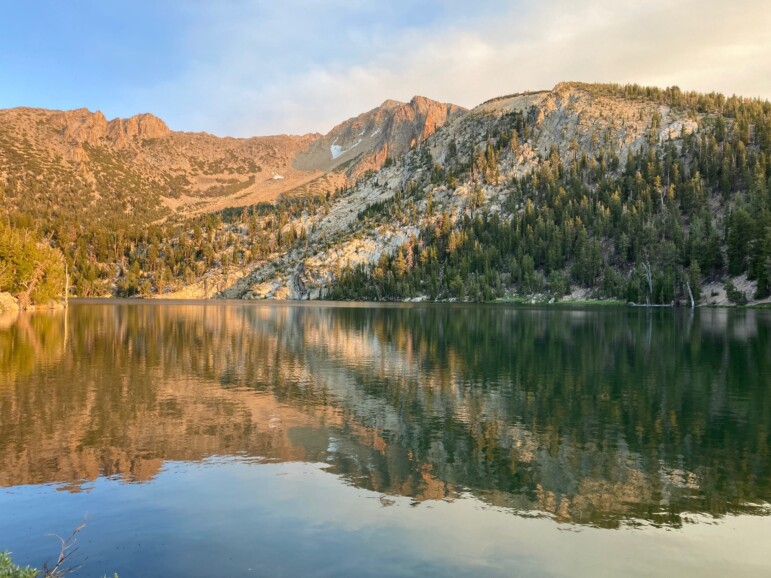 The third day featured our longest hike, about 15 miles from Star Lake to Big Meadow campground. We climbed over Armstrong Pass and through Freel Meadow, which featured an enormous array of wildflowers in bloom. This was also the one smoky day of the trip, affected by the large fires to the south and east of us. Julie surprised us by showing up at the campground, and she enjoyed dinner and camped with us for the night.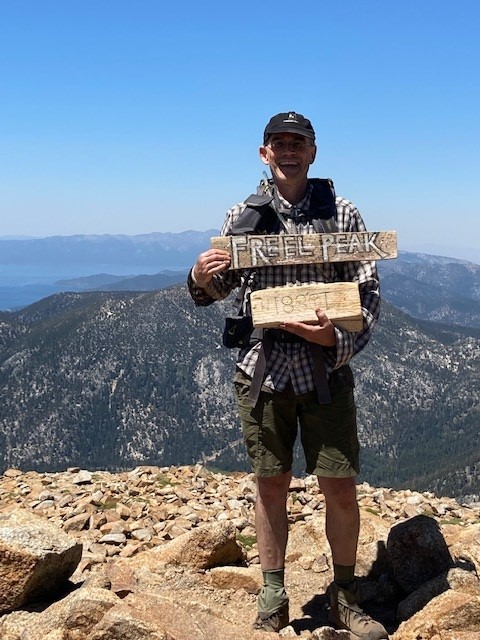 She also joined us at the start of the fourth day's hike, when we climbed up to and through Big Meadow. We had another nice stop at Round Lake before reaching Meiss Meadow, where the TRT and the Pacific Crest Trail converge and run together for about 35 miles. Meiss Meadow features a small two-story cabin that housed all 12 members of the Meiss family during their summers herding cattle, along with spectacular purple wildflowers. The fourth day ended at Showers Lake, where we shared the campground with about 100 teenage boys from a Bay Area church group.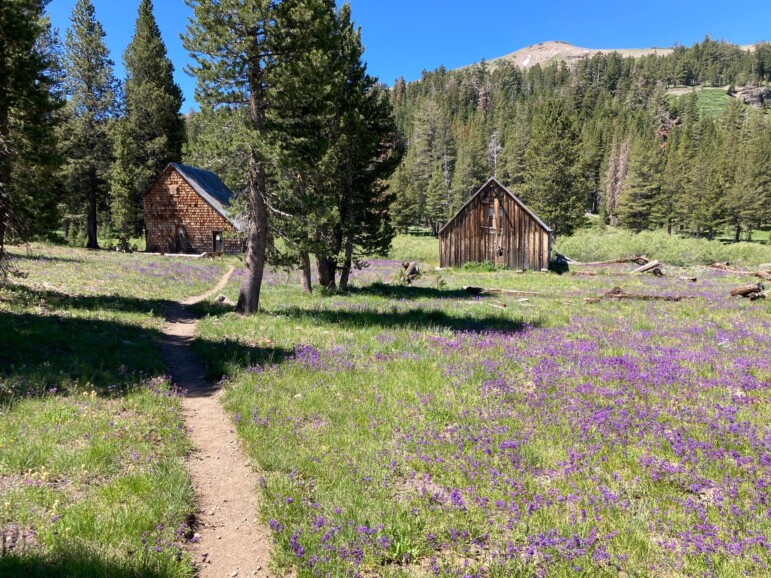 The final day ended around noon with a hike through a burned-out area just south of Echo Summit that gave us a haunting view of the damage caused by last year's Caldor fire.
Having learned from our trip last year, we brought much better gear this time. Blow-up pillows and sleeping pads were major improvements, although I still had a lot of trouble falling and staying asleep. We also had a "water system," which allowed us to treat water from the various Alpine lakes where we camped. The food and snacks were good again, even the Cream of Wheat beverage I concocted for breakfast one morning.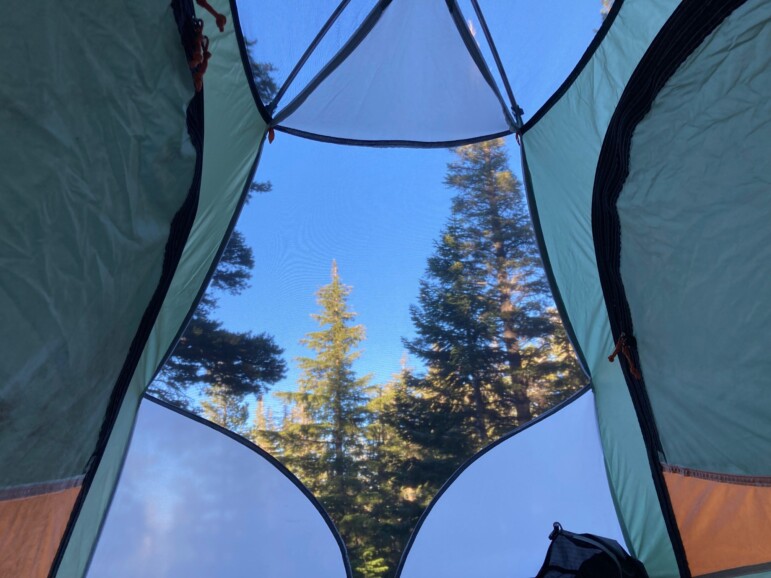 Despite the fact that Julie and I didn't finish the hike together, we'd highly recommend this one and all of the other TRTA-led trips. We plan to try the Desolation Wilderness hike in 2023, which starts at Echo Summit and ends in Tahoe City.
---
see related