Part of an occasional series on Piedmonters' favorite walks and hikes. Short or long, close or far, we're interested in them all. Share yours with us here and we may feature it on the site: news@piemontexedra.com
My wife Julie and I recently finished a 4-day backpacking trip on the Tahoe Rim Trail (TRT). It was challenging and exhilarating, with breathtaking views of the south, north, and west lake areas, as well as the Washoe Valley to the east. We'd recommend the trip to anyone willing to sleep in a tent for three nights (in a row), and we're signed up to do another section of the TRT in August.
Since we haven't backpacked for many years, Julie and I decided to go with a group organized by the Tahoe Rim Trail Association (TRTA). This non-profit created and maintains the trail, and also runs trips for hikers. TRTA's big trips are 15-day "through-hikes" of the full 177-mile TRT. More recently, TRTA has organized "Taste of the Trail" hikes, which take four days and cover about 40 miles each. We just did the one that goes from Kingsbury Grade, near the state line between Nevada and California at the southern end of the lake, up to Tahoe Meadows, near the Mount Rose summit in Nevada. The trip we'll be taking in August starts at the Mount Rose summit and heads south and east to Tahoe City. For those who don't want to sleep outside or eat dehydrated food, TRTA also organizes "segment" hikes, 11 day-long, once-a-week trips that cover the entirety of the trail in a single summer.
We had great company on the hike. There were four guides for the eight hikers (eleven hikers initially signed up, but even though three of them dropped out, the guides all stayed since they had missed the whole 2020 season due to COVID). The lead guide was a retired marine colonel who has led TRT trips for over 10 years. The "sweep" guide was one of the first female firefighters in Las Vegas, and she has hiked the whole TRT 24 times, including on the original through-hike in 2001. Our fellow hikers included a yoga instructor (nice to have for pre- and post-hike stretching); an orthopedic surgical physician's assistant (comforting to have in reserve, although no one needed her professional services on the trip); and a retired nurse, accountant, delivery driver, and horticulturist. Everyone was very committed to the spirit of the hike, with no complaining and strict adherence to the seven tenets of "Leave No Trace" camping (a trowel features prominently).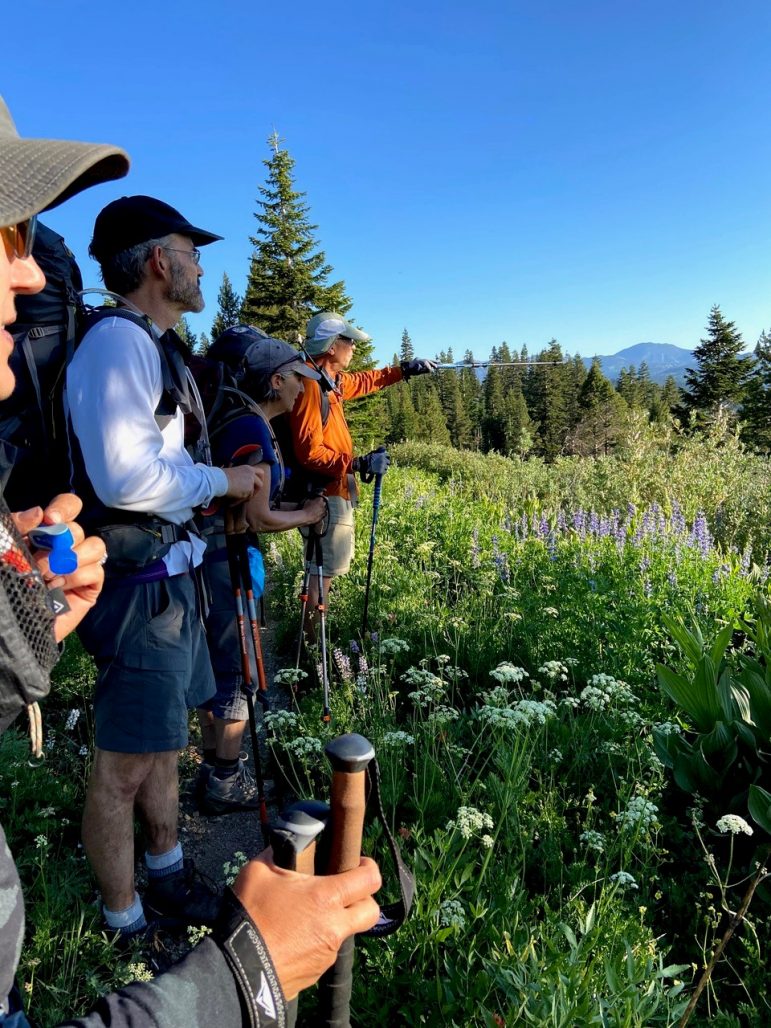 The hiking itself was tiring but not overly taxing. As the TRTA drilled into us in their training materials, we practiced at elevation (8,000 to 9,000 feet) as much as possible, with 30-pound packs, at 2.5 miles per hour on average. On the actual hike, we covered seven to nine miles the first three days, and fifteen miles on the last day, all at slower speeds, so we felt well-prepared.
The most difficult part for us was the sleeping (or lack thereof). I learned that stuffing a pillow case with clothing is not the best option for a pillow, and Julie could have used a pad that didn't deflate overnight. But the dehydrated dinners were actually quite good (I know, everything tastes good when camping, even Cream of Wheat), and we had plenty of water and snacks for our time on the trails.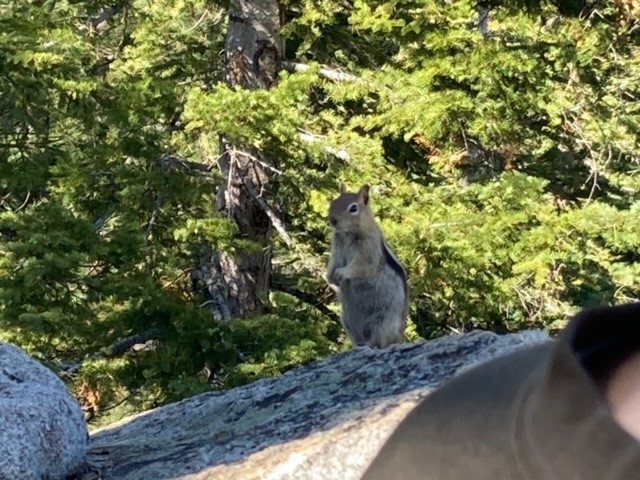 Trail highlights included Spooner Lake on the second day of the trip, and a Zen view of Gardnerville and Minden, NV from some rocks near our campsite. The third day featured panoramic views of Tahoe, including the entrance to Emerald Bay on the southwest, the full western shoreline, and Sand Harbor and Incline Village to the north and east. At one point we could see Marlette Lake, just east of Sand Harbor, with Tahoe seemingly starting just over the hill. Marlette campground featured a (cold!) water pump, which provided a re-supply of fresh water and a welcome cool-off from the heat. The fourth day highlight was a 1.5-mile side loop from the TRT to the edge of Marlette Peak, where the entire west and north sides of Tahoe opened up. We also enjoyed great views of Washoe Lake and surrounding communities to the east.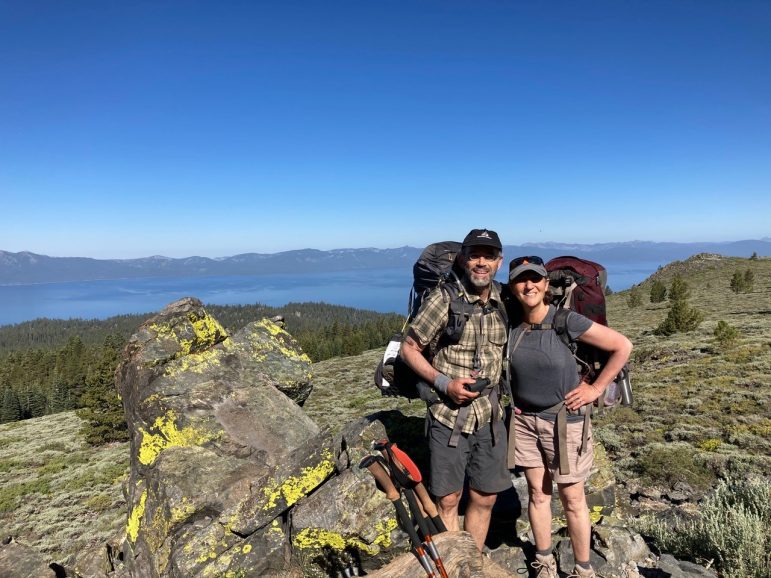 We finally reached Tahoe Meadows around 3 p.m. on the fourth day, and were greeted by TRTA staff with cold beverages and ice cream sandwiches, all of which have never tasted better. We made some tentative plans for future hikes with our new friends before heading home for multiple showers to remove the accumulated dirt and sweat. It was a memorable trip, and we can't wait for the next one to start.
You can learn more about the TRTA and guided backpack trips HERE.
Photos by Julie Moll