This is the first in a series of articles featuring favorite walking and hiking routes in and around town. Submit your favorite here!
First up: A fun urban hike that takes you through Piedmont and Oakland and incorporates secret passageways, hidden green space, and an urban garden. (Thanks to Weekend Sherpa for the initial guidance on this hike.)
Map #1: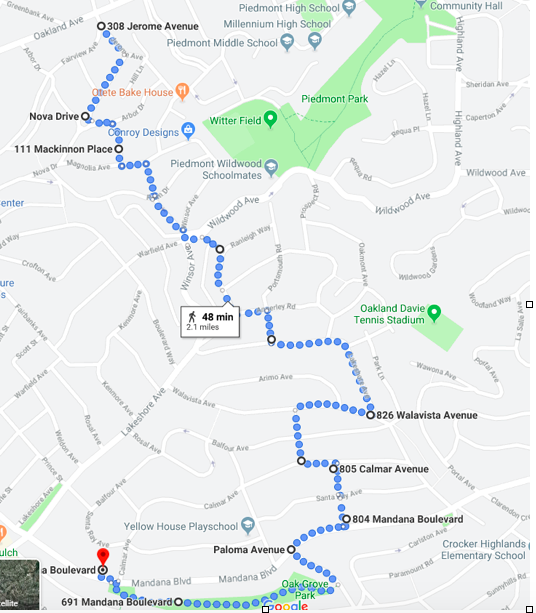 To begin, park in the neighborhood near Jerome & Oakland Avenues. Start your walk south on Jerome, heading downhill. Turn right onto Nova Drive. At the traffic circle, turn left onto Arbor Drive and almost immediately, turn right onto the first hidden stairway going up to Magnolia Avenue, by way of McKinnon Place. Turn left on Magnolia, and half a block up, turn right onto the next pathway, down to Palm Drive. Continue straight up Wallace Road and be careful here – there is no sidewalk, so you are walking up the street against one way traffic coming down. Cross over the five-way intersection and turn left onto Wildwood Avenue; make sure you are on the lower side of the street, behind the residential retaining wall. Soon after, turn right between homes onto another stairway down to Ranleigh Way. Turn right on Ranleigh and then briefly left up Annerly before the next passageway, marked with a street sign "Portsmouth Walk", on your right.
Walk down Portsmouth Walk and emerge onto Lakeshore Avenue and turn left, following it as it veers right to intersect Walavista Avenue. Take a hard right onto Walavista. Look for the next staircase on your left—the largest of the hike – it is just past 723 Walavista Avenue. Two staircases totaling 154 steps cross Balfour Avenue and emerge on Calmar Avenue. Turn left on Calmar; 4-5 houses down, turn right and take 142 steps down to Mandana Boulevard crossing Santa Ray Avenue in the middle. Turn right on Mandana and then take the first left onto Paloma Avenue. About three quarters of the way up the street, you will see an entrance way for Oak Grove Park on the right. This entrance initially looks like a gravel driveway, but you will see a sign up the path for the park, to ensure you are in the right place. This lovely path is maintained by the neighborhood and is a beautiful wooded trail that parallels Mandana. Emerge back on to Mandana Boulevard, turn left and you will shortly intersect with Lakeshore Avenue. Lakeshore is a great place to stop for a coffee or snack! This is where the Map #1 ends, and you can double back or keep going using Map #2.
Map #2: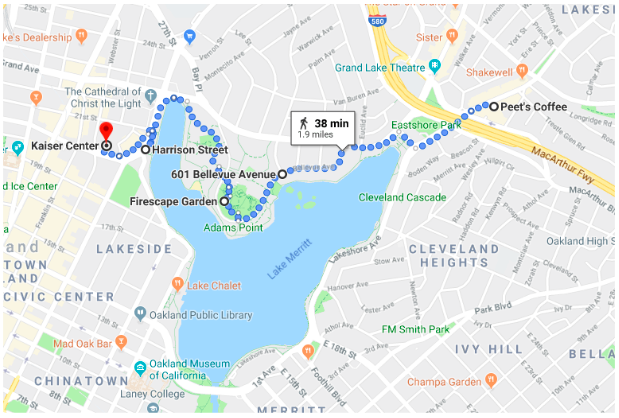 Continue along Lakeshore toward Lake Merritt. Turn right on El Embarcadero, behind the Lakeview Library and then left on Grand Avenue. Two blocks up, turn left onto Bellevue Ave. to circle the lake past the Rotary Nature Center, the Bonsai Garden, and Children's Fairyland. Bear left on Grand and continue left on Harrison. Turn right onto 21st Street and continue to Webster Street to reach the Kaiser Center parking garage.
Rooftop Garden is accessible via elevators Monday – Friday. To return, you have several options: you can loop the Lake and continue back to Lakeshore, or continue along the Lake, the way you came, but bear left on Grand Avenue, past the Grand Lake Theater. You can continue past the Grand Avenue Safeway and Ace Hardware, take a right on Oakland Avenue, and your starting point on Jerome Avenue is two blocks up Oakland on the right.
Tips: Printing a map is highly recommended; secret staircases and passageways are clearly designated and visible on Google Maps but hidden in between residential homes and easy to miss without one. Maps of the trickiest parts of this hike are included. Kaiser Rooftop Garden is free and open Monday through Friday from 9:00 a.m. to 5:00 p.m. Rooftop access is via parking garage elevators on 21st and Webster.