This is part of an occasional series to highlight hyperlocal curiosities our readers are wondering about. Curious about an old plaque in a public park? Want to know what's up with an unusual street marker? Send your queries and suggestions to news@piedmontexedra.com and we'll either try to get an answer for you — or hope that a reader can solve the mystery.
Residents walking by Piedmont Park on Thursday morning were witness to a large tree removal operation at the Japanese Tea House, prompting a query.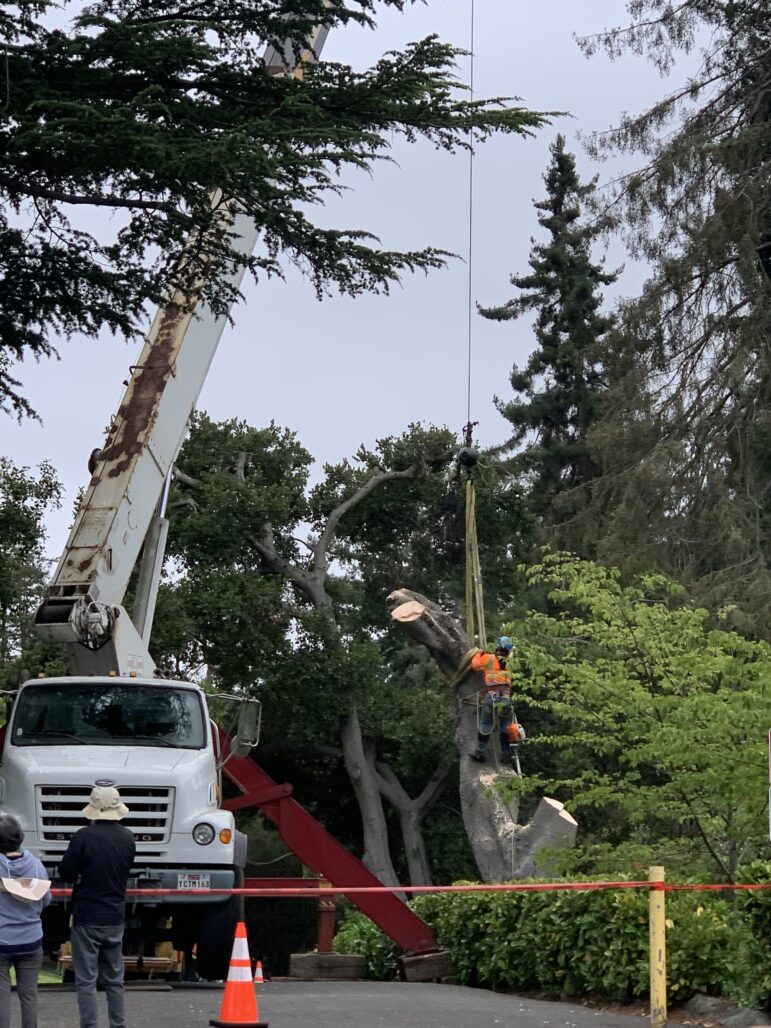 According to Parks and Project Manager Nancy Kent, the tree was a Coast Live Oak (Quercus agrifolia). She said in an email Friday afternoon that:
It was on our watch list and over the last 5 years it had continued to decline. Last year we had Darya Barar, Urban forester and arborist from Bartlett Consulting evaluate the tree. At that time over 80% of the crown was defoliated and she did not think the tree would recover. There were no signs of pathogens or insects causing the defoliation. Although this is a California native, we have seen mature established oaks struggle during our prolonged drought and that may have been a factor in the tree's decline.

There were also safety concerns as it was near a major pedestrian walkway in Piedmont Park.
Kent said the oak will be replaced with two 24" box oak trees donated through Piedmont Beautification Foundation as part of the upcoming the Highland Guilford Step and Handrail project.