NOTE: This article was updated on April 19 with additional information from Piedmont Parks and Project Manager Nancy Kent (see below).
Arbor Day fun goes on for days — April 25-29 to be exact — starting with a Chalk Art competition and Gratitude Trees, and ending with a Movie in the Park.
Around town during the week of April 25-29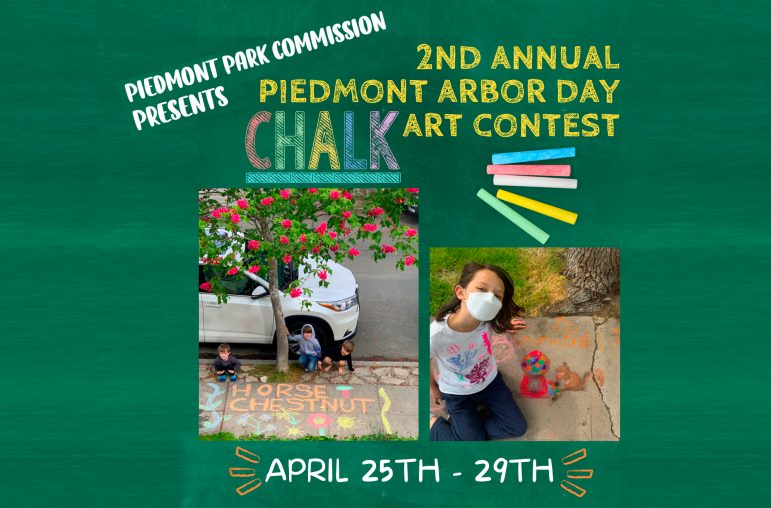 Chalk Art: April 25-29 | Select your favorite street tree or tree in a park next to a sidewalk, decorate the sidewalk with Chalk Art celebrating the tree. Take a photo of yourself celebrating the tree and your chalk art. Submit to nkent@piedmont.ca.gov. Fenton Gift certificates will be awarded to the most creative art.
Gratitude Trees: April 25-29 | In honor of Arbor Day, there will (4) trees designated in our parks as Gratitude Trees. Park visitors, students, schoolmates and pre-school classes are invited to stop by and write their messages on tags provided at each tree. The trees will be in Piedmont Park, Dracena Park, Crocker and Linda Park. They will be identified by barricades and Gratitude Tree signage.
---
Community Hall on Thurs., April 28 at 8:00 pm
Heritage Tree Winners Announced: April 28 at 8:00 pm at Community Hall | The winners of the 2022 Heritage Trees will be acknowledge and "pinned" with the special Heritage Tree lapel pin.
Public Work Trucks and Ask Your Public Works Staff Your Questions | PW will have their big trucks on display- their Sweeper, Camera Truck and Dump Truck at Community Hall. Come at 8:00 pm and see their trucks, a gator watering bag installation for your street tree, and a chance to meet, greet and ask your PW staff your questions about street trees, parks, storm and sanitary sewers, maintenance and road questions.
---
Piedmont Park on Thurs. April 28 at 8:30 p.m.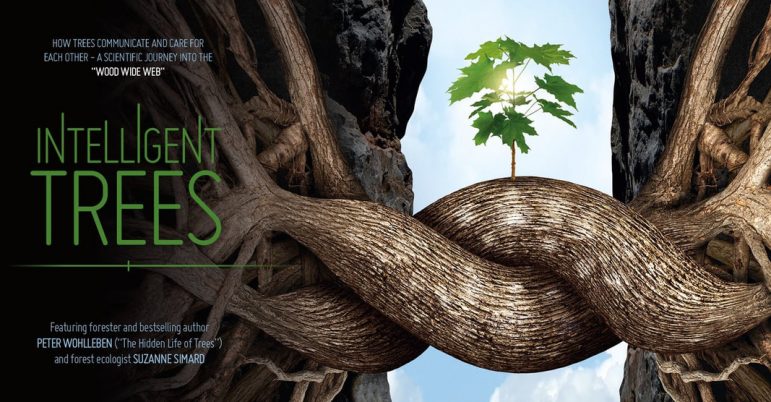 Free Popcorn and bring your water bottle to fill at Community Hall before the movie. Donated by Piedmont Garden Club
Tree Raffle before the Movie: Cub Scout volunteers will be passing out raffle tickets and the Cubs will select two lucky winners that will win a 15 gallon tree to take home to plant in their garden. Devil Mountain Nursery has donated (2) Cercis Redbuds for the raffle and the Cubs will also present the winners with a handmade plaque offering to help plant the tree in the homeowner's garden.
Movie in the Park: Starting at 8:30pm A showing of the documentary Intelligent Trees, a 45 minute movie about how trees communicate with each other.
UPDATE: In an April 18 email to the Exedra, the city Parks and Project Manager Nancy Kent was enthusiastic about the new directions and additional activities for this year's event, which came from ideas presented by Park Commissioner Robin Wu (for the Movie in the Park) and new chair Amber Brunfiel (for Gratitude Trees). According to Kent, Wu and Brumfiel wanted to give families something fun to do outside in nature, particularly on the heels of these difficult past two covid years. "I really appreciate having great commissioners to work with," said Kent.
Local support for the April 28 event includes Tree Sculpture (the founder of TS is Piedmont's Former Mayor Craig Lundin, who spearheaded getting the City designated as a Tree City USA and starting the Arbor Day celebration when he served as mayor) and Terra Landscape, the city's landscape maintenance contractor. Piedmont Garden Club has donated towards refreshments, and Devil Mountain Wholesale has donated (2) 15 gal. Redbud trees that will be raffled off at the movie event and the lucky winner can plant them in their own gardens.
---
see related