Piedmont is closing out 2021 with a record-breaking 48 new COVID cases reported by the county on Dec. 31, jumping from 360 on Tuesday to 408 on Friday.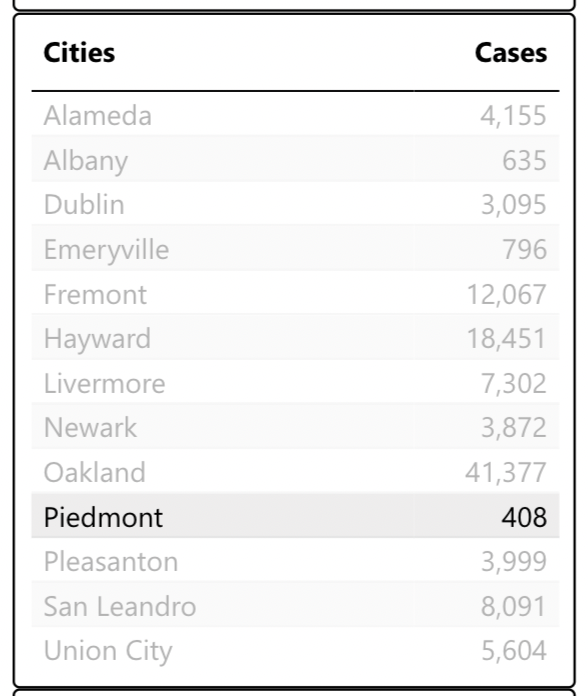 The omicron spike county-wide is clearly visible on the far right side of this graph: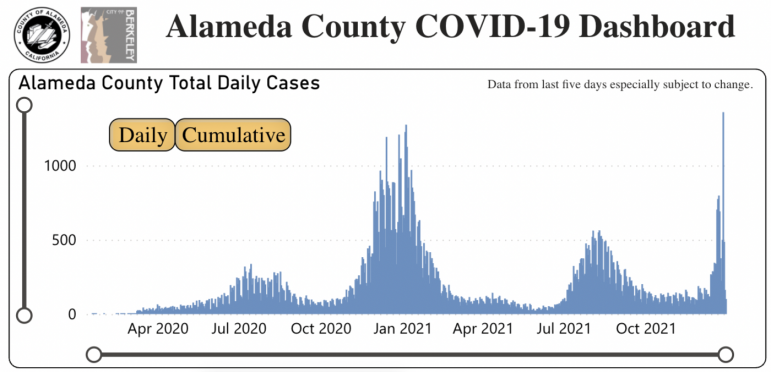 PUSD leans on testing for a return to school Jan. 5
Students and staff return to school on Wednesday, Jan. 5. PUSD sent a note to families on Friday, Dec. 31 with information about how to pick up at-home COVID-19 test kits provided by the California Department of Public Health for their students. The voluntary testing is meant for asymptomatic students and school staff to self-test for COVID-19 prior to their return to school.
The tests were available before the break but can also be picked up at Ellen Driscoll Theater on Sunday, Jan. 2, from 9 a.m. to noon.
Superintendent Randy Booker noted in his email that the district cannot accept the results of an at-home COVID-19 test to clear a student who was symptomatic to return to school and said the district will offer on-site rapid antigen testing by appointment on Jan. 4 to clear symptomatic and post-symptomatic students and staff to return on Jan. 5.
Booker also noted that public health guidance concerning COVID-19 is changing rapidly.
"The Centers for Disease Control recently issued new COVID-19 guidelines, but it is not yet clear whether and how the new rules apply to California K-12 public schools. The State and County are likely to clarify this in the coming weeks, but until then the District is bound to follow the current State and County guidance specific to K-12 schools. I will update the school community as more school-specific information becomes available," he said.
Curative testing at City Hall
As a reminder, Curative is offering free PCR testing in front of City Hall on Sundays and Mondays. According to the City's website, Curative has informed them that "appointment times are generally made available 4 days before the date of the test. In Piedmont's case, appointments for tests on Sunday would be available on the preceding Thursday and appointments for tests on Monday would be available on Friday." You can check for appointment times at the Curative website HERE.