Think of causa as a fancy potato salad with a great back-story: the name derives from the Quechua word for life (kausay) reflecting the stature of potatoes in the Andes, where thousands of indigenous varieties have been cultivated for as long as 5,000 years! This version features the trademark Peruvian aji amarillo paste, which is worth tracking down as it lends a unique golden hue and fruity-hot flavor to the dish, and the bumper crop of zucchini and tomatoes that surrounds us this month. Perfect for a warm evening as our Bay Area "summer" arrives!
Thanks to Michelle and Hernan Luna for introducing me to the fantastic chicken causa from their relative's Peruvian spot on Piedmont Ave, Mistura Rotisserie, that inspired this vegetarian twist!
INGREDIENTS:
Potato layer
2 pounds russet potatoes, peeled and cut into quarters
¼ cup lime juice
3 tablespoons aji amarillo pepper paste
⅓ cup mild vegetable oil
¾ teaspoon salt
Squash layer
1 pound green-skinned summer squash, such as zucchini, shredded (yielding about 2 packed cups)
½ teaspoon salt
Freshly ground black pepper
1 stalk finely minced celery (with leaves if attached)
2 scallions, finely minced
¼ cup mayonnaise
2 tablespoons kombu flakes (optional), adds a vegetal note but not necessary
1 medium red tomato, preferably heirloom, diced
DIRECTIONS:
Place the potato pieces in a steamer basket and steam over boiling water until fully tender when pierced, about 15-20 minutes. Mash potatoes using a potato ricer or masher until they are smooth, then mix in the lime juice, aji amarillo paste, vegetable oil, salt and a few grinds of pepper until well incorporated. Taste and season with more of any of the seasonings according to your taste. Set aside.
While the potatoes steam, place the shredded squash in a colander over a large bowl, or in the sink. Using a green-skinned squash (and keeping the skin on when you shred it) will provide a nice color contrast to the potato layers. Sprinkle the squash with salt, and let it rest for 10-15 minutes to allow excess moisture to drain off. Place the squash in a bowl (do not squeeze it or it will get mushy), and gently fold in all the other ingredients, including a few grinds of black pepper. You want just enough mayonnaise to bind the ingredients. Taste for seasoning and add more salt and/or aji amarillo as desired.
Layer the ingredients in three layers: potato, then squash, then potato. You can do this either in a small casserole from which you will serve individual portions, or using a 3-4" ring mold on individual plates, which creates a more dramatic presentation. The squash mixture may become watery over time; use a slotted spoon to leave most of the liquid behind in the bowl to avoid a soupy terrine.
Chill for at least 1 hour. Top with the diced tomato and serve; using a red tomato will provide another contrast with the golden yellow potatoes and the green squash layers.
---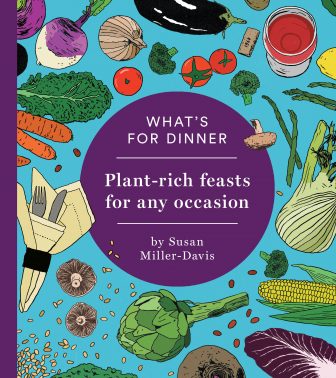 This recipe will appear in my forthcoming What's for Dinner: Plant-rich feasts for any occasion, available for pre-order now. The book is the first volume in an eco-cooking series, meeting the dinner challenge with a set of full-bodied, vegan and vegetarian entrées, plus plant-based starters, sides and desserts, meant to anchor celebratory meals.