As our summer comes to a close, it is time for the last summer barbecue with friends.  As you fire up the grill and sear the burger, smoked salmon, or pork rib recipe that you have been perfecting all summer, add this Mac 'n Cheese side that will have your family and guests begging you for the recipe!  While I prefer cooking this on my smoker, you can also cook it in the oven.   
INGREDIENTS
The Mac:
1 package, 16-ounce large elbow macaroni
6 Tbsp butter (salted)
1/2 cup all-purpose flour
4 cups whole milk
2 cups gruyere cheese, grated
2 cups sharp cheddar, grated
2 cups parmesan cheese, grated
2 Tbsp BBQ Rub (I use Oakland Dust/Pork)
Panko Topping:
1 cup panko bread crumbs
2 Tbsp melted butter
2 Tbsp chopped fresh basil
2 Tbsp chopped fresh thyme
DIRECTIONS
In a large pot, bring salted water to a boil. Add macaroni and cook until al dente (~7mins). Strain the cooked macaroni and place it into a large cast-iron skillet.
While the pasta is cooking make the cheese roux. In a medium saucepan, melt the butter on medium-low heat.
Once melted, mix in the flour with a whisk.
Add the milk, pouring in slowly, and mixing while you add in order to prevent clumping. Once mixed, add in the BBQ Rub seasoning and the cheeses until it is smooth and thick.
Pour the cheese Roux over the pasta in the cast-iron skillet.
Make the panko topping by mixing the melted butter with the panko flakes, basil, and thyme.
Spread the panko butter mixture on top of the Mac 'n Cheese.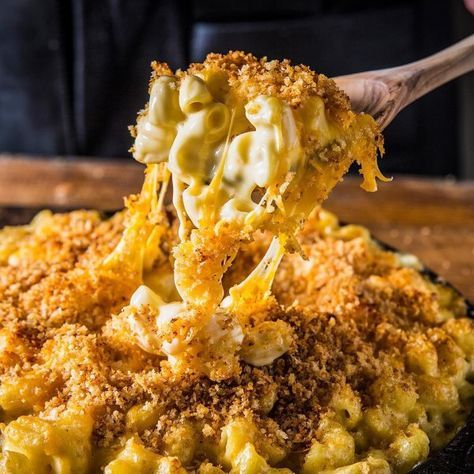 Cooking Method:
Option A: Pellet Smoker
Set smoker to 350F. I use "Oak" pellets for this recipe.
Smoke for 45 minutes
Option B: Oven
Preheat oven to 325'F
Cook for 45 minutes