Grilled chicken thighs paired with a vibrant spicy summer corn is the epitome of summer flavor. When at its peak ripeness, raw corn is absolutely bursting with sweet, juiciness, making it a perfect match for grilled chicken, a vinaigrette, and herbaceous fresh basil. This recipe works well with grilled pork loin or turkey fillet. Add a tomato salad and you will have a fresh and flavorful, perfect summer meal!
INGREDIENTS:
3 1/2 cups fresh corn kernels (6 to 7 ears)
1 sweet red pepper, seeded, ribs removed and finely chopped
4 scallions, trimmed and finely chopped
1/2 jalapeño pepper, seeds and ribs removed, minced (or to taste)
1/3 cup fresh coriander
12 basil leaves, thinly sliced crosswise
1 tablespoon Dijon mustard
1 tablespoon balsamic vinegar or lemon
4 tablespoons olive oil
Salt and freshly ground pepper to taste
6 – 8 skinless, boneless thighs OR 4 breast fillets (about 1 1/4 pounds total)
1 1/2 tablespoon dried rosemary (optional)
Parsley or other herb
DIRECTIONS: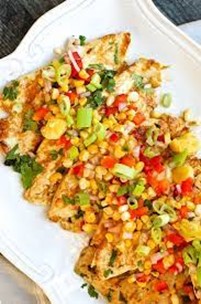 In a large bowl, combine the corn, red pepper, scallions, jalapeño pepper, coriander and basil.
Place the mustard in a small bowl and slowly drizzle in the vinegar while whisking vigorously; repeat with the olive oil. Season with salt and pepper. Pour the dressing over the corn salad and toss well. Season with salt and pepper to taste and set aside.
Place the chicken breasts on a hard surface and cover with plastic wrap. With a meat pounder or a heavy pot, flatten the chicken until it is about 1/4-inch thick. Season with rosemary, salt and pepper on both sides.
Grill chicken for a few minutes or heat a very hot pan, sear the chicken on both sides until golden (about 2 minutes per side). Lower heat to medium and cook, turning, until there is only a trace of pink in the center — remove immediately because chicken will continue to cook. Slice the chicken into 1/2-inch strips.
Distribute the corn salad evenly over 4 plates and top with the chicken breasts. Garnish with parsley or herb of choice.