The school board on Monday night unanimously approved the district's reopening plans for middle and high schools and voted 4 to 1 to bring sixth graders back to start on-campus learning on Feb. 23.
Trustee Megan Pillsbury had requested a week's delay in the return for sixth graders, citing a need for more prep time and a cushion between February break and resumption of any in-person classes. Although sixth graders are allowed by the state to return to campus in February, seventh – 12th graders must wait until Alameda County returns to the Red Tier (a COVID-19 adjusted case rate of 7 per 100,000) before PUSD can kick its upper school plan into gear. On Feb. 9, the adjusted case rate in the county stood at 18 per 100,000.

In a preface to the formal presentation of the reopening plans, both Board of Education President Cory Smegal and Superintendent Randy Booker reflected on the district's almost year-long struggle to cope with the pandemic-related school closures and acknowledged the challenges of weighing the needs of multiple stakeholders and the importance of listening to a wide range of viewpoints. (You can read their full remarks below.)
Commitment to health screenings, testing, and responsible behavior
Before shifting to a discussion of the specific reopening plans at Piedmont Middle School, Piedmont High School, and Millennium High School, Booker emphasized that a return to all campuses will require a commitment by families to regularly use an online daily health screener. Testing of staff is ongoing every two weeks, and student testing will be voluntary for asymptomatic cases, required for symptomatic ones. (Student testing is not the impediment to opening as was originally supposed when the state released its school reopening guidance on December 30.)

Although the school district cannot enforce a no-travel policy, Board President Cory Smegal implored families to take the travel guidelines — as outlined below — seriously in order to prevent COVID outbreaks from derailing the reopening plans. Since the pandemic started, teachers have cited careless socializing and travel by local families as cause for concern.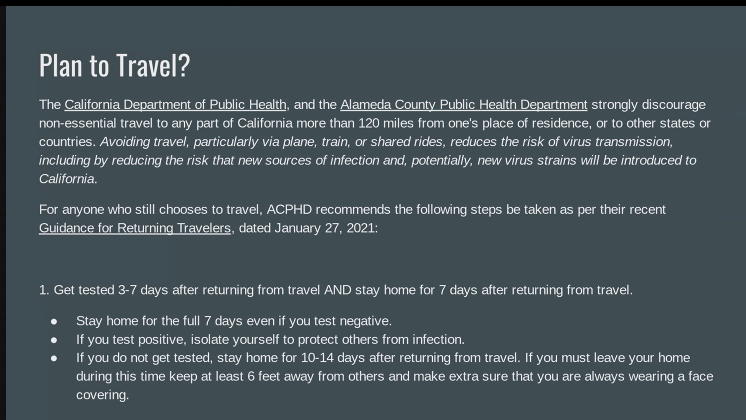 Reopening plans for middle and high school students
School administrators said both the middle and high school plans bring students back to campus in rotating groups based on grade level and keep the bell and master schedules in place to minimize disruption to teacher assignments and class rosters. However, they acknowledged that each proposal had disadvantages. (For example, PMS second-period classes will never meet in person and there may be more asynchronous work assignments.) In a survey that closed Monday morning, PHS Principal Adam Littlefield reported that around 80 percent of high school students are opting for a hybrid model; PMS Principal Ryan Fletcher said that number stood at around 90 percent for middle school students.

Millennium High School, with only 56 students and no need to cohort because no class has more than 15 students, will be able to reopen with more students attending in-person classes. Principal Shannon Fierro said 30 percent of students opted to continue in distance learning mode, 30 percent will attend only MHS classes in person and PHS classes online, and 30 percent opted for attending both their MHS and PHS classes in person when allowed.

In-person learning critical for social-emotional health
Families are not only eager to have their kids return for some in-person learning, but remain concerned about the social and emotional impact distance learning is having on students. Public comment Monday night focused on what parents said was an insufficient amount of in-person teaching time for middle school students in particular. The middle school reopening model has only two periods of in-person learning once a week. In contrast, high school students will be on campus for at least one period a day, four times a week. All PUSD schools will remain in distance learning mode on Mondays.

"Our kids are in crisis," said Jim Crawford-Jakubiak, a child abuse pediatric specialist at Children's Hospital and district parent, in comments to the board. He called it a true crisis, not just "a difficult time," and called upon parents to take the time to check in with their kids to see how they are doing.

Lauren Hartman, a parent and adolescent medicine specialist, cited the dangers distance learning pose to the mental health of middle and high schoolers, noting that being isolated from peers and other adults leaves students at risk for anxiety and serious psychiatric disorders such as depression and eating disorders (which have spiked since the pandemic started.)
The board also heard from Nathaniel Welch, a seventh-grade student, who described a litany of distance learning challenges he said were common among his peer group. "I haven't met my teachers, the days are monotonous," he said. "It's distracting at home, kids turn off their cameras or don't show up in breakout rooms. I forget what I'm supposed to learn."

Parents complain PMS students get short shrift
Other commenters expressed their dismay at the minimal middle school hours and asked the district to explore other options to get students back on campus more often. Although the board acknowledged the challenges faced by students and families since the start of the pandemic they were united in supporting the plans as a first step toward reopening, with Trustee Hilary Cooper noting that a careful reopening will increase the possibility for a successful return for all.