Updates on the CZU, LNU and SCU Lightning Complex Fires: Some progress reported on the SCU fires in the Contra Costa zone, while the CalFire was reporting LNU fire was 10% contained by this evening. Still evacuations continue as firefighting efforts are hampered by limited resources and an excess of flammable vegetation.
CZU August Lightning Complex fires grow to 57,000 acres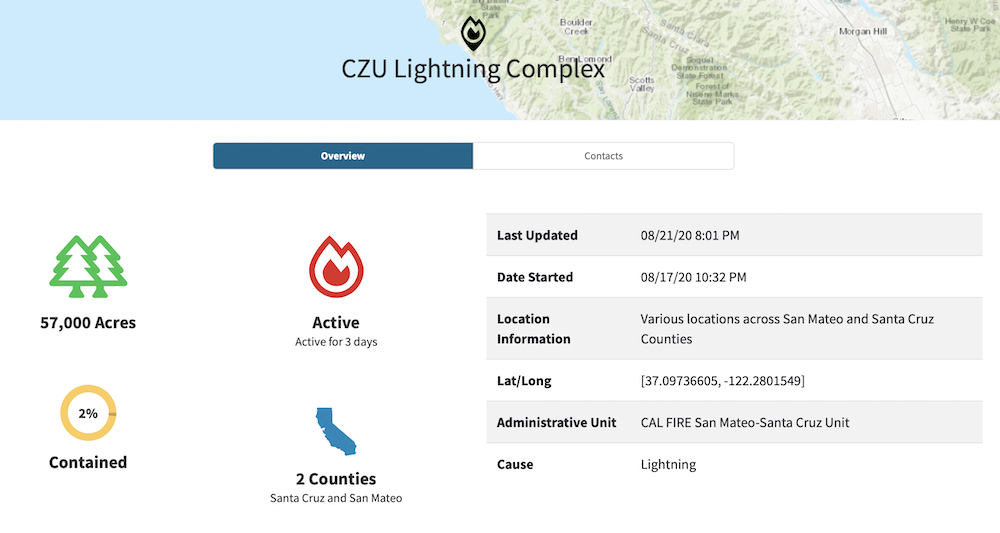 More than 57,000 acres have been scorched so far in San Mateo and Santa Cruz counties, according to Cal Fire, and that is prompting evacuation orders for more than 77,000 people. Cal Fire held a 6 p.m. press conference Friday.
There are five fires burning, collectively referred to as the CZU August Lightning Complex.
Cal Fire said Friday evening that the fires are only 2 percent contained at this time. As of Friday evening, at least 97 structures have either been damaged or destroyed – all believed to be single-family homes. More than 24,300 structures are threatened.
---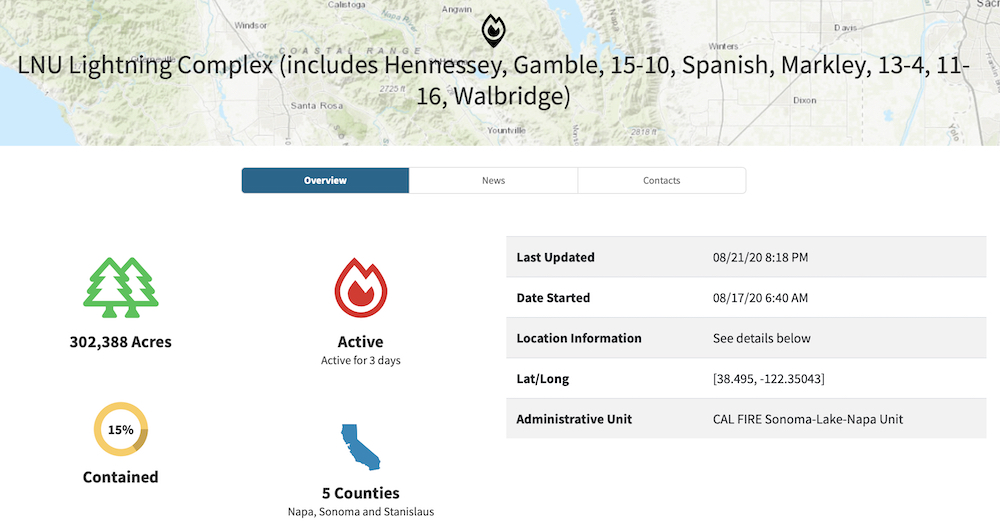 LNU Complex Fire grows to nearly 220,000 acres by Friday morning
The group of North Bay fires known as the LNU Complex, burning in Napa, Sonoma, Solano and Lake counties, had burned 219,067 acres by Friday morning and was 7 percent contained, according to Cal Fire. Four people have died in the blazes – three in Napa County and one in Solano, Cal Fire said in an update at 7 a.m. Another four have been injured.
The complex of wildfires began Monday, probably ignited by lightning, and had destroyed 480 structures, damaged 125 and threatened 30,500 more by Friday morning.
The fires are expected to spread and many blazes had merged on the north side of Lake Berryessa into the Hennessey Fire. The blazes are spreading into large wooded areas, Cal Fire said Friday morning.
In Sonoma County, the Walbridge Fire has merged with the Stewarts fire west of Healdsburg, and the blaze is at 21,125 acres, with zero containment. The Meyers Fire north of Jenner is 3,000 acres and is zero percent contained.
Evacuation orders and warnings remained in effect across Napa and Sonoma counties and in Lake County to the north.
---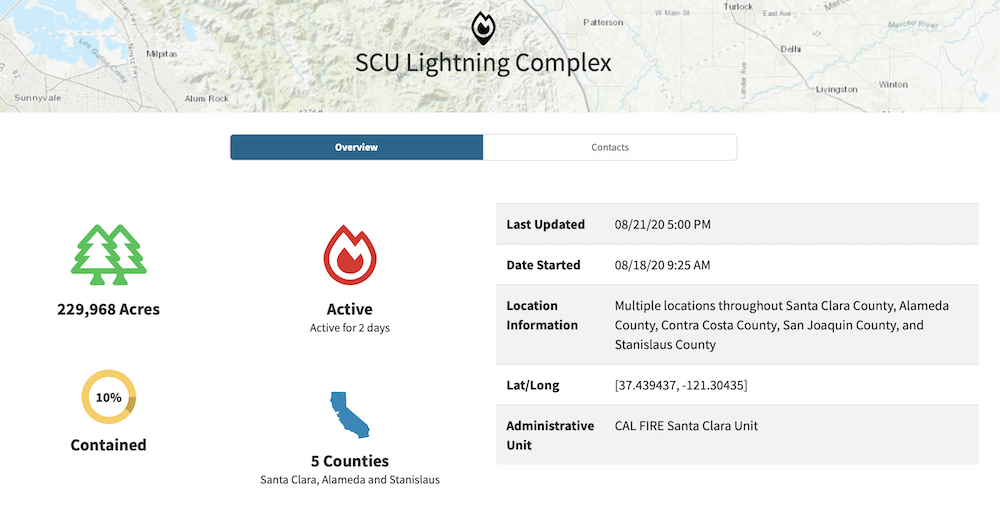 SCU Complex Fires in rugged, rural far East Bay grew 50% on Thursday, but now 10% contained; Contra Costa portion complex nearly extinguished as of Friday morning
The Contra Costa County part of the SCU Lightning Complex is almost out but two other fire areas in four other counties were still active Friday morning, a spokesman for the incident said.
The fires in the complex were sparked by lightning over the weekend in Alameda, Santa Clara, Stanislaus and San Joaquin counties. The blazes fall into three groups–the Deer Zone, the Calaveras Zone and the Canyon Zone–that stretch across parts of Contra Costa, Alameda, Santa Clara, San Joaquin and Stanislaus counties.
The fire in what's called the Deer Zone now is almost out. Firefighters are putting out hot spots to avoid flare ups, spokesman Dominic Polito said.
But the Canyon and Calaveras zones are still active, especially in the higher elevations, Polito said. At least 20,020 structures are threatened.
The fire, or about 20 separate fires, has burned nearly 230,000 acres and was 10 percent contained as of about 8 a.m. Friday, Cal Fire officials said. Two people have been injured. Evacuation orders and evacuation warnings have been issued for various areas in or near the fire zones. For a complete list go to https://www.fire.ca.gov/incidents/2020/8/18/scu-lightning-complex/.
Evacuation centers have been set up at Creekside Middle School at 535 Peregrine Drive in Patterson in Stanislaus County, at the Milpitas Library at 160 N. Main St. in Milpitas and in the performing arts building at Ann Sobrato High School at 401 Burnett Ave. in Morgan Hill. For information on animal evacuation centers for the unincorporated areas of Santa Clara County, Morgan Hill and Gilroy, call Santa Clara County Animal Services at (408) 686-3900 and for large animals from the Canyon Fire area, call Hold Your Horses Evacuation at (925) 584-1976. The Canyon Fire area is burning in Stanislaus and San Joaquin counties and includes the Peg Leg Fire, the Terraville Fire, Del Puerto Fire and Peach Fire. Keith Burbank
---
The 20 fires that make up the SCU Complex in the rugged rural terrain of the far eastern Bay Area continued burning nearly out of control Thursday and had consumed 157,475 acres by 7 p.m. that evening, an increase of more than 50 percent in 24 hours.
Evacuation orders covered large swaths of this arid and sparsely populated area.
Cal Fire said the following information about the SCU Complex of fires was current as of 7 p.m. on Thursday evening:
Fatalities: none
Injuries: two first responders
Acres burned: 157,475
Containment: 5 percent
Residents displaced by evacuation orders: not available
Structures destroyed: none
Structures damaged: none
Structures still threatened: 20,000
Kathleen Kirkwood
---
---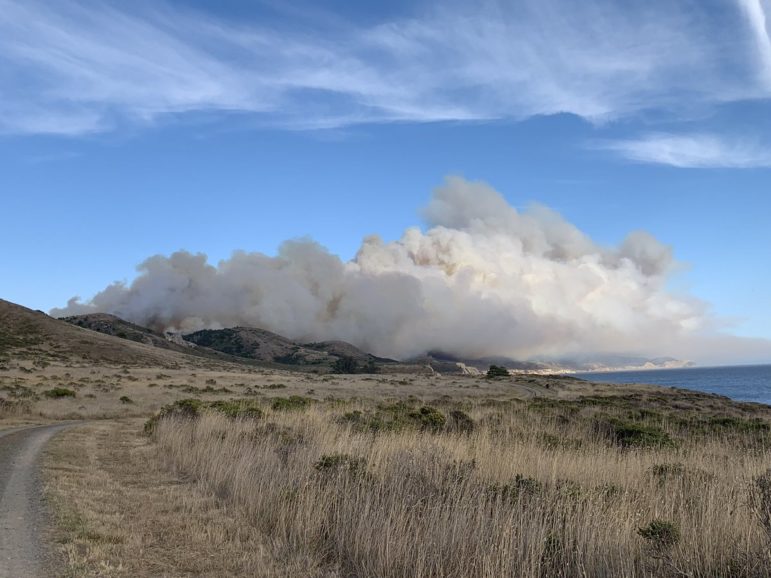 Woodward Fire at Pt. Reyes National Seashore continues out of control on Thursday
A wildfire in the hilly and remote terrain of the Point Reyes National Seashore continued burning out of control Thursday, according to a statement from the Marin Sheriff's Office.
By late Thursday, 2,000 acres had burned west of Olema and north of Bolinas. An evacuation warning is in effect for the several small communities in the area. The fire is considered to be 0 percent contained.
Trails and hiking camps in the area are closed, and drivers are urged to keep off area roads as much as possible.
The National Park Service asked for help from a specialized federal incident management team, according to the sheriff's office, which said the "Northern Rockies Team 2, a Type 1 national incident management team," is on its way.
The fire, first reported at 2:27 p.m. on Tuesday in the area of the Woodward Trail west of the Bear Valley Visitor Center in Olema and about a mile inland from Limantour Beach, was caused by a lightning strike, the sheriff's office said.