Piedmont gets the call, mobilizes quickly
The request for Piedmont's Fire Department to mobilize a strike team was called in at midnight on Friday, Oct. 25. The Kincade Fire had been burning for two days. By the morning after ignition, the fire had already swept through 10,000 acres, the size of roughly ten Golden Gate parks.
Fire Lieutenant Zach Heliker recalled the sequence of events: "We got a phone call requesting us to form up as part of a local government strike team." By 5 a.m. the next morning, Piedmont Fire was in action. Their team of four — including Heliker, Fire Engineer Alan Grace, and firefighters Sandor Lengyel and Jordan Shay, met up with the members of Hayward and San Francisco Fire Departments to make up strike team "Alpha2006" and made their way north to the Sonoma County Fairgrounds.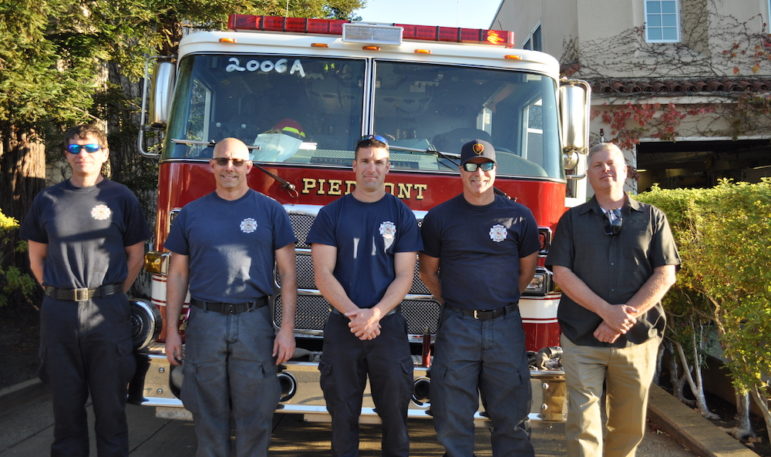 Alpha2006 assigned to defend homes, serve as contingency for worsening conditions
"Initially they were assigned for structure defense, typical of the early phases of the fire," said Piedmont Fire Chief Bret Black. "Once things kind of stabilize, some of our other assignments were to patrol for hotspots and serve as a contingency plan for a firing operation."

Serving as a contingency at the Kincade Fire meant the strike team was a part of a group of engines not directly involved in offensive operations, but instead held in reserve — if and when situations worsened, which is what firefighters were anticipating later that day.

On the ground in Sonoma, fire at 10% containment, anticipating 80 mph winds
The strike team first arrived at their assignment with the Kincade Fire only roughly 10 percent contained, and covered territory in Healdsburg, first on Lytton Springs Road and later on Dry Creek Branch. As the day wore on, fire crews were battening down the hatches in anticipation of worsening conditions.

"That's when the expected wind forecast was going to hit — later on that night," said Heliker. "We went [to Dry Creek Branch], staged for awhile and the wind event picked up. We started to experience high winds and lots of drift smoke.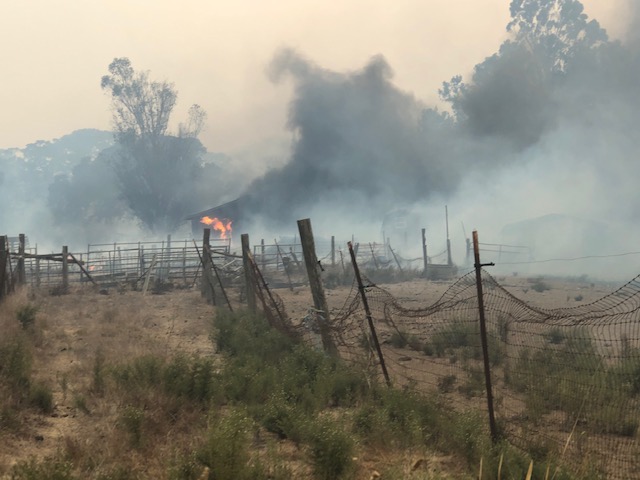 Defending homes in Windsor
The team's radio communication was reporting structures threatened in Windsor, with significant and fire behavior and activity driven by wind gusts of up to 80 miles an hour, described by Heliker as "a recipe for significant fire growth and extreme fire behavior."

The winds were high, the relative humidity was very low, and things [were] going to ignite quicker.

Fire Chief Bret Black
The strike team went into action on Windsor's Red Tail Road protecting residential homes on large lots. "Throughout the rest of the day we did structure defense on several homes [there] along the 101 corridor on the east side and protected a few homes," said Heliker.

As the fire front arrived, the strike team located a few properties which good defensible space and worked to defend those properties. Once the fire blew through, they "mopped up" the general area to make sure nothing rekindled in the area.

"That was a very long operational period – no sleep, no nothing," said Heliker. "It was roughly about 40 hours before we got released around 4 p.m. for a break. We had roughly about a 16 hour break, just enough time to get a little bit of rest, get some food, and then we went back to the line the following day."

The last two days in Sonoma were spent on tactical patrol, ensuring fires didn't rekindle, and when fire was closer to 50 to 60 percent containment, and the team was released from duty.

Piedmont part of mutually interdependent firefighting system
According to Heliker, there was a team of roughly about 5,000 — 2,128 of whom are fire personnel — committed to the Kincade fire to help with suppression. CalFire reported that 178 engines had been assigned to the Kincade Fire.

"One of the things that I thought was really well done and coordinated was the evacuation efforts about the whole incident," said Heliker. "They actually evacuated early and were able to get people out of Windsor, Healdsburg, and that general area fairly quick, compared to other incidences where the evacuation was delayed."

Black stated that Piedmont Fire doesn't have any plans and hasn't received any requests to assign any further fire resources to the Kincade Fire. However, as part of the Master Mutual Aid System, Piedmont Police still had resources there.
California's mutual aid system has been called the best in the world.


Piedmont Fire Chief Bret Black
"One of the things that's going to be critical if we ever have another Oakland Hills fire here in our area is for us to rely on mutual aid," said Black. "Even though Piedmont — statistically [we made up] only a small percentage of the resources up there — it's critical that we continue to participate in these types of events, so our people are comfortable at these kinds of high-risk, low-frequency events."
BELOW: PFD works to help clean up the engine, equipment after return on Friday afternoon. (Photo credit: Sarah Belle Lin)
Piedmont Fire Captain Mike Carlisle (inside cab) helps with the clean-up
"I'm proud and deeply appreciative of the contributions of our firefighters in the Kincade fire," said Piedmont Mayor Bob Mcbain. "They are all highly trained and motivated professionals that must do hard jobs in very dangerous conditions. And they did it well. We are fortunate to have such high quality staff. Equally important, their frontline work was backed by the strong efforts and teamwork of our entire city staff."

In a fire or other disaster, communications are critical — but also at risk
Black wanted to inform the Piedmont community, which has been impacted by PG&E power shut-offs due to recent high wind events, to always be prepared for emergencies.

"Whether it's a fire, an earthquake, or PSPS, communications are going to go down in some capacity, said Black. "You need to use that instinct that we have in all of that and not rely on a public message, an electronic device, a tweet. Systems of communication are increasingly more fragile, like we saw in Paradise, and those systems go down quickly."

Advice from Chief Black: Don't think about who's to blame, but how to prepare, plan
Black urged community members to instead learn how to be more self-accountable on a personal level. This means having a plan and remembering when evacuating, that no possession is as valuable as life. He hopes that community members focus their attention away from the "how" and "why" behind such high-risk incidents like wildfires.

"When you focus too much on the 'why' people tend to try reassign blame or accountability on a personal level," said Black. "If you want to say PG&E, well [you] can't do anything about that. If you want to say climate change, well [you] can't control that."

The Kincade Fire is currently the largest wildfire burning in the state this year. The day Piedmont Fire returned to home base, CBS News had reported at 2 p.m. that the Kincade Fire had burned 77,758 acres and was 68 percent contained. The latest CalFire reports show that the Kincade Fire has burned 77,758 acres, destroyed 374 structures, and caused injuries to four firefighters. As of press time, the fire is at 84 percent containment. There are no reported deaths or missing persons.

There is an estimate for full containment on Thursday, Nov. 7. The cause of the Kincade Fire is currently under investigation.
SEE RELATED