On Wednesday, August 7 Piedmont Police Department stopped a suspect vehicle associated with the recent string of catalytic converter thefts in Berkeley. The incident later resulted in the arrests of two suspects.

At 2:53 p.m. the vehicle – a white Nissan Pathfinder – triggered the ALPR camera on Windsor Ave.

PPD Ofc. Nicole Casalnuelvo located the suspect vehicle shortly after and conducted a stop on Highland and Piedmont Avenues. All three subjects in the vehicle complied. The three subjects were detained by PPD officers. There was also a dog in the vehicle; Piedmont Animal Services arrived to the scene and picked up the dog.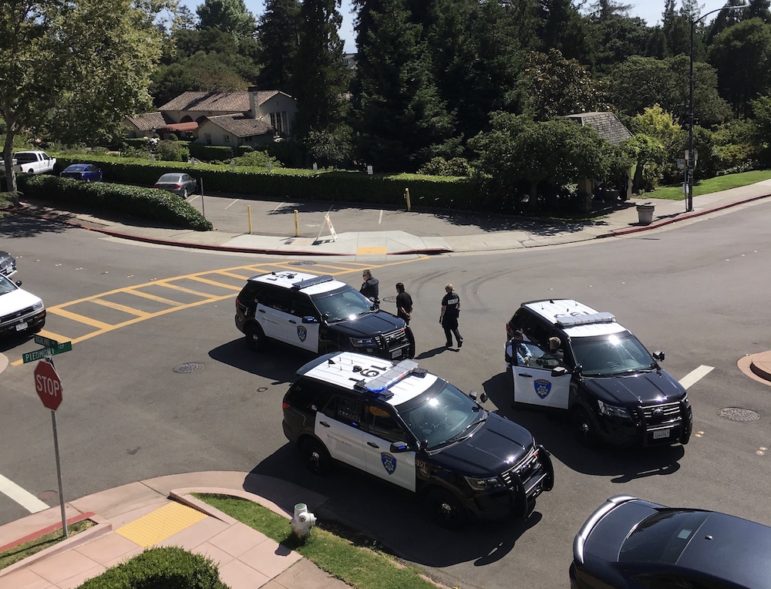 Berkeley Police Department detectives responded to the scene and took all three subjects into custody. The vehicle was towed by BPD to its impound yard.

BPD Public Information Officer Byron White confirmed that the arrests were a part of an investigation into the series of catalytic converters thefts in Berkeley.

According to a BPD press release: "Beginning in late July, there has been a series of catalytic converter thefts occurring throughout the City of Berkeley—with over 30 vehicles damaged. During the investigation, detectives identified a suspect vehicle and placed an alert for other law enforcement agencies to stop and detain the vehicle if found."
Two subjects were arrested on suspicion of grand theft, conspiracy and possession of burglary tools: 37-year-old Briana Nicole Crisp, address unknown, and 47-year-old Mauricio Romeo Navarrete from Oakland. Both suspects were transported to Santa Rita Jail.

The third suspect detained by BPD was released.

According to Piedmont Police Captain Chris Monahan, only one suspect has an active probation on them. The two other suspects have prior criminal history.
BPD Public Information Officer Byron White stated that "the investigation into the theft of the catalytic converters remains active. We believe there may be more suspects involved in these thefts. If anyone has any information about the investigation, please contact Berkeley PD's Property Crimes Unit at (510) 981-5737."
RELATED STORIES:
Reach Sarah Belle Lin at sbellelin@piedmontexedra.com.