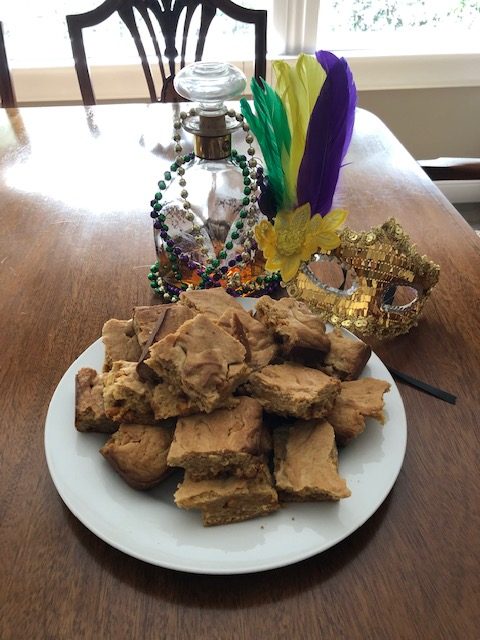 Even though Mardi Gras comes to an end on Fat Tuesday, you can make these bars all year round. Butterscotch and bourbon-based, they are a great alternative to chocolate. The recipe can be doubled very easily. They are super moist and chewy and a crowd-pleaser at the Heafey house.
Ingredients
Cooking spray/softened butter
1 1/2 cups all-purpose flour
3/4 teaspoon baking powder
1/2 teaspoon kosher salt
1 stick (1/2 cup) butter
1 cup butterscotch chips
3/4 cup packed brown sugar
1 large egg
1/2 teaspoon vanilla
1/4 cup bourbon
1/2 cups chopped pecans (optional)
Directions
Preheat oven to 350 degrees and spray a 9-inch square baking pan with cooking spray or butter generously.
In a medium bowl whisk flour, baking powder, and salt.
In a small sauce pan over medium heat, melt the butter and 1/4 cup of the butterscotch chips until mixture is smooth. Transfer to the bowl of a stand mixer.
Beat the brown sugar into the butter mixture, then the egg. Add the vanilla and the bourbon until combined. Add the the flour mixture and mix just until incorporated. Do not over mix or blondies will be dry.
Stir in remaining butterscotch chips and chopped pecans if using.
Spread the batter into the prepared pan and bake for 20-25 minutes or until toothpick inserted in the center comes out with just a bit of batter stuck to it. Do not over bake and have toothpick come out clean.
Cool completely before cutting and store in an airtight container.