Three Piedmont Girl Scouts were recognized for their work in achieving the Gold Award, the highest award from the Girls Scouts of America. Paige Avagliano (19), Sydney Willis (18) and Katherine Wiesbrock (18) of Troop 31676 were honored on December 19, 2018 at Piedmont Community Hall.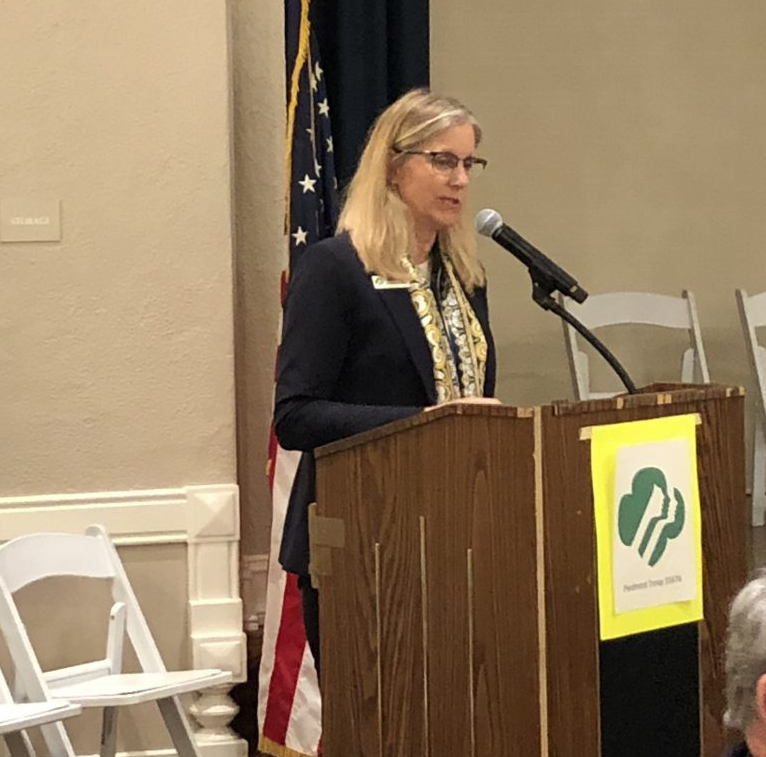 Reverend Scott Kail opened the ceremony with a prayer, followed by Mayor Bob McBain who dedicated the date to Avagliano, Wiesbrock and Willis. Marina Park, CEO of Girl Scouts of Northern California, and Diana Gleghorn, leader of troop 31676 then presented the scouts with framed certificates and a beautiful cake. "The times may change but Girl Scouting continues to create leaders who share their ideas and passions with their communities," said Park. The Gold Award is equivalent to the Eagle Scout award for boys. 
Avagliano, a 2018 Piedmont High graduate and current freshman at the University of Oregon, has been a dedicated Scout since 2005. For her Gold project she worked with the Lake School in Oakland (where she attended pre-school) to construct a double sink in a classroom for pre-school students to wash their hands. Previously, children lined up at one sink, taking precious time away from class activities.
Leading up to her Gold, Paige earned a Bronze award working with other troop members to bring Tree Frog Treks – a Bay Area organization which teaches kids about science and nature – into an underprivileged Oakland elementary school. The students were mesmerized by all the small animals and reptiles her troop brought in for them to hold, pet, and learn about. For her Silver award, she and other girls in her troop developed a visual project focused on improving positive body image among girls. This campaign was displayed in the Piedmont High School Wellness Center for two years.
Willis, a 2018 graduate of Piedmont High and now a freshman at Denver University has been a dedicated scout since 2005.  Her community service included serving meals at Saint Anthony's, selling cookies to raise money for Oakland Children's Hospital and the Berkeley SPCA, and assembling boxes of food for the Berkeley Food and Housing Project.  Sydney also completed two scout-related projects focused on improving positive body image among girls.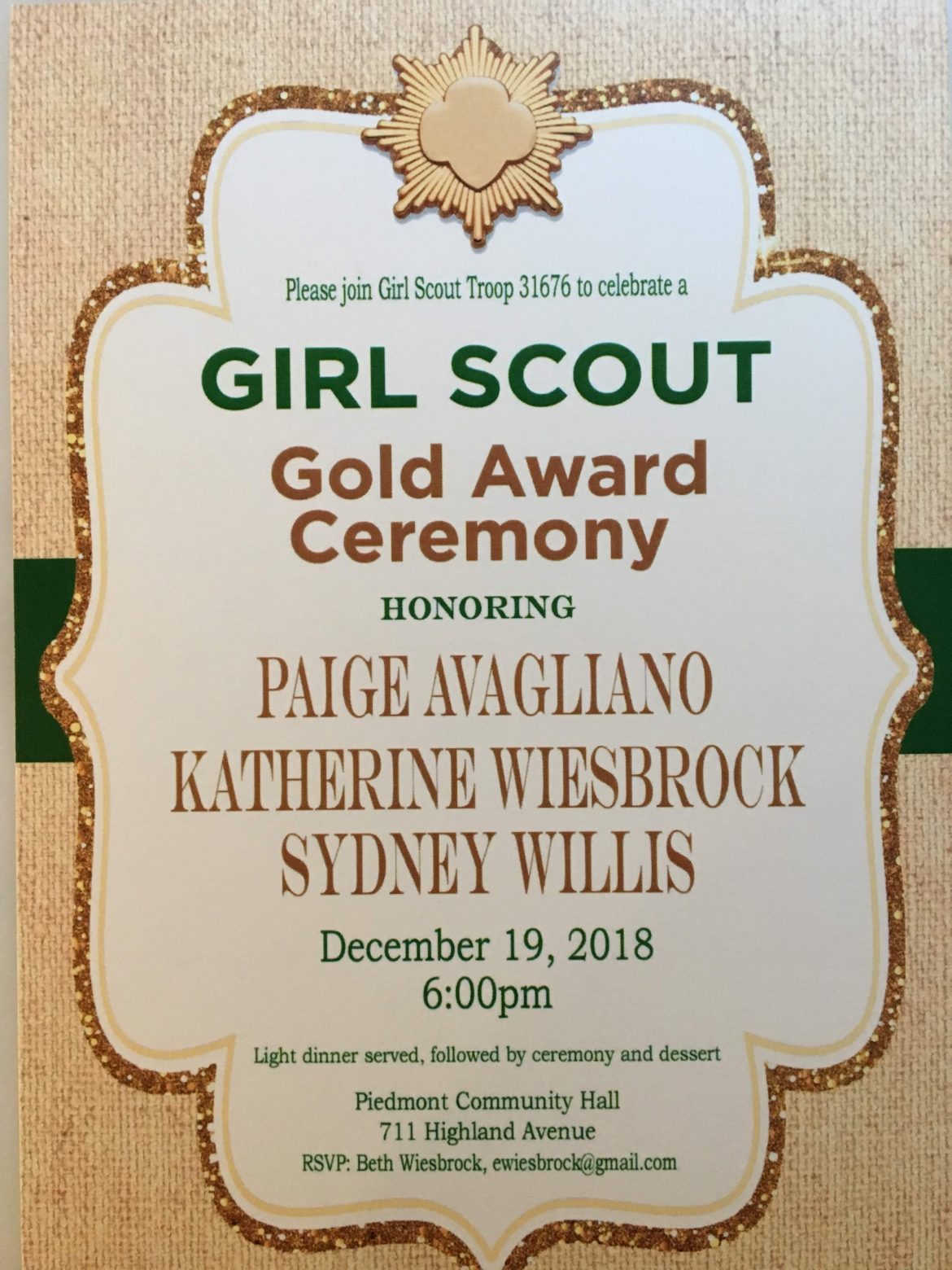 For her Gold project, Willis worked with the Sequoia Healthy Start after school program in Oakland. This program provides academic, social and emotional support for young students, many from low income households. Willis coordinated with the school administration and faculty, attended class to learn about art as a tool in expressing thought and emotions, and raised money for bulletin boards to be used for art creation in the library. She led six volunteers and twenty kindergarten students in creating a collage encapsulating the school year. The students reflected on what they learned and practiced using their social and emotional skills to express those experiences in a safe environment. The bulletin boards are reusable and will benefit future students at Sequoia Healthy Start.
Wiesbrock, a 2018 of Piedmont High and now a freshman at Vanderbilt University wanted to do a project that would spread her love of art and benefit children. Over the summer she led art classes with volunteers, working with more than 150 students to create artwork for a mural at Allendale Elementary in Oakland. Once Wiesbrock had the mural design, she and volunteers, including Piedmont Artist Suzie Skugstad, who served as her advisor, painted the mural on a school wall. Wiesbrock chose "nature" as the theme for the mural. Students artwork ranged from ocean wildlife to forests and mountain plants and animals..
Girl Scouts was started 102 years ago by Juliette Gordon Low in Savannah, Georgia with the belief that all girls should be given the opportunity to develop physically, mentally, and spiritually. With the goal of bringing girls out of isolated home environments and into community service and open air, Girl Scouts hiked, played basketball, went on camping trips, learned how to tell time by the stars, and studied first aid. Today, Girl Scouts of the USA has a membership of 3.2 million. Only 5 percent of Scouts achieve a Gold Award.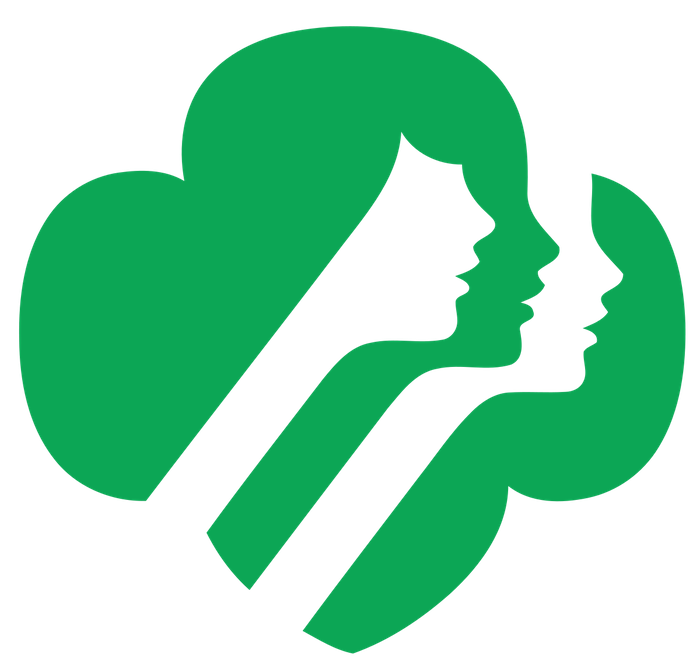 Today's Gold Award has 7 requirements:
Identify an issue
Investigate it thoroughly
Get help and build your team
Create a plan
Present your plan and gather feedback
Take action
Educate and inspire
---