Over the last 15 years, a series of fortunate events has turned Piedmonter and casual yoga practitioner Kim Lally into a certified teacher and studio owner. Her new venture, Nest Yoga, officially opens on Friday, November 30 at 3976 Piedmont Ave. The new location is not far up the street from its earlier incarnation, You and the Mat, in the former Piedmont Yoga Studio space.
Lally's dive into the yoga world started when she began looking for a low-impact, meditative alternative to running and other hard impact exercise. After trying "hot" Bikram yoga in Berkeley, she stumbled upon You and the Mat on Piedmont Ave., taking a class with Annie Carpenter. "I was hooked after one practice with Annie," said Lally.  "Every class made my body feel better than going to a chiropractor. I felt aligned, strengthened and energetic. It was wonderful."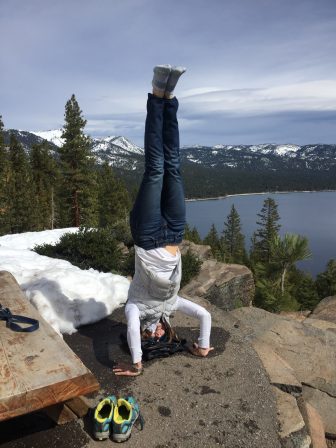 Lally became a regular and struck up a friendship with the studio owner, Eric Antonini. She helped with marketing the studio, introducing it to the local community in exchange for free classes. Eventually, with encouragement from Antonini and Carpenter, Lally started to train as a yoga instructor and became a Yoga Alliance certified instructor after 200 hours of training.
As she was building her yoga practice, she was also taking college courses in anatomy and chemistry to either become a physician's assistant or to attend medical school. And as a volunteer in the emergency room at Children's Hospital and in the Neonatal Intensive Care Unit (NICU) Lally continued to learn more about wellness and health from different perspectives.
Her interest in yoga, health, and wellness eventually converged with her organizational skills honed over years of managing various volunteer events and projects in town. So when Antonini and his wife moved to Oregon, Lally was the natural choice to run the Piedmont studio, and they eventually offered her the chance to buy it outright.
"The best thing about owning this business is blending many different components from wellness, marketing and strategy, working with people, and creativity. I get to dabble in all the pieces and pulling it together for the passion of wellness. It's perfect," said Lally.
"I couldn't have done this without my husband, Bob. From the first day, when he set up all the paperwork with the state to incorporate my business, to today, when he is up on a ladder installing wireless speakers," said Lally.  "I'm so appreciative that he has taken on so many tasks to run this business so I could focus on the day-to-day. And I'm so grateful to my kids for their continuous support of my newest endeavor."
For more information and yoga schedule go to www.nest-yoga.com.