Stingrays, otters, bioluminescence and a rainbow put on a show for appreciative scouts and parents.
On the first weekend in November, 15 scouts and parents from Piedmont's Troop 1 embarked on an overnight kayaking trip in Tomales Bay. Carrying all of their tents and camping supplies in two-person kayaks, the scouts set off a five-mile journey, paddling along the western coast of Tomales Bay to their campsite. On the journey there, the scouts saw multiple stingrays, many seals, a few otters, and hundreds of jellyfish – some of which even ended up in the kayaks.
As the weather was wet and damp, the scouts enjoyed a campfire and telling stories as night fell. A few scouts and adults kayaked late at night to see bioluminescence —a phenomenon visible in Tomales Bay only on moonless nights in the late summer and early fall, when microorganisms give off light if they are physically disturbed. The scouts formed eerie, glowing white clouds by agitating the water with a paddle.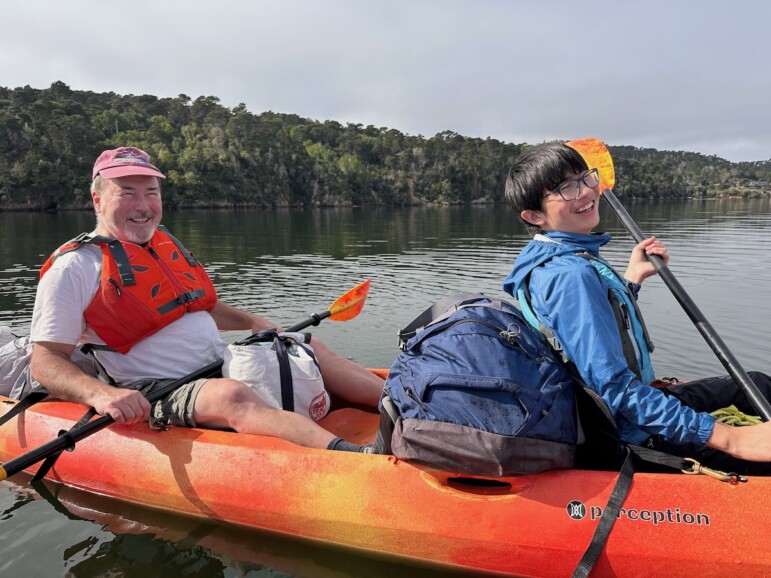 Morning rain didn't dampen the scouts' spirits as they packed their supplies and set off on the trip home. The five-mile paddle back was punishing, with headwinds, waves, rain, and far fewer animals to distract them. The scouts powered through and, wet and tired, were greeted by a rainbow upon arriving at the kayak rental facility. Overall, Troop 1 enjoyed their kayaking adventure and, despite some challenges, finished with their scout spirit shining through.
Photos courtesy of Marisa Strong