Vice President Kamala Harris attended a political fundraiser at the home of longtime supporters Quinn Delaney and Wayne Jordan on Thursday night. The vice president's motorcade swept through town around 6 p.m., confusing and/or delighting residents who got caught up in the police roadblocks along Oakland and Mountain Avenues.
(Photos of motorcade by Meghan Bennett)
Also spotted: Rep. Barbara Lee. Lee is one of three Democrats vying for a California Senate seat but currently trails in the polls behind Los Angeles Rep. Adam Schiff and Orange County Rep. Katie Porter, according to polling reported by The Sacramento Bee on Nov. 13.
In March, voters will choose two candidates to advance to the general election next November.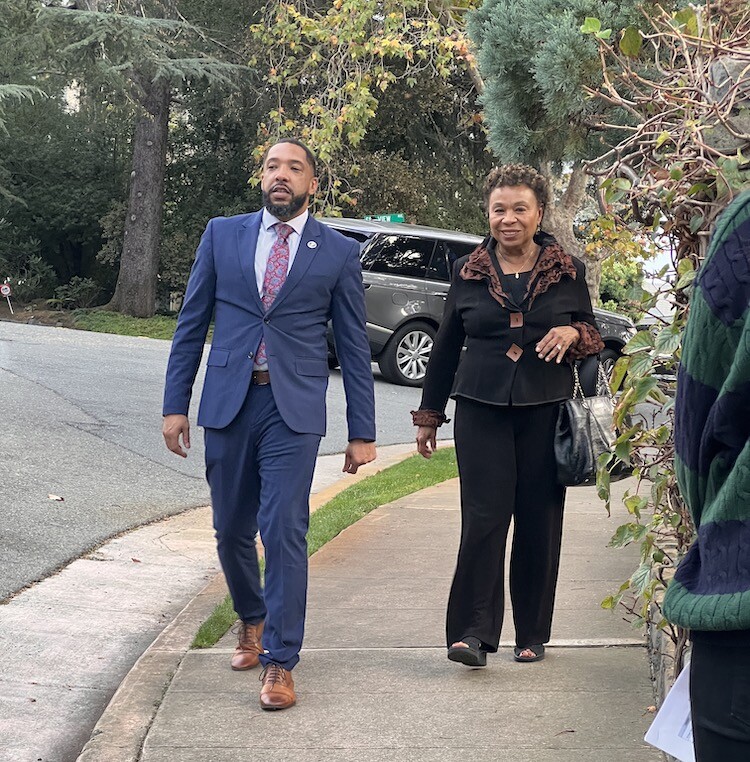 Politico reported on Friday that:
Vice President Kamala Harris hasn't endorsed in California Senate race, but during a Thursday fundraiser at the Piedmont home of longtime supporters Quinn Delaney and Wayne Jordan, she lauded Rep. Barbara Lee — who also attended and is close with Delaney. Harris called Lee a "dear friend, and an extraordinary leader, and a courageous leader, and in so many ways, for so many of us, a conscience of our country."

Politico California Playbook, Nov. 17
Delaney and Jordan are major donors to the Democratic party, local cultural institutions, and a variety of progressive causes and have hosted elected officials in the past, including President Barack Obama, US Senator Kristen Gillibrand, and others at their Sea View Avenue home.
Harris and President Joe Biden are in the Bay Area this week for the APEC conference.