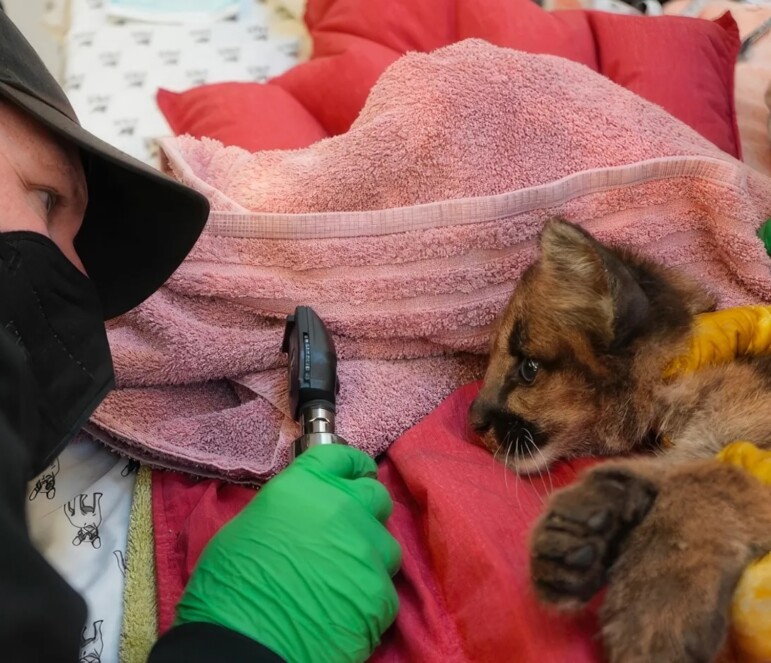 Two very young, orphaned female mountain lion cubs are recuperating at the Oakland Zoo after being rescued by the California Department of Fish and Wildlife this week.
Wildlife officials began searching for the cubs Monday morning after their mother was struck and killed by a car Nov. 9 on Interstate 280 near the Hillsborough/Burlingame area.
Nearby residents reported seeing two cubs alone near the area last weekend. They were found safe in one of the reporting residents' backyard, the zoo said in a statement.
Both kittens are approximately 6 to 10 weeks old, and weigh 5 and 5.5 pounds.
‍Upon arrival at 11:30 a.m. Tuesday, Oakland Zoo Veterinary Hospital staff conducted a thorough health examination on both cubs, including virus testing, parasite treatment, and bloodwork testing.
Both visibly dehydrated cubs received fluids. Zoo officials said that although the cubs are underweight and dehydrated, they are showing no signs of extreme illness at this time. Hospital staff are awaiting laboratory results to determine if the kittens are anemic and will need blood transfusions.
"Our team will be caring for the cubs daily to restore them to full health and for their overall animal wellbeing," Dr. Alex Herman, the zoo's vice president of veterinary services said in a statement.
The zoo said the kittens are the zoo's 25th and 26th mountain lion rescues, as part of the zoo's rescue and recovery program for local wildlife in need.
The post Their mother killed by vehicle, mountain lion cubs rescued and recovering at Oakland Zoo appeared first on Local News Matters.