San Francisco Opera's "Omar" is an extraordinary new American work in its Bay Area premiere. Winner of the 2023 Pulitzer Prize for Music, it was composed by folk musician Rhiannon Giddens (score and libretto) and Michael Abels (orchestration), based on the real-life story of Omar ibn Said, a Senegalese writer and scholar who was abducted and sold into slavery in Charleston, South Carolina, in the early 1800s. Omar, a Muslim, wrote his down story in Arabic in his 80s while enslaved; at its heart is a mystery that adds to the charged narrative.
Giddens' score just about covers the field of American music: blues and gospel, ballad, bluegrass, with riffs of African music produced by North African drums (tar, ghaval, djembes). At Sunday's opening performance, conductor John Kennedy led the opera orchestra with both passion and precision, and if some of the scenes seemed improbable — a square dance in the slave village did seem a stretch — with a strong cast and chorus and brilliant staging, "Omar" adds up to a memorable adventure in opera, a straightforward treatment of Black culture all too rare until our time.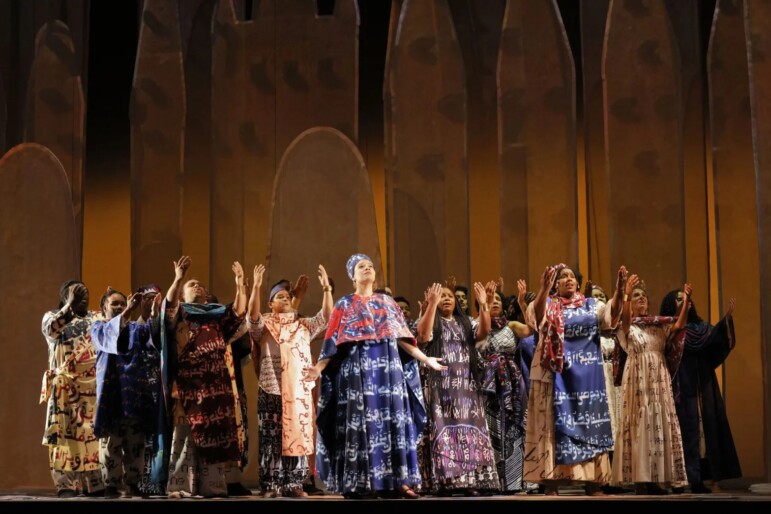 Director Kaneza Schaal's production fires the music admirably, and scenic designs by Christopher Myers and Amy Rubin show great lengths of looping fabrics, with excerpts from Omar's texts in English and Arabic projected across them. Visual images such as the ghostly slave ship in the Middle Passage are especially haunting. Micheline Russell-Brown and April M. Hickman have created authentic costuming for principals and chorus, all adding up to a vibrant staging with dramatic lighting by Pablo Santiago.
Tenor Jamez McCorkle as Omar sings with fluidity and perfect phrasing, his voice registering with lofty power and honeyed color especially in Act 2; McCorkle sang the title role in the premiere at the 2022 Spoleto Festival USA in Charleston, South Carolina.
Important to the story is bright-voiced Julie (soprano Brittany Renee), a runaway slave Omar meets in Charleston who escapes her cruel owner and lands on a plantation elsewhere in North Carolina run by a somewhat more humane master. It is Julie, who comes from a Muslim family as well (it is thought that 20 percent of slaves from Africa were Muslim), who encourages Omar to write his story, which is the only slave narrative written in Arabic.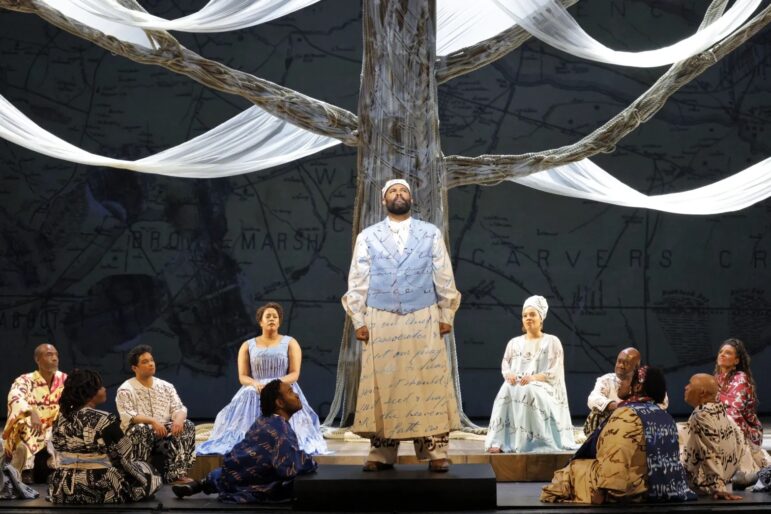 Bass-baritone Daniel Okulitch does well as the two plantation owners, Johnson and Owen, and mezzo-soprano Laura Krumm makes a crystal-voiced appearance as Owen's daughter, who convinces her father to buy Omar after she notices his beautiful written Arabic script on jail cell walls.

Omar's mother Fatima, sung in gleaming colors by mezzo-soprano Taylor Raven, pretty much takes the reins for the duration of the opera. Killed by the abductors, she watches over Omar from the spirit world.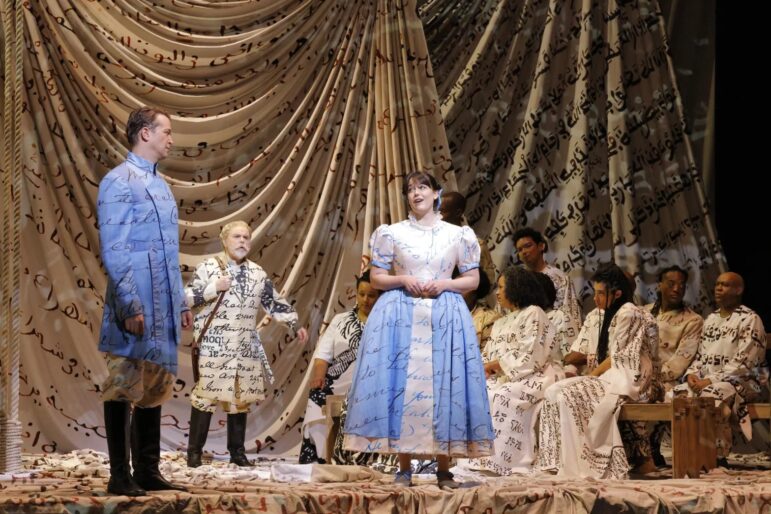 Plantation owner and slaver Owen insists that Omar become "a good Christian man," and therein lies the mystery: Does he or does he not? Omar learns Psalm 23 by heart and says in his autobiography that he has accepted the Christian god, but his last words at the final curtain are: "I am Omar; I love to read the Book, the great Koran."
It is rare to see the kind of reception "Omar" received at Sunday's opening performance. The full-house audience (rare for a new work) followed the opera carefully, reacting appropriately (also rare), and the standing ovation at the final curtain was long, loud and exuberant.
"Omar" continues at 7:30 p.m. Nov. 7, Nov. 11, Nov. 15, Nov. 17 and Nov. 21 at the War Memorial Opera House, 301 Van Ness Ave., San Francisco. Tickets are $26 to $426. The Nov. 11 performance will be live-streamed, with tickets at $27.50. For more information, call (415) 864-3330 or visit sfopera.com.