There was a moment in the first half where it looked like Piedmont High School's football team would be able to hang with Alhambra on Nov. 10. However, the host Bulldogs ended up scoring 42 consecutive points to end the game and hang a 49-14 defeat on the Highlanders in the first round of the North Coast Section Division 5 playoffs.
Piedmont finishes the season 7-4, having claimed its first league title since 2015 and first NCS playoff berth since 2018. The Highlanders shared the West Alameda County Conference Shoreline Division championship with Kennedy-Fremont and secured the league's automatic NCS berth due to a regular season win over Kennedy.
The Highlanders had leads of 7-0 and 14-7 in the first half. After the teams exchanged punts on their first possessions, Piedmont put together a four-play, 39-yard drive to open the scoring. Markos Lagios hit Sam Shelby for a 33-yard touchdown pass.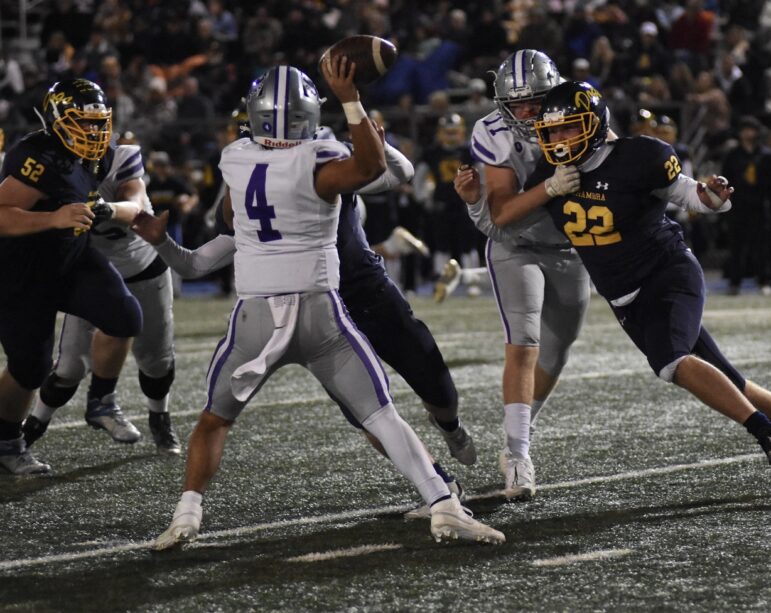 Alhambra (8-3) answered with a seven-play, 62-yard drive. Quarterback Beau Blau had runs of 10, five and 21 yards to set the score. Shea Murphy ran the ball in from the 5-yard line.
Piedmont went back in front thanks to a long drive, going 17 plays and 80 yards. The Highlanders converted three fourth downs on the march, including Lagios hitting Albert Bellingrath for the touchdown on fourth-and-18 from the 22.
That made it 14-7 and things looked rosy for Piedmont. The Highlanders had 120 yards of offense to that point, but would gain only 100 more the rest of the way on 35 offensive plays.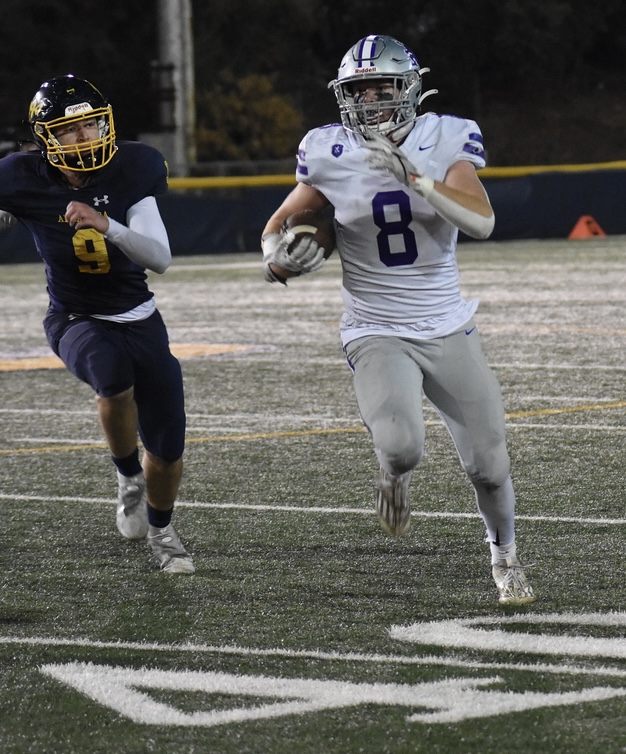 Alhambra quickly tied the score with Blau running the ball in from the 9. Blau finished the game with 169 yards and three touchdowns on 18 runs. He also completed seven of 10 passes for 151 yards and two touchdowns.
The Bulldogs defense then forced a three-and-out. Piedmont appeared to do the same, but Alhambra called a fake punt and upback Elias Aleman ran for 24 yards to the Highlanders 25. Blau then hit Sylas Mankin for a 25-yard touchdown pass. The Bulldogs had the lead with 50 seconds left in the half and would never relinquish it.
In the second half, Alhambra scored on all four of its possessions. Piedmont got just one first down on its first three possessions and the game got out of hand.
The Highlanders did get into Bulldog territory on the game's final drive, but by then the running clock rule was in force and they didn't have enough time to score.
Lagios finished 14 of 34 for 136 yards and two touchdown passes. Shelby had seven catches for 75 yards. Tommy Ashton ran for 76 yards on 15 carries. Brandon Dicke led the defense with eight tackles, including six solo.