Piedmont High School's girls flag football team concluded its season with a pair of losses in the West Alameda County Conference tournament.
The Highlanders tied for fourth and won a tie-breaker over Encinal to earn a berth in the upper division of the tournament, which was held at Hayward High.
Piedmont lost a heart-breaker in the opener, falling 13-12 to undefeated regular season champion Berkeley.
"We played Berkeley really well," Highlanders coach Beth Black said. "Berkeley has a quarterback, she hands off, she throws a little shuffle pass out to the left. That's how they won most of the season with this beautiful play. We figured it out and they could not run this play. It was fantastic."
Piedmont scored a late touchdown on a pass from Mia Leggett to Erin Gardere and went for two points and a chance at the win. The play failed and the Highlanders came up short.
Piedmont then lost to San Leandro in the third place game, 22-6. Piedmont had two passes from Mia Leggett to Miya Fujimoto where Fujimoto was out of bounds on the same drive in the first half.
"We were able to drive much better on San Leandro this time than the last time we played them," Black said, referring to a 26-6 loss during the regular season. "We just couldn't put the ball in the end zone."
Black said the inaugural year of the sport was not about the 4-3 record in league play (4-6 overall).
She said, "The success was I had a bunch of girls that before August said, 'I'm going to give this a try. Brand new thing, I am not scared, I am not worried. I'm gioing to go try this.' That's the success.
"Next year, it's a different animal. Now I've got people who know how to throw, who know how to catch. Now I've got girls who know how to play football."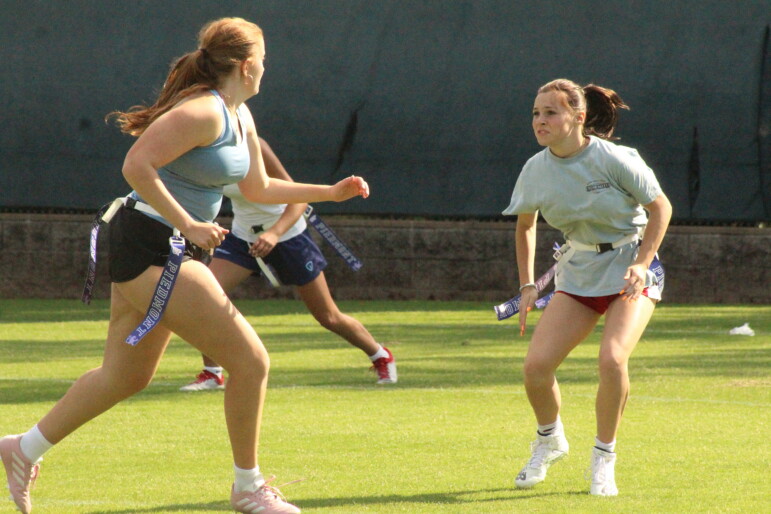 The North Coast Section is expected to institute playoffs next year. The sport has been incredibly popular throughout the section and more schools are expected to add teams in 2024-25.
Defensive lineman Elizabeth Long was named to the WACC first team. Miya Fujimoto and Dorothy Nemeth earned second team honors and Maisy Richardson and Dahlia Osman received honorable mention.
The team named Leggett its top offensive player and safety Ruby Guzdar its top defensive player. Linebacker Lauren Ashton was most improved, and Nemeth was named winner of the Optimo award, which represents not just play on the field, but overall contributions on and off the field.
(Editor's note: This post was updated on Nov. 9 to reflect that Mia Leggett made the touchdown pass to Erin Gardere, not Friedie Schickedanz as was originally reported.)