Labor negotiations between the Piedmont Unified School District (PUSD) and the Association of Piedmont Teachers (APT) came to a standstill in October when APT declared impasse — meaning they did not believe they could resolve their differences through negotiation and would ask for state mediation.
APT seeks an 8.22% increase in salary and a 25% increase in the district's contribution toward employee health care; PUSD says it can offer a multi-year increase of 9% over three years: 2% this year, 4% next year, and 3% the third year, to be used on salary or benefits, or a combination of both.
In a departure from past practice, when labor negotiations were typically conducted behind closed doors, both sides of the table have been using public forums to lay out their negotiating positions. Superintendent Dr. Jennifer Hawn has been breaking down the district's budget in her weekly emails to the school community and APT has set up a website and social media presence to broadcast their position.
On Nov. 15 at 6:30 p.m. APT is hosting a community forum for parents and to answer questions about the impasse
In her two most recent emails on Oct. 30 and Nov. 6, Hawn has laid out both the current budget constraints and the results of a Standards and Criteria report that shows where PUSD falls relative to comparable school districts.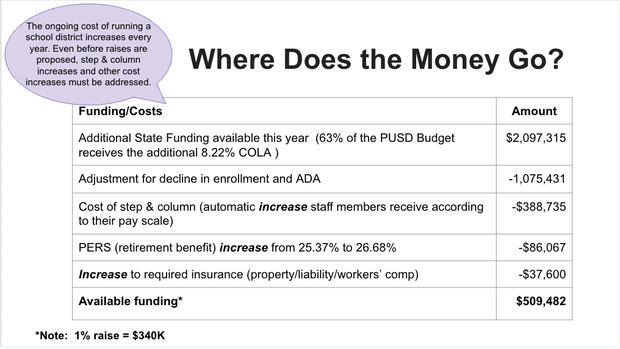 Looking at comparable compensation is important, but one has to compare "apples to apples". To accomplish a true comparison, APT members and PUSD administrators, including one Board member, recently came together to update our "Standards & Criteria" report, which had not been updated since 2006. This APT-PUSD committee decided on comparable districts and a formula for how to make true comparisons. The committee selected 19 non-Basic Aid districts of similar size or nearby location. In order to account for the differences in number of work days per year and whether or not the district offers health benefits, a formula was agreed upon that results in a comparable daily rate. This daily rate is the true comparison that helps us understand how we actually stack up against comparable districts. Piedmont is currently #8 for teacher compensation out of 19 districts. Even before our current 3-year offer of 9%, we are above the average, with the goal of moving up on the list.

Nov. 6 Piedmont Pulse
The next regular school board meeting is Wednesday, Nov. 8. The Standards and Criteria Committee is scheduled to present their findings at the Dec. 13 meeting, according to the school board agenda for the Nov. 8 meeting.