Slightly more than half of U.S. teens spend at least four hours a day on social media and on average, all teens spend close to five, according to a recent Gallup survey, whose findings underscore the growing alarm over social media's role in the youth mental health crisis.
Girls, who have been shown to be particularly vulnerable to the psychological harms of social media, spend even more time on the apps than boys (an average of 5.3 hours a day vs. 4.4 hours for boys) and the platforms consume more of teenagers' lives as they move through high school: 4.1 hours a day on average for 13-year-olds compared to 5.8 hours for 17-year-olds.
---
---
The data collected from 6,643 parents and 1,591 of their adolescent children between June and July also identified factors that can loosen social media's grip: Teens who scored high on conscientiousness as it relates to self-control and regulation spent less time on the apps as did those living with parents who restricted their screen time. Those kids were on social media 1.8 hours less a day on average than their peers whose parents strongly disagreed with curtailing screen time.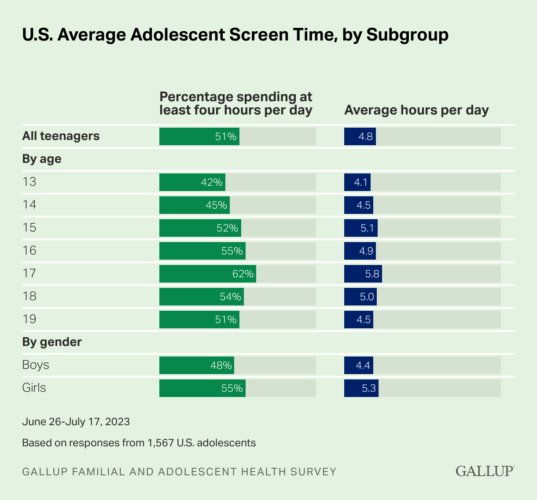 ---
Tell us what you think about The 74.
Take our survey.
---
The survey was accompanied by a report by Gallup and the Institute for Family Studies looking more closely at how parenting and self-control can mediate the link between social media use and youth mental health. Both come some five months after the U.S. surgeon general warned that social media poses a profound risk to children and the same month that 31 states sued Meta, saying it designed features to hook children and lied about its platforms' safety.
---
---
Meta owns three of the seven social media apps examined in the Gallup survey — Facebook, Instagram and WhatsApp. YouTube and TikTok were by far the most popular platforms surveyed, with teen girls spending nearly two hours a day watching TikTok videos and boys doing the same on YouTube for slightly more than that.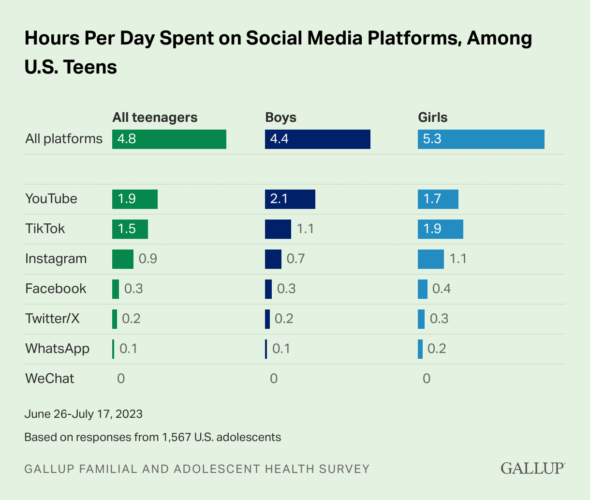 The 74 spoke with Jonathan Rothwell, a principal economist at Gallup who authored the research, to alert parents and educators to five things they should know about social media's impact on youth mental health.
There's a direct link between parent involvement and teens' social media use and mental health.
Though social media's impact on teen mental health has been long explored, one notable and less-researched feature of this survey is the correlation between parental involvement and intervention in teen's screen time and its impact on their mental health. Rothwell says not only is limiting social media usage beneficial, but any harm from the content absorbed also seems to be mitigated by a strong parent-child relationship.
The Gallup and Institute for Family Studies report explored the idea from other researchers that the issue of social media and declining mental health may be cyclical for young people, who are already experiencing poor mental health or have "low life satisfaction," and turn to social media as a form of escapism. But teens who reported having a stronger and more loving relationship with their parents used social media less frequently and overall reported having better mental health.
Video-centered social media platforms like TikTok and YouTube may pose a bigger threat to teens' mental health than other social media apps.
Teens reported spending an average of 1.9 hours a day on YouTube and 1.5 hours on TikTok. Rothwell points to videos being their most obvious feature, one unlike that of other social media apps that have historically focused on text and photos. The distinction raises questions about their appeal and potential harm. Instagram and Facebook are now modeling their platforms after TikTok and YouTube with vertical video features, trying to capture some of the same audience allure.
Rothwell says it would require greater detailed analysis to determine whether it's simply the never-ending loop design of these video-centered apps or whether it's particular content in the videos themselves that is creating a large appeal among teens and having an impact on their mental health.
---
---

Even with involved parents, teen body image issues persist.
The report found that teens who spend more than five hours a day on social media are nearly three times as likely to hold negative views of their appearance as those who spend less time online. These negative effects were only associated in the report with YouTube and TikTok, likely because of the higher frequency with which teens use those apps versus Facebook, Instagram or Twitter.
"Even when we saw that that sort of strong parenting relationship mitigates and maybe even eliminates the overall mental health problems, we did find that this other measure related to the teens' body image continued to be negative, even in the context of a loving relationship with their parents," Rothwell said. "That makes me think that there could be something about these videos that makes people feel bad about who they are and what their body looks like."
Reducing the quantity of time spent on social media versus the quality of time may be more beneficial.
Because there's no way for parents to ensure what teens may come across online at all times, Rothwell believes that reducing the amount of time spent on social media rather than trying to curate content creators or types of posts is the safer strategy. And because apps have refined their platforms to prioritize showing users people they don't follow, there's an added risk of coming across content that may contribute to declining mental health.
"With any of these sites, there's just no guarantee that unless you're there with your kid, watching the videos together, that you're going to be able to prevent exposure to harmful content."
Parents and educators have the opportunity to foster a healthier relationship between teens and their social media use.
Rothwell says that much like the cultural norms that exist with teaching healthy lifestyle habits, such as not overeating, healthy social media practices should also be implemented at home and in school.
"Everyone who interacts with teenagers needs to do a better job of teaching them that it's wasting their time and wasting their opportunities [and] to do something healthier, whether it's education- or exercise-related or spending time with friends," Rothwell said. "Even if the content was totally harmless, the probability that they're going to be learning something useful from that content is very low."