In light of a series of recent Bay Area "Zoombombing" incidents in which anonymous callers to City Council meetings delivered anti-semitic rants and other hate speech, Piedmont has tightened its rules on what speech will be allowed at city meetings here. Rather than simply ban public comments over Zoom, as several other cities have done, Piedmont has tightened the rules for citizens offering comments over Zoom, but will still allow them.
"We all want to support free speech and public engagement," City Councilwoman Betsy Smegal Andersen said later in the week, saying there is hesitancy to simply shut down what has been one of few positive aspects of the COVID pandemic, remote meeting participation. "But this is a reminder to the public that there's appropriate discourse, and discourse that is not."
The new rules were laid out at the start of Monday night's council meeting — immediately after a moment of silence in recognition of the war and the "ongoing humanitarian crises in Israel and Gaza — by Mayor Jennifer Cavenaugh. She went over the new rules as she ushered in the Public Forum portion of the meeting, a time for the public to weigh in on topics not specifically on the agenda for later on in the council meeting.
"There are rules for commenting at these meetings," she said. "Comments on non-agendized items must address matters within the subject matter jurisdiction of the city, and comments on agendized items must relate to that specific item. If comments do not fall within one of these categories, the city will provide an initial warning to stay … on topic. If the warning is not followed at that time, I will take the option of directing the city clerk to cut off the microphone." Cavenaugh also said she would ask the city attorney to help identify comments not related to an agenda item or not within what's typically considered city business.
Earlier this month, Walnut Creek joined cities including Antioch, Brentwood, El Cerrito, Fremont, Modesto, Sacramento and Santa Rosa in saying they will no longer accept any comments over Zoom. The San Francisco Board of Supervisors is also considering such a move.
In Walnut Creek in particular, starting in early June, anonymous callers weighed in during the meetings' public forum segments with anti-semitic hate speech.
Piedmont City Administrator Rosanna Bayon Moore said the Piedmont council has not had any callers attempting to peddle any such speech to this point.
Shortly after Cavenaugh finished reading the new virtual comment guidelines, two speakers inside council chambers spoke about the fears of the Jewish community in the aftermath of the terrorist attack in Israel.
Sara Kaplan said the days since the Oct. 7 Hamas attack on Israel, and a subsequent Hamas call for a "day of rage" on Friday, Oct. 20 have been "traumatizing." She told the council she cried tears of joy when told Monday's meeting would begin with that moment of silence.
"As Piedmonters, we must come together to reject hatred and anti-semitism and Islamophobia, in all forms," Kaplan said.
Max Roman, of Jewish Families of Piedmont, told the council, "It is extremely scary to be visibly Jewish right now, especially in this area of the country … It's a hard time, not all of us are OK." He offered to serve as a resource to the council concerning what he acknowledged is a highly politicized situation.
Honoring a friend of Piedmont kids
The council on Monday took time to honor David Hopkins, an assistant program coordinator who retired recently from the Piedmont Recreation Department after 34 years.
He was honored for his work with the Schoolmates program, and as the "master architect" of various youth programs, including the Halloween Haunted House, Kids Night Out, and the Santa Breakfast. Upon Cavenaugh pronouncing Halloween, Oct. 31 "David Hopkins Day" in Piedmont, everyone in chambers gave Hopkins a standing ovation.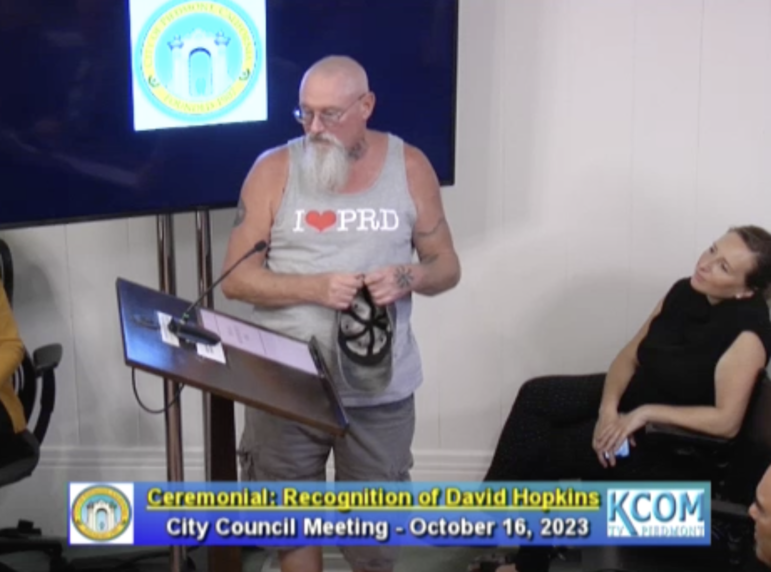 "He speaks 'kid' better than anyone in this room," said Piedmont Recreation Director Chelle Putzer. She noted Hopkins's 34 years (and four months) of service — "in child care, that's about 68 years."
Longtime co-worker Jessica Pomey said, "Davis has a very special way of speaking to children."
Hopkins said he loves Piedmont and that "This community loves children and cares about them … children all over the world. As for his colleagues at Piedmont Rec, he said, "These people are part of my soul."
Contact Sam Richards at sam.richards4344@gmail.com