A new solo exhibition at the Museum of the African Diaspora in San Francisco features the striking, incisive work of JoeSam., a self-taught painter and mixed-media artist who imbues his art with social activism.
On view through March 2024, "JoeSam.: Text Messages," curated by Erin Jenoa Gilbert, includes nearly 20 large mixed media-pieces. The rectangular assemblages and paintings are drawn from series created from 1985-2020 (many striking pieces in the exhibition were made in the early 1990s) and personal and private collections.
Practicing for more than 40 years, the Hunters Point Shipyard artist, 85, combines found objects of varying size and dimension with archival newspaper clippings and letters from the alphabet that are painted or superimposed on wood or canvas.
JoeSam. came to art after working in academia (he has a graduate degree in education and psychology from the University of Massachusetts) and on juvenile justice issues (he facilitated seminars for juveniles in a residential treatment facility in New York as well as directed the Head Start program in San Francisco).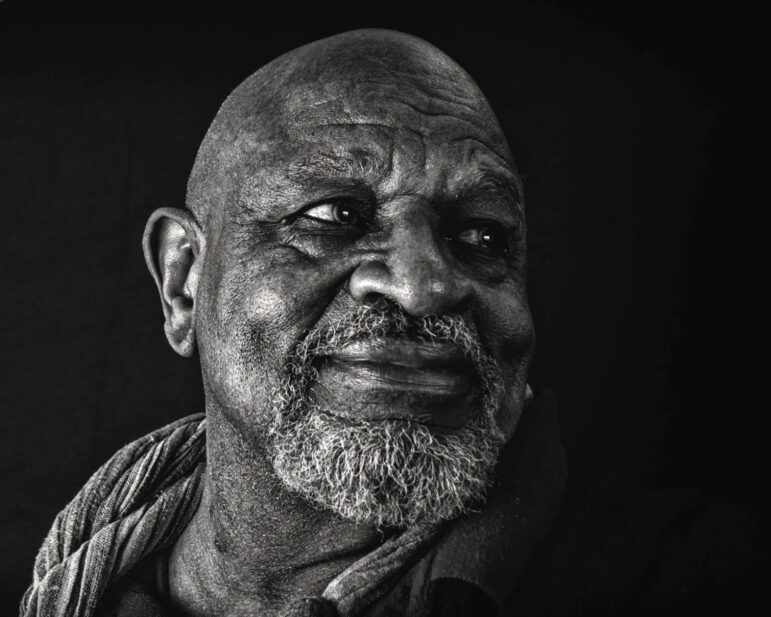 In 1985, after receiving a grant from the National Endowment for the Arts, he began working full-time as an artist. His vivid, explosive "text messages" forcefully convey his views on conditions of people of African descent, racial issues, and the criminal justice system.
MoAD Executive Director Monetta White describes his work as a "testament to the power of art to connect us with our own local history and culture."
The mood and subject of the pieces in the exhibition differ markedly from each other. Some are historically oriented, highlighting a particularly dark event or period in Black history.
"Survivor," from 2015, springs from the June 17, 2015 mass shooting at the Emanuel African Methodist Episcopal Church in Charleston, South Carolina of nine attendees at a Bible study session. The title refers to the sole survivor of the massacre, spared by the white supremacist shooter to recount the event, but also, in the larger sense, to a general will to survive. The date, in numbers, of the tragedy is superimposed on the piece, as well as the names of the victims, written in a different font. At the center is a red cross and an abstract depiction of a bullet surrounded by blood. At the top, JoeSam. reminds viewers that "Black Lives Matter."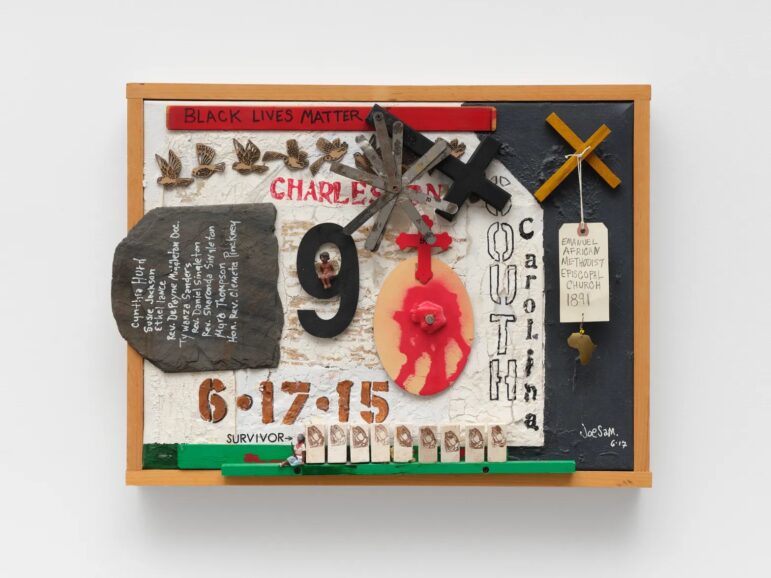 One board commemorates a Black sergeant killed in Vietnam in 1968; another, titled "One Chance Only from the War Series," offers a message to the Los Angeles Police Department reminding that it had missed its target, reflecting ongoing racial tension.
In the vivid scene depicted in "Fragile Black Country/Tuckahoe," a mixed-media work on canvas, American flags confront Confederate flags, black palm prints are splashed with red blood drops, a Black man is lynched, stereotyped images of natives are on a newspaper clip, a banjo hangs vertically next to a whiskey bottle and a red cross.
Other contrasting pieces in the exhibition are from the artist's 1990s series on jazz and the blues. "Duke," a reference to Duke Ellington, is dominated by a keyboard. Thin metal strings protrude on a white field, and the words "Duke" and pink-lettered "Jazz" provide an explanation. Painting is employed more in this piece than in some of the other works on view in the show; the piece also appears to include tools of an artist, perhaps a palette, sharing space with images evoking the musical great.
"Sassy/Fly Me/Jazz" also from the Black Jazz series, has painted abstract shapes, stenciled letters, polka dots and airplanes. Filled with pink, red and blue and light tones, it has an entirely different mood than the show's works that center more directly around social justice and political themes.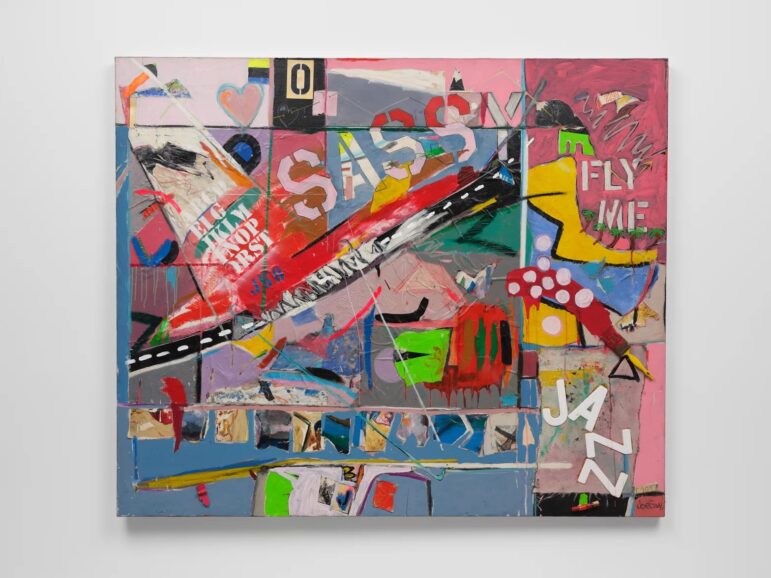 JoeSam.'s virtuosity, impact, and multifaceted artistic career come into full view in "Text Messages," and the exhibition is well worth a visit to MoAD.
"JoeSam: Text Messages" continues through March 3, 2024 at the Museum of the African Diaspora, 685 Mission St., San Francisco. Hours are 11 a.m. to 6 p.m. Wednesdays-Saturdays and 11 a.m. to 5 p.m. Sundays. Admission is $6-12, free for children under 12 and every second Saturday. Visit moadsf.org.
The post Review: 'Text Messages' at MoAD reveals mixed-media artist JoeSam.'s virtuosic career appeared first on Local News Matters.