For comedian Fortune Feimster, it's all about creating the right vibe.
"When you're coming to my show, you're going to have a good time. You can get rid of the stress, leave it at the door and just laugh," she says.
Feimster, who brings her new standup act "Live, Laugh, and Love," to Oakland's Fox Theater on Oct. 21, explains, "That's what I wanted to name my tour, because it has that sort of fun, positive vibe of 'Who doesn't want to live, laugh, love?'"
"Live, Laugh, Love," her third standup show after "Sweet & Salty" (2020) and "Good Fortune" (2022), both on Netflix, picks up where those left off.
She says, "I talk about my honeymoon and settling into married life and dealing with parents getting older, but I'm also doing a lot of fun stuff with the crowd—it's pretty interactive. It's been great so far."
Feimster says people write to her after shows, conveying the sentiment that they "really needed that." Supportive feedback, coupled with the connection she feels with her audiences, prompted the show's name: "The energy in the room is so palpable, because I try to put out positivity and I feel like the people in the audience give it back to me. … So I wanted something that encompassed that feeling."
The "Live, Laugh, Love" tour got underway in January. After a lapse over the summer, it's back in full swing, with stops in Charleston, West Virginia; Charlotte, North Carolina; Grand Rapids, Minnesota; St. Louis, Missouri; and the East Bay.
"This is really cool to be coming to Oakland and headlining a show myself," says Feimster.
Hailing from North Carolina, where she attended college, Feimster was a "Chelsea Lately" writer and panelist and regular on "The Mindy Project," "Champions" and "Kenan." She has appeared on "RuPaul's Drag Race" as a guest host, "The L Word: Generation Q," "Glee" and "Tales of the City" (based on Armistead Maupin's books set in San Francisco).
Her hour-long shows plunge into aspects of her youth, such as being a Girl Scout and on the school swim team; involvement in potentially unsafe recess activities (e.g., "Red Rover"); and trips to Hooters with her family.
She also keeps her audiences abreast of adulthood experiences, including her relationship with Jacquelyn "Jax" Smith.
"I tell people what's going on with my life currently, but I always love to do one of those throwback stories where I reminisce about childhood and the ridiculousness that happened back then," she says.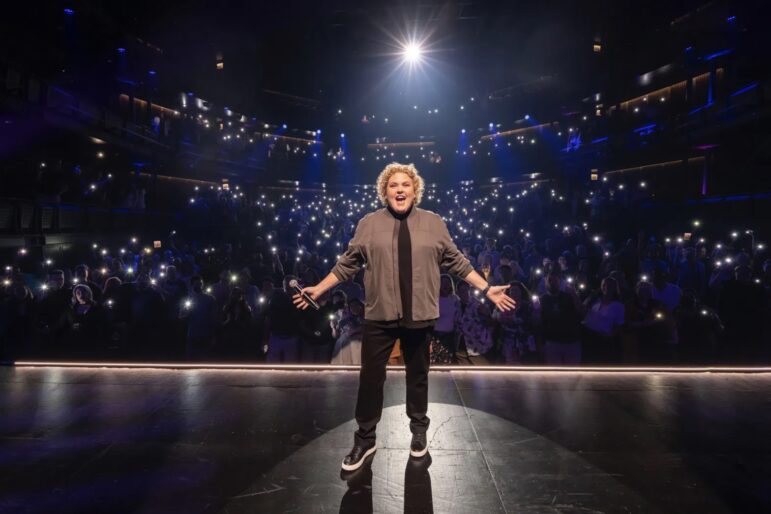 The motto "Live, Laugh, Love" was part of the décor of a past household. She says, "There are those signs that moms often have in the Midwest and the South, in particular, that say words on them. And you're like, 'Is that art?'"
In her show, she talks about how she's similar to her mother.
"I used to kind of poke fun at [my mom] with her 'Live, Laugh, Love' sign. And then when Jax moved in, I had one myself, and she was like, 'What is this?' And I was like, 'Art!'"
Though it's been a while since Feimster has been to Oakland, she's no stranger to the Bay Area. She has performed at the Punch Line and Cobb's and headlined at the Palace of Fine Arts. She appeared at the Fox in a comedy tour lineup, but Saturday will mark her first time headlining there.
Pre-pandemic, she visited Pixar Animation Studios in Emeryville for the making of "Soul," in which she's the voice of Counselor Jerry.
She knows about San Francisco's steep hills, and the challenge driving up them, as well as some commercial locales. She says, "San Francisco is one of those places where, when I'm there, I always discover a cool spot like a coffee shop and then I leave and it's a while before I'm back there and then I can't remember where that spot was."
But she does recall Chinatown, in part because she got fortune cookies there for attendees of her show "Good Fortune."
"That was really cool. It was one of the companies up there that personalizes them and they put jokes in there," she says.
Feimster, aware of the prevalent LBGTQ+ community in the Bay Area, includes in her act stories about being a queer woman, her attempt at a romantic marriage proposal to Jax in fog-laden Big Sur and discovering she's not "butch."
Offstage, she co-hosts the weekly "Handsome" podcast with queer comics Tig Notaro and Mae Martin, and she invited comic River Butcher, who identifies as a trans man, to open on Saturday.
For Feimster, representation matters: "I try to be a positive example for our community and represent us in a positive light. So, to me, having a room full of people in my community means a lot."
She welcomes all to live, laugh and love with her at the Fox as she shares personal yet relatable tales: "I'm very excited to tell these stories in front of a Bay Area crowd. It's going to be a good night."
Fortune Feimster appears at 7 p.m. Oct. 21 at the Fox Theater, 1807 Telegraph Ave., Oakland. Tickets are $29.50 to $165 at thefoxoakland.com.