In a memo prepared for the upcoming Oct. 11 Board of Education meeting, the district reports that PUSD's enrollment numbers were lower than expected for the 2023-2024 school year. Declining public school enrollment has been a statewide trend that began before the pandemic, was exacerbated by it, and continues for many California school districts.
The fiscal impact of the enrollment dip will be discussed at next week's school board meeting, when Chief Financial Officer Ruth Alahydoian gives a budget update to the board that will look at how the current enrollment, revenue, and expenditure patterns will play out over the next two years.
Census day for school districts is the first Wednesday in October. The enrollment numbers on that day are considered the official count for the school year, even though students come in and out of the district throughout the year. As of Oct. 4, 2023, the district's total enrollment is 2,309. This is 35 fewer than 2022-23, and 21 fewer than PUSD's estimate for 2023-24, per the school memo.
Declining enrollment has an impact on school district funding, but it has been buffered in recent years due to a formula for calculating Average Daily Attendance (ADA) that uses the "greater of current year ADA or prior three years of ADA to calculate the ADA used for funding purposes. ADA is always less than enrollment because it captures absences." PUSD is currently still being funded at a higher ADA than the actual ADA but the district's ADA will eventually catch up (or shift down) to the actual enrollment levels.
APT and PUSD engaged in ongoing salary and benefit negotiations
PUSD and the Association of Piedmont Teachers (APT) have been in salary and benefit negotiations this fall. The Oct. 11 memo outlines how PUSD's multiyear offer to give a 2% raise this year, 4% in 2024-25 and 3% in 2025-26 will affect the budget over time.
Multi-year Projections (MYP): The MYP has been updated to provide an understanding of how the current enrollment, revenue, and expenditure patterns will play out over the next two years. The most significant new information at this time is the proposed salary increases.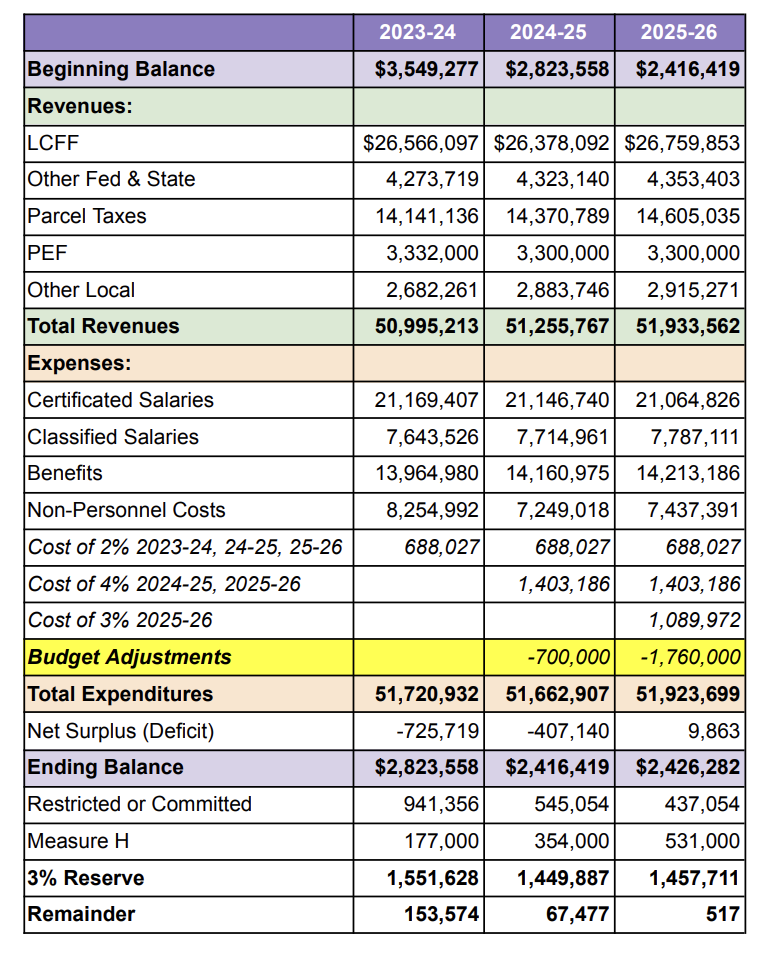 In September, APT launched its own website to publicize its negotiating position and to share its mission and goals more widely. APT is calling for an 8.22% salary increase in alignment with state COLA (Cost of Living Adjustment) and full healthcare coverage. In an Oct. 3 bargaining update on their website, APT said it "holds firm with the 8.22% increase across the salary schedule. A 2% 'raise' offsets only about half of the healthcare increased cost that starts in January 2025, with nothing beyond that to offset inflation."
This is an information and discussion item only for the Board of Education on Oct. 11. The meeting will be held in-person and streamed live on KCOM-TV and on Zoom. The Zoom link can be found on the agenda.