The Piedmont High School flag football team finished its regular season with a 30-28 win over Hayward at home on Oct. 26. The victory finished off a 4-4 regular season in the inaugural season for the sport in California.
The Highlanders now will compete in the West Alameda County Conference tournament on Oct. 28 at Hayward High School. Piedmont, which finished conference play at 4-3, will face Berkeley (7-0 WACC) at 2:15 p.m. The winner will face the winner of the San Leandro-Alameda match at 6 p.m. for the championship. The losers will play in the third place game at 4:45 p.m.
Piedmont coach Beth Black said that Hayward scored late in the game on Oct. 26 and had a chance to tie the game and force overtime with a two-point conversion.
Ella Yasar pulled a Farmers flag with just a foot to spare on the two-point play to save the victory.
"Ella also had a pick six which was really exciting," Black said.
Black said her team had three interceptions against Hayward, with Lana Ivovich and Ruby Guzdar also getting picks.
Against San Leandro, Piedmont was close at halftime, behind just 12-6, before falling 26-6.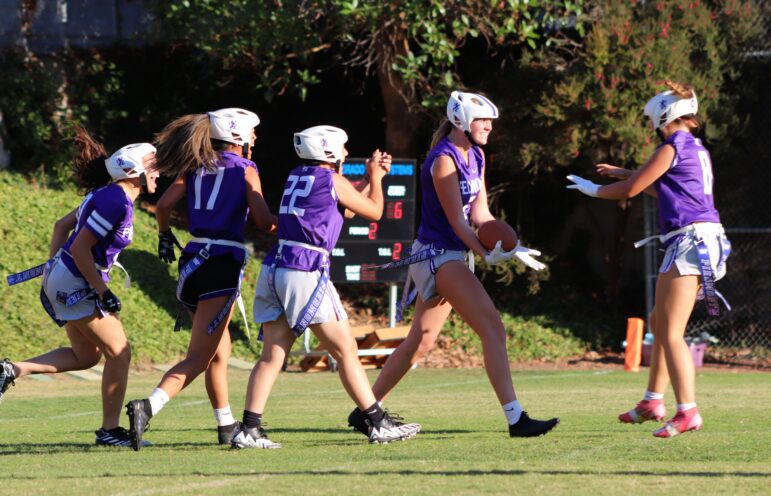 "San Leandro was dominant," she said. "I made a poor decision which was not to rush the quarterback. We rushed her and she was so elusive. So I decided to stop rushing the quarterback.
"They controlled clock. We just had trouble converting again on some of our passes. It was tough."
Black said her players have shown a lot of progress through the season.
"We had some sophomores and freshmen making catches (against Hayward)," she said. "All of a sudden, they were converting. They felt confident out there and looked good. Let's go forward, let's see what they look like in spring ball and going forward to next year. Now we're starting to see football play, girls are perfecting their spins. The flag football portion — not just for Piedmont, but for the league — has taken off."
Individual improvement has been team-wide. One example is Jo Palsa, who has taken over pass rushing duties from Breah Bell as the latter has been playing more offense.
"She really disrupted the quarterback (against Hayward) with the rush," Black said of Palsa. "She got in her face a couple of times. She's owning that position in how to rush a quarterback."
Piedmont tied with Encinal for fourth in the WACC with a 4-3 record. But a 18-6 Highlander win at Encinal on Sept. 28 put Piedmont in the upper division bracket.
"What I'm excited about is the enthusiasm the team still has for playing," Black said. "We're going to be playing Berkeley first. We played them at home (losing 19-6) and it was just a matter of connecting those passes. So I am waiting to see a couple of weeks later if we have progressed.
"I think this region has done a great job. We have a higher number of teams than a lot of leagues around us. I think they are super happy about WACC."
No North Coast Section playoffs are being held this season but it's expected that they will start up next school year.